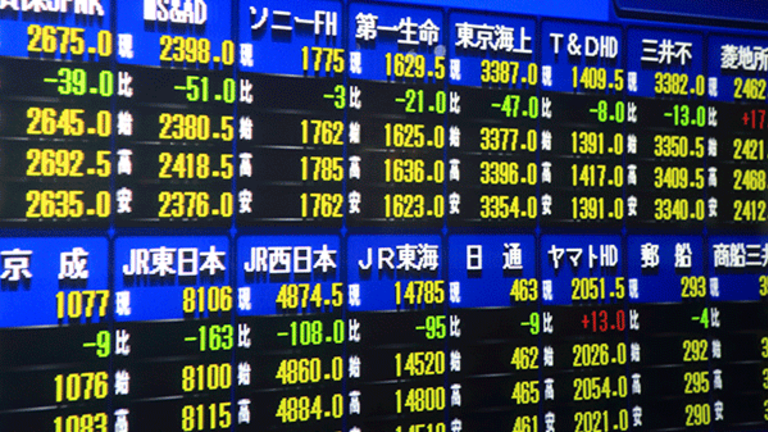 Asian Markets Mixed Ahead of Yellen's Jackson Hole Speech
Macau's Galaxy Entertainment rises as mass-market gamblers from the Chinese mainland drive forecast-busting profit, while ChinaMengniu milks a 12% gain from a mixed set of first-half numbers.
Asian markets were mixed in light trading on Thursday, as the dollar held its ground ahead of the much-anticipated two-day meeting of central bankers at Jackson Hole, which starts today, while oil prices steadied after Wednesday's rout.
In Tokyo, the Nikkei 225 finished the day down 0.25% at 16,555.95 and the broader Topix index was down 0.19% at 1,304.27, despite an encouraging July outturn for Japan's services producer price index. The gauge of prices charged for services provided to other companies and government entities showed the fastest pace of growth since August 2015, rising by 0.4% year-on-year. That was much better than economists' expectations for 0.1% growth.
Office equipment and laser printer maker Canon (CAJ) ended flat at ¥2,887 ($28.74), despite a downgrade from Standard & Poor's, which said the company's profitability has been declining as a result of market saturation in its core businesses. S&P added there was "at least a one-in-three chance" Canon's profitability would not recover quickly to a level commensurate with its current ratings.
In Australia, where Sydney's S&P/ASX 200 closed down 0.36% at 5,541, the market was influenced by the loss made by South32 (SOUHY) (SHTLF) in its first full financial year since being spun off from BHP Billiton (BHP) . The company reported a loss after tax of $1.6 billion in the 12 months to June 30, down from a pro-forma profit of $519 million a year earlier. Revenue fell by a quarter to $5.81 billion.
Also reporting its first loss since relisting on the Australian Stock Exchange in 1993, retailer Woolworths (WOLWF) , said post-tax profit from continuing operations plummeted 64.4% to A$803.5 million ($612.4 million) from a profit of A$2.62 billion a year earlier. But investors welcomed the news that Woolworths now plans to exit its home improvement business, with a sale expected to bring in gross proceeds of about A$1.5 billion. The shares finished the day up 3.9% at A$25.17.
In China, the combined Shanghai Shenzhen CSI 300 closed off 0.63% at 3,308.97, while in Hong Kong, the Hang Seng edged up 0.03% at 22,827.90.
Shares in Hong Kong-listed China Mengniu Dairy (CIADY) rose 12.1% on Thursday after it reported first-half sales growth nearly double expectations. That was despite also reporting a 19.5% fall in adjusted net profit, much worse than expected, which the mainland Chinese company blamed on "immense challenges" at its milk formula unit Yashili.
Across the Pearl River Delta in Macau, Hong Kong-listed casino operator Galaxy Entertainment (GXYEF) (GXYYY) beat expectations in the second quarter, as mass-market gamblers from the Chinese mainland helped drive profit, even though the seriously wealthy refrained from ostentatious spending. Adjusted earnings before interest and taxes were HK$2.3 billion in the three months to the end of June, ahead of analysts' estimates of HK$2.25 billion and up 22% year-on-year.
On the oil market, West Texas Intermediate Crude was recently up 0.13% at $46.83 a barrel, while Brent Crude was down 0.06% at $49.02.
On the futures market, the Dow Jones mini was down 0.17% at $18,440.