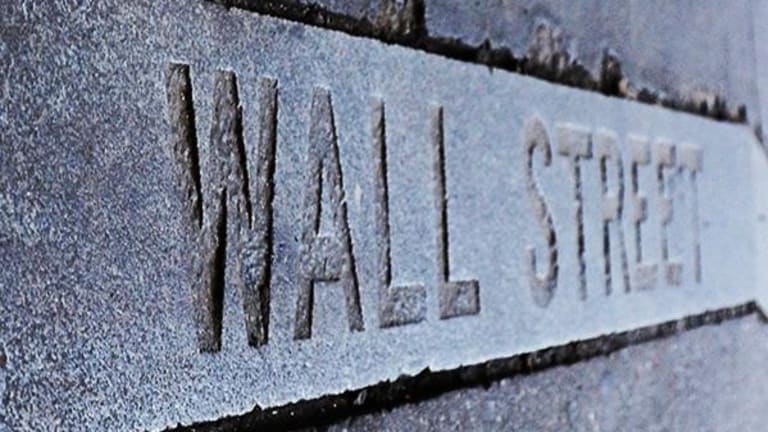 Publish date:
Apple-Inspired Rally Fades as Rise in Crude Inventories Pressures Energy Sector
An Apple-driven rally in tech begins to fade by mid-morning Wednesday as an increase in crude inventories pressures the energy sector.
An Apple-driven rally in tech begins to fade by mid-morning Wednesday as an increase in crude inventories pressures the energy sector.
An Apple-driven rally in tech began to fade by mid-morning Wednesday as an increase in crude inventories pressured the energy sector. 
The S&P 500 fell 0.1%, the Dow Jones Industrial Average gained 0.13%, and the Nasdaq rose 0.26%.
Apple (AAPL) - Get Report topped Wall Street estimates in its recent quarter, a positive development after a string of poorly received earnings reports from the tech giant. Apple rose 5.7% as strong demand for the iPhone 7 propelled sales and earnings growth over its fiscal first quarter. Earnings rose 8% to $3.36 a share, topping estimates of $3.23, while sales increased 3% to $78.4 billion and came in higher than consensus of $77.4 billion.
Over the first quarter, 78.3 million iPhones were sold, up 5% from a year earlier and better than a target of 77 million. Services revenue also increased over the quarter to $7.17 billion, up from $6.01 billion in the year-ago quarter.
A better-than-expected first quarter overshadowed any blowback from light current-quarter guidance. The world's largest company anticipates second-quarter sales between $51.5 billion and $53.5 billion, below a target of $53.6 billion.
Apple ended its fourth quarter in September with its first revenue decline in a fiscal year since 2001. The shock was mainly tied to declining sales of the iPhone.
"Whether the immediate uptick in shares is based on the results, the relatively stable guidance, the enormous cash balance or the spooking of any short-sellers who were betting against the rally, the bottom line is that Apple's business remains strong," said TheStreet's Jim Cramer and Jack Mohr, who hold shares of Apple in the Action Alerts PLUS Charitable Trust Portfolio. "Looking ahead, the services business, prospects for cash repatriation and the 10th-anniversary iPhone (leading to a massive iPhone refresh cycle) are all reasons for optimism moving forward."
Crude oil sharply pared gains after a weekly reading on inventories showed a sharp increase. U.S. stocks rose by 6.5 million barrels over the week ended January 27, according to the Energy Information Administration. Analysts had expected stocks to rise by 2.2 million barrels. 
West Texas Intermediate crude was up 0.7% to $53.21 a barrel on Wednesday. The energy sector was the worst performer on Wall Street, with the Energy Select Sector SPDR ETF (XLE) - Get Report falling 1%. 
The ISM Manufacturing Index increased to 56 in January from 54.7 in December, coming in higher than an anticipated reading of 55. The sector appears to have rebounded from the pressures of weak demand and a stronger U.S. dollar that hampered growth last year.
A separate reading on manufacturing also showed growth. The U.S. PMI Manufacturing Index rose to 55 in January from 54.2, according to Markit Economics.
Stocks have been under pressure for two days as investors reacted to uncertainty surrounding the Trump White House. First, protests erupted at airports over the weekend following Donald Trump's executive order to ban travel from seven Muslim-majority countries, a ruling that extended to lawful visa and green card holders. Then, a number of federal judges deemed the ruling unlawful. On Monday night, the president fired acting Attorney General Sally Yates for "refusing to enforce" the travel ban.
Democratic leaders added to the turmoil on Capitol Hill Tuesday after boycotting a vote on two of Trump's top Cabinet picks. Senate Democrats opted out of a committee vote for Department of Health and Human Services pick Tom Price and Treasury Department selection Steve Mnuchin. The boycott meant Republicans didn't have the quorum needed to proceed with a vote.
On Tuesday evening, Trump selected Neil M. Gorsuch as his nominee to the U.S. Supreme Court of the United States. The much-anticipated decision was announced at the White House on Tuesday evening and will most certainly be met with fierce opposition by Senate Democrats and liberal activist groups around the country. Gorsuch was nominated to fill a seat on the Supreme Court that has remained vacant since the death of Justice Antonin Scalia in February 2016.
The U.S. economy added 246,000 jobs to private payrolls in January, according to the ADP National Employment Report. Economists expected 170,000 jobs to have been added last month, according to FactSet.
The monthly account is a preview into the official U.S. jobs report that is released the following Friday of each month. The nonfarm payrolls report, out this Friday, is expected to show that the U.S. economy added 170,000 jobs to begin the new year and for the unemployment rate to hold at 4.7%. Average hourly earnings are expected to have risen 0.3%.
The Federal Reserve will conclude its two-day, semi-monthly meeting on Wednesday, culminating in an announcement Wednesday afternoon about interest rates. The Fed's announcement on interest rates is expected at 2 p.m. EST. Most economists don't expect a change to rates at this meeting, though the Fed's statement could shape expectations for the rest of the year.
"We do not expect action on interest rates from the Fed this week," NatWest Markets analysts wrote in a note. "The FOMC's forecasts will not be updated and there will not be a post-meeting press conference, limiting the Fed's ability to communicate any changes in its views to the market. More insight as to the Fed's thinking is likely to come from Fed Chair Yellen's semi-annual monetary policy testimony before Congress on February 14 and 15 and the release of the minutes from January FOMC meeting on February 22."
Ford (F) - Get Report reported a slump in car sales over January, which was slightly offset by an increase in truck sales. The automaker reported a 1% drop in total vehicle sales. Car sales fell 17.5%, while truck sales increased 5.5%. Retail sales rose 6%. 
Fiat Chrysler (FCAU) - Get Report also reported a sharp decline in car sales. The automaker reported an overall drop of 11% compared to an estimated 14% decline. Car sales slumped 30%, while truck sales increased 5%. 
General Motors (GM) - Get Report saw a drop in January sales, which caused inventories to surge. Overall vehicles sales fell 3.8%, slightly better than an anticipated decline of 4.3%. The automaker ended January with 108 days of supply compared to 71 days' worth at the end of 2016. 
Anthem (ANTM) - Get Report  rose 1.6% after exceeding analysts' estimates in its fourth quarter on higher Medicaid membership. The health insurer earned an adjusted $1.76 a share on revenue of $21.7 billion. Analysts had anticipated earnings of $1.61 a share on $20.92 billion in revenue. Medicaid memmership increased 10%, while premiums rose 7.4%.
Match Group (MTCH) - Get Report tumbled 3.2% following weaker sales over its recent quarter. The owner of Tinder reported a 19% increase in sales to $268 million, well below analysts' targets of $321 million. Adjusted earnings of 29 cents a share exceed estimates by a nickel.
ADP (ADP) - Get Report slid 4.5% after trimming its sales growth for its fiscal 2017. The payments processor anticipates full-year revenue growth of roughly 6%, down from its previous range of 7% to 8% growth. ADP anticipates new business bookings over the full year to come in flat, down from a previous target of 4% to 6% growth. 
Tupperware (TUP) - Get Report  fell 4.7% following a mixed quarter. Earnings of $1.45 a share beat by 8 cents. Revenue increased 1.5% to $601 million, though missed by just over $15 million. The company declared a quarterly dividend of 68 cents a share. 
Altria (MO) - Get Report declined by 2.2% after missing quarterly sales estimates on a decline in cigarette sales. Revenue was flat at $4.73 billion in the fourth quarter, falling short of expectations by $70 million, as cigarette sales dropped 4%. Altria anticipates cigarette sales to increase by 2% in the first quarter. 
Regal Entertainment (RGC) was downgraded to underperform from neutral at Credit Suisse. Analysts said ticket price and concessions revenue are likely to trend lower across the country.