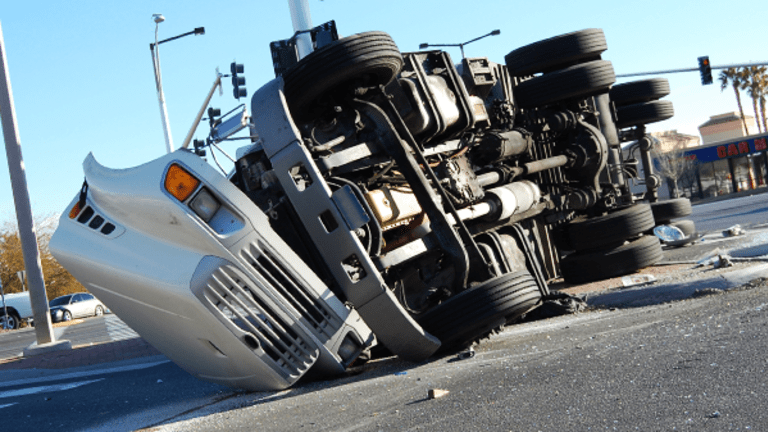 Another Steep Selloff in Tech Stocks Wipes Out Nasdaq's June Gains
A tech selloff yields big Wall Street losses.
A tech selloff yields big Wall Street losses.
It was deja vu for Wall Street, as another steep selloff in tech pulled the Nasdaq lower and spilled onto broader markets. 
The tech-heavy index declined 1.4% on Thursday, June 29, erasing month-to-date gains achieved through to the end of Wednesday and laying the groundwork for the first negative month since October 2016. The Nasdaq index was still on track to close out the second quarter with gains of around 5%.  
The S&P 500 slipped 0.79%, and the Dow Jones Industrial Average fell 0.78%. The Volatility Index, otherwise known as the fear index, spiked as much 51% before calming. 
The dive in tech stocks was the latest in a series of selloffs that has plagued the sector in recent weeks. The Technology Select Sector SPDR ETF (XLK) - Get Report fell 3.1% on Thursday. The ETF has fallen 2.7% since the beginning of the month, dropping more than 1% on three days.
Tech names, particularly the FAANG stocks (Facebook Inc. (FB) - Get Report , Amazon.com Inc. (AMZN) - Get Report , Apple Inc. (AAPL) - Get Report , Netflix Inc. (NFLX) - Get Report , and Alphabet Inc. (GOOGL) - Get Report ), have been under pressure after a steep run-up year to date. The FAANG stocks had contributed a hefty portion to the S&P 500's gains in the period. 
Facebook, Apple and Alphabet are holdings in Jim Cramer's Action Alerts PLUS Charitable Trust Portfolio. Want to be alerted before Cramer buys or sells FB? Learn more now.
Biotech stocks, including Celgene Corp. (CELG) - Get Report , Gilead Sciences Inc. (GILD) - Get Report , and Amgen Inc. (AMGN) - Get Report , were sharply lower; the biotech sector is often susceptible to selloffs. The iShares NASDAQ Biotechnology Index ETF (IBB) - Get Report , an index composed of biotechnology and pharmaceutical equities listed on the NASDAQ, declined by 1.4%. 
Financials weren't immune from losses even after leading Wall Street during the morning session. The industry's stocks had climbed earlier after the dividend and stock-buyback plans of all 34 of the country's biggest banks won approval from the Federal Reserve, though it was a close call for some.
Capital One Financial Corp. (COF) - Get Report was asked to resubmit its proposal to address "weaknesses" in its planning process. A number of other big banks came close to the minimums on a new test that considers its balance-sheet assets as well as its off-balance sheet exposures, including Goldman Sachs Group Inc. (GS) - Get Report , Morgan Stanley (MS) - Get Report , State Street Corp. (STT) - Get Report and JPMorgan Chase & Co. (JPM) - Get Report .
The Financial Select Sector SPDR ETF (XLF) - Get Report was up 0.7% on Thursday.
Walgreens Boots Alliance Inc. (WBA) - Get Report and Rite Aid Corp. (RAD) - Get Report called off a merger agreement but struck a new deal. As part of the agreement, Walgreens will pay $5.175 billion to Rite Aid in cash and receive 2,186 stores in return. Walgreens will also pay Rite Aid a $325 million termination fee for the cancellation of the earlier deal.
After the transaction, Walgreens will have more than 15,000 stores spanning 11 countries. The company expects synergies of $400 million from the deal and for the new stores to increase its adjusted earnings within the first year. As for Rite Aid, it will be left with about 2,300 stores.
Walgreens Boots Alliance is a holding in Jim Cramer's Action Alerts PLUS Charitable Trust Portfolio. Want to be alerted before Cramer buys or sells WBA? Learn more now.
The original merger agreement struck in 2015 was called off. The deal had been under intense scrutiny from antitrust regulators and doubts swirled that the agreement would gain approval. 
Fred's Inc.  (FRED) stock plummeted more than 20% as it will be shut out of buying 865 stores the combined company planned to divest.
This new deal could hurt one of Walgreens' biggest rivals CVS Health Corp. (CVS) - Get Report , Brian Sozzi says on our premium site for investors, Real Money. Get his insights with a free trial subscription.
Separately, Walgreens topped earnings and sales estimates over its fiscal second quarter. The pharmaceutical chain earned an adjusted $1.33 a share, 3 cents higher than consensus. Sales of $30.1 billion exceeded estimates of $29.7 billion. The company now anticipates full-year earnings of $4.98 to $5.08 a share, an increase of eight cents on the bottom end.
The U.S. economy grew at a slightly faster pace than previously estimated over the first three months of the year, according to the final print of first-quarter GDP. The pace of expansion was increased to 1.4% from the original estimate of 1.2%. Consumer spending was bumped up to 1.1% from 0.6%, largely driven by increases in healthcare spending. Export growth was increased to 7% from 5.8%. 
Weekly jobless claims rose in the past week, though remained near multi-year lows. The number of new claims for unemployment benefits increased by 2,000 to 244,000. The less-volatile, four-week average fell by 2,750 to 242,250. 
Crude oil prices held onto gains to close higher for a sixth session in a row. West Texas Intermediate had surged 1.1% a day earlier even after an increase in domestic stockpiles. The Energy Information Administration reported a 100,000-barrel build in crude oil inventories over the past week, while gasoline and distillate stockpiles fell.
Crude has been under pressure lately amid worries over global oversupply and stubbornly high production. The commodity reached its lowest level in 10 months on Wednesday, June 21. 
West Texas Intermediate crude was up 0.4% to $44.93 a barrel on Thursday.
Visit here for more of the latest business headlines.
Read More Trending Articles:
Walgreens and Rite-Aid Just Laughed in the Face of Regulators, Striking One Clever New Deal
Here's Why Amazon Could Feast on the Remaining Carcass of Rite Aid After Failed Walgreens Merger
Walgreens Punches One of Its Biggest Rivals in the Face With This Surprising New Deal