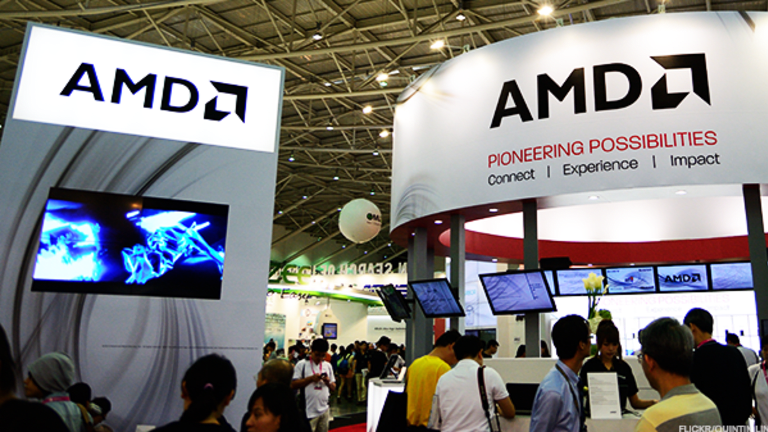 Publish date:
AMD Has Suddenly Become One of the Most Explosive Stocks in the Market -- Here's Why
Graphics chipmaker Advanced Micro Devices stretches gains into its third day in a row on Wednesday.
Graphics chipmaker Advanced Micro Devices stretches gains into its third day in a row on Wednesday.
A resurgence in Bitcoin and other cryptocurrency use has benefited one stock in particular: graphics chipmaker Advanced Micro Devices (AMD) - Get Report , which looks poised to stretch gains to its fifth day in a row on Friday.
Shares fell 1.8% to $12.67 on Friday at noon.
An AMD spokesperson this week said that the company is seeing "solid demand for our Polaris-based offerings in the gaming and newly resurgent cryptocurrency markets," helping to spur the rally. 
Cryptocurrency miners often build 'mining' computers with graphic processors that then solve complex mathematical equations and other problems online. Users are then awarded online currency for their efforts. 
Ethereum cryptocurrency is up over 2,800% year-to-date through Sunday, while Bitcoin is up about 160% this year, according to data from CoinDesk.
The Sunnyvale, Ca.-based developer has climbed nearly 20% over the last five sessions. AMD is up over 13% year to date.
"AMD has a great business model, a fabulous CEO and the right chips at the right time," TheStreet's founder and Action Alerts PLUS Portfolio Manager Jim Cramer said in an interview. "AMD has gained a lot of market share in a lot of prosaic Apple (AAPL) - Get Report products, and that's a very big deal."
What's Hot
Alibaba, day two notes: After a monster run in its stock on the heels of a bullish investor day, Alibaba (BABA) - Get Report founder Jack Ma saw his net wealth rise $8.5 billion to $41.8 billion. He is Asia's richest man, according to the Bloomberg Billionaires Index.
Why not stay long this tech stock, momentum lives on: Chipmaker Nvidia (NVDA) - Get Report is the best-performing S&P 500 component this quarter. The stock is up a robust 54% in June as Wall Street has become even more bullish on the company's prospects.
Must watch digital TV: Apple (AAPL) - Get Report CEO Tim Cook will deliver the commencement address at the Massachusetts Institute of Technology on Friday. He has big shoes to fill after a well-received speech by Facebook (FB) - Get Report founder Mark Zuckerberg at his alma mater Harvard.
ROBOTS: There really isn't any additional information needed on this one. Softbank Corp. (SFTBY) has struck a deal to pick up Alphabet's (GOOGL) - Get Report robot-maker Boston Dynamics. TheStreetshows you inside of five seconds what Boston Dynamics does -- it's really cool stuff.
Read More Trending Articles:
Nvidia to $300? Jim Cramer Weighs in on All of Nvidia's Recent Analyst Calls
Rite Aid, Fred's Plunge on Report of FTC Lawsuit
AMD Has Become a Very Big Deal for Several Reasons, Reveals Jim Cramer