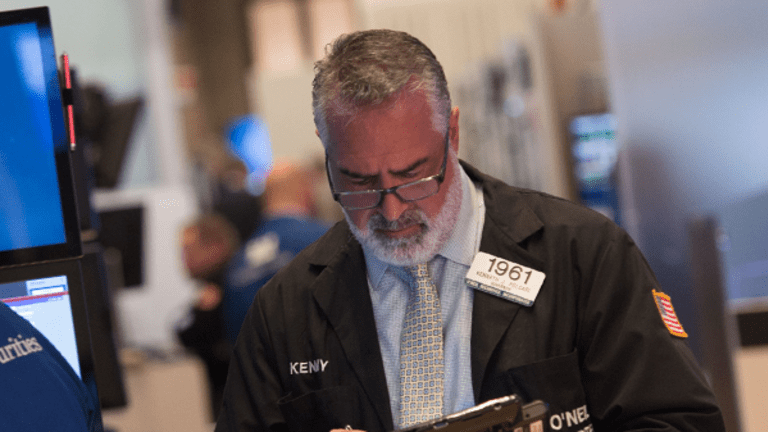 Amazon, Alphabet and a GOP Failure on Healthcare; Here's Where Wall Street Stands
It was the busiest week of the earnings season.
It was the busiest week of the earnings season. On top of that, the Senate GOP tried, and failed, to pass unknown healthcare legislation. Here's what you need to know.
Where Markets Ended
Market direction was almost entirely dictated by earnings this week in what was the busiest five days of the reporting season. Most S&P 500 companies that have reported so far have topped earnings estimates, sending benchmark indexes to clinch new records this week. 
The S&P 500 moved 0.02% lower for the week, though managed to score a new record close of 2,477 on July 26. The Nasdaq also ended the week lower, falling 0.20% over the past five days. Likewise, the tech-heavy index did score a mid-week record of 6,422. 
The Dow, meanwhile, had a better week than the rest, closing Friday 1.16% higher than it started Monday. The Dow ended Friday at a new record of 21,830, its third all-time closing high in a row. 
A Mix of Tech Earnings
Tech earnings were a scattershot this week with Alphabet Inc. (GOOGL) - Get Alphabet Inc. Class A Report leading the pack of winners and Amazon.com Inc. (AMZN) - Get Amazon.com, Inc. Report one of the losers. 
Alphabet Inc. breezed past analysts' earnings estimates and reported a double-digit increase in sales. The parent of Google earned $5.01 a share over its second quarter, 58 cents higher than consensus. Revenue surged 21% to $26.01 billion and exceeded targets by $410 million.
Of concern, though, the company hinted that rising costs could slow profit margin improvements. The company's total traffic acquisition costs increased to $5.091 billion and now represent 22% of Google's advertising revenue.
Alphabet is a holding in Jim Cramer's Action Alerts PLUS Charitable Trust Portfolio. Want to be alerted before Cramer buys or sells GOOGL? Learn more now.
Jim Cramer and the AAP team said investors are worried about click metrics. For the quarter, aggregate paid clicks increased 52% year over year and 12% sequentially, with a majority of the growth stemming from the Google Properties division. However, aggregate cost per click declined for another quarter, in total declining 23% year over year and 6% sequentially.
"Overall, we are encouraged by the strong quarter despite the discouraging click trend. We believe GOOGL can be successful with its diversification away from advertising, but we understand the business represents the heart of its business and the process will take time," said Cramer and the AAP team.
Amazon.com Inc. reported a quarterly performance that fell well short of analysts' estimates. Earnings of 40 cents a share were a far cry from $1.41 consensus. Profit declined 77% from a year earlier. A sharp miss on the bottom-line was tied to the company's efforts to invest heavily in areas such as fulfillment, original content and international expansion.
Spending jumped in the second quarter. Amazon's fulfillment spending rose 33% to $5.16 billion, while technology and content spending grew 43% to $5.55 billion. Marketing expenses increased 44% to $2.23 billion.
Revenue jumped 25% year over year to $37.9 billion, however, surpassing analysts' projected $37.2 billion. Amazon Web Services, the company's cloud platform, continued to grow rapidly with sales of $4.1 billion, 42% higher than the $2.9 billion it generated in the year-earlier quarter. Wall Street expected cloud revenue of $4.08 billion.
Twitter Inc. (TWTR) - Get Twitter, Inc. Report reported worrying signs of slowing user growth over its second quarter. Twitter reported 328 million month active users, a flat reading from the first quarter, though 5% higher than the same quarter a year earlier. The social network reported a net loss of $116.5 million, wider than $107 million a year earlier. Adjusted earnings of 8 cents a share topped estimates by 3 cents. Revenue of $573.9 million fell nearly 5%, though came in higher than $537.5 million consensus.
Watch: Jim Cramer Reveals When to Buy Twitter Shares
Twitter Gets Rocked and Top Exec Says He Can't Explain Why Zero New Users Were Added in Q2
Facebook Inc. (FB) - Get Meta Platforms Inc. Class A Reportreported second-quarter earnings and sales that topped Wall Street expectations. The social network earned $1.32 a share in the quarter, surpassing estimates of $1.12. Revenue was $9.32 billion, which exceeded Wall Street estimates of $9.2 billion.
Jim Cramer: Facebook Has More Advertisers Than They Can Handle
Advertising revenue jumped 47% from a year earlier to $9.16 billion, easily beating projections of $9.02 billion. Mobile ad revenue made up 87% of Facebook's total ad revenue during the second quarter, up from 84% a year earlier. The company reported 1.32 billion daily active users during the quarter and said it had just more than 2 billion monthly active users for the first time ever, which was more than analysts expected.
Facebook is a holding in Jim Cramer's Action Alerts PLUS Charitable Trust Portfolio. Want to be alerted before Cramer buys or sells FB? Learn more now.
"Overall, we view this as a great quarter for Facebook," said Cramer and the AAP team. "The company continues to over-deliver on the lofty expectations set by investors, even with the company continuing to spend to grow in scale."
James "Rev Shark" Deporre isn't as optimistic, though. Facebook's recent run is already stretching the Nasdaq, he wrote in his column for our premium site for investors, Real Money. Get his insights with a free trial subscription.
More and More Earnings
Elsewhere in earnings, Starbucks Corp. (SBUX) - Get Starbucks Corporation Report reported in-line profit results and below-consensus revenue. The coffee shop chain also announced it would close all its Teavana stores, its tea-focused concept chain. Starbucks said it would close all 379 Teavana locations over the coming year, citing underperformance. In April, Starbucks said it was reviewing options for Teavana.
Starbucks also said same-store sales in the quarter rose rose 4% globally, while U.S. same-store sales gained 5%. The company also said it now expects revenue growth to fall to the lower end of its previous guidance of 8% to 10% for the year.
Starbucks is a holding in Jim Cramer's Action Alerts PLUS Charitable Trust Portfolio. Want to be alerted before Cramer buys or sells SBUX? Learn more now.
"We have grown tired of the company's inability to turn this battleship around in any sustained way, and we think that the company's weak performance could continue trending through next year," said Jim Cramer and the AAP team.
In oil earnings, Exxon Mobil Corp. (XOM) - Get Exxon Mobil Corporation Report  mixed analysts' profit estimates in its recent quarter. The oil-industry leader earned 78 cents a share over its second quarter, nearly double earnings a year earlier, though below consensus of 84 cents. Revenue of $62.9 billion came in higher than estimates of $61.3 billion.
Chevron Corp. (CVX) - Get Chevron Corporation Report  swung to a quarterly profit. The oil company earned $1.5 billion, or 77 cents a share, compared to a loss of $1.5 billion, or 78 cents a share, a year earlier. However, earnings did not meet estimates of 86 cents a share. Revenue of $33 billion was in-line with estimates.
Comcast Corp. (CMCSA) - Get Comcast Corporation Class A Report turned out a strong quarterly performance tied to solid box office, TV and theme park results. The cable company declared revenue of $21.16 billion for the second quarter, up 9.8% on the same period one year ago and modestly ahead of the Factset consensus for sales of $20.8 billion. The fastest growing division during the period was filmed entertainment, which saw revenue growth of 59.6% thanks to the box office hit Fate of the Furious, while NBCUniversal and theme parks revenues grew by 17.3% and 15.6% respectively.
Comcast is a holding in Jim Cramer's Action Alerts PLUS Charitable Trust Portfolio . Want to be alerted before Cramer buys or sells CMCSA? Learn more now.
Chipotle Mexican Grill Inc. (CMG) - Get Chipotle Mexican Grill, Inc. Reportposted second-quarter earnings ahead of forecasts. Profit in the quarter was $2.32 a share; analysts had expected Chipotle to report $2.18. Revenue in the quarter rose 17.1% to $1.17 billion and same-store sales rose 8.1%. Revenue came in shy of analysts' estimates of $1.19 billion.
During the company's conference call, Chipotle CEO Steve Ells touched on food safety which first plagued the company in 2015, and more recently caused a closure at a Virginia location. Ells detailed several steps and procedures in conjunction with a plan to strengthen the company's commitment to developing one of the "most advanced" foods safety systems.Regarding the Norovirus specifically, Ells said that the outbreak last week wasn't related to the company's food supply and that he is disappointed that Chipotle failed in preventing it from spreading.
Dow component Caterpillar Inc. (CAT) - Get Caterpillar Inc. Report reported better-than-expected quarter and upbeat outlook. The heavy machinery company earned an adjusted $1.49 a share over its second quarter, far higher than estimates of $1.26. Revenue of $11.3 billion exceeded estimates of $10.9 billion. CEO Jim Umpleby said "construction in China and gas compression in North America were highlights in the quarter. He also said the company was seeing improved demand for construction across most regions.
McDonald's Corp. (MCD) - Get McDonald's Corporation Report , also a Dow component, reported an above-consensus second quarter. Net income of $1.70 a share rose from $1.25 a year earlier and beat analysts' estimates of $1.62. Revenue of $6.05 billion came in higher than an expected $5.96 billion. Global same-store sales increased 6.6%. U.S. same-store sales climbed 3.9%, above estimates of 2.9% growth.
Watch: Jim Cramer Reveals Why McDonald's CEO Steve Easterbrook Is Crushing It
The second-quarter earnings season has surpassed the halfway mark with 58% of S&P 500 companies having reported on their recent quarterly performances. Of those, 73% have exceeded analysts' earnings estimates, while 71% have topped revenue consensus, according to Thomson Reuters data. Analysts anticipate a blended earnings growth estimate of 10.8%.
A Failed Repeal-and-Replace Bill
Senate Republican leaders early Friday took their best shot at repealing portions of Obamacare but failed on a "skinny" repeal, with the legislation being voted down 49-51. Even as the vote continued to be tallied, it became apparent the bill would be sunk as Republican Sens. Susan Collins of Maine, Lisa Murkowski of Alaska and John McCain of Arizona voted no early during the balloting.
The vote was the third time in three days that Republicans failed to coalesce around a way to repeal and replace Obamacare.
President Donald Trump voiced his displeasure with the vote in a tweet on Friday: "3 Republicans and 48 Democrats let the American people down. As I said from the beginning, let ObamaCare implode, then deal. Watch!"
"This is clearly a disappointing moment," said Senate Majority Leader Mitch McConnell after the voting closed. "It's time to move on."
Democratic leader Charles Schumer of New York said, "We are not celebrating, we are relieved." Passage would have meant adding millions to the ranks of the uninsured.
"With the failure of Republican policymakers to repeal and replace the Affordable Care Act this week, many are adopting the view that tax reform might be unobtainable," Wells Fargo analysts wrote in a note. "We still expect tax cuts to materialize." Wells Fargo anticipates more progress on tax reform after a number of legislative deadlines in September, including lifting the debt ceiling.
A Better Second Quarter for the U.S. Economy
The U.S. economy picked up significant speed in the second quarter. Economic growth came in at 2.6% from April to June, more than double the first quarter's 1.2% growth. Consumer spending increased 2.8%, while business fixed investment rose 2.2%. Analysts anticipated growth of 2.4% over the second quarter.
In a statement, the Bureau of Economic Analysis said the increase "reflected positive contributions from personal consumption expenditures (PCE), nonresidential fixed investment, exports, and federal government spending that were partly offset by negative contributions from private residential fixed investment, private inventory investment, and state and local government spending."
"Today's data are consistent with our view that the weakness in [the first quarter] was likely to be short lived and growth would rebound in the second quarter," Barclays' Blerina Uruci wrote in a note. "In addition, we see further confirmation in the GDP data that consumer spending continues to drive the recovery and that investment spending is now finally starting to pick up following the sustained period of solid demand."
A Hawkish, Dovish Fed
The Federal Reserve on Wednesday, July 26, tiptoed the line between hawk and dove. Following its July meeting, the Fed said it would implement changes to its balance sheet "relatively soon" provided the economy expands as expected. Previous language in the Fed's statement had said those changes would come this year.
The Fed currently holds $4.5 trillion in Treasurys and mortgage-related bonds on its balance sheet. Unloading those would likely tighten monetary conditions in the same way an interest rate hike would. The Fed has previously emphasized that when it plans to do so it will be a gradual process.
"We do have some concern about that causing some volatility and it's such unprecedented territory I'm not sure if anybody honestly knows what it's going to do," Mike Piershale, president of Piershale Financial Group, said of the unwinding process.
The Fed left the federal funds rate at 1% to 1.25%, as widely expected. Another rate hike is not expected until at least December. Even then, chances of a year-end increase are only at 42.9%, according to CME Group fed funds futures.