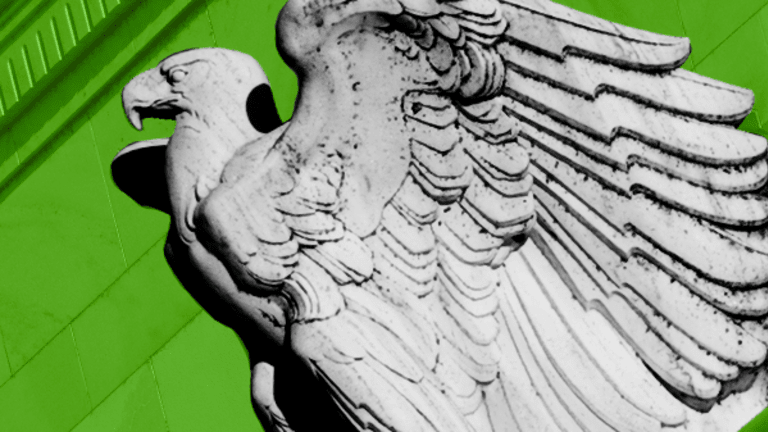 A Measured Fed and Retail Relief Rally Give Wall Street a Small Lift
The Fed and retail drive markets on Wednesday.
Stocks made small strides higher as the Federal Reserve channeled a measured approach to further rate hikes and balance sheet adjustments, while a retail rally set off gains in consumer names.
The Dow Jones Industrial Average was up 0.12% on Wednesday, Aug. 16, returning to a level above 22,000. The S&P 500 gained 0.14%, and the Nasdaq added 0.19%.
In minutes from its July meeting, members of the Fed's monetary policy committee said they wanted to wait for an "upcoming" meeting to begin debt reduction. Several members were ready to announce a start date at the July meeting, indicating a willingness to take the first step soon, possibly in September as many economists anticipate.
CEOs Are Failing to Act Like Leaders In Taking Weak Stand Against Trump
The Fed had previously said it would implement changes to its balance sheet "relatively soon," provided the economy expands as expected. The central bank currently holds $4.5 trillion in Treasuries and mortgage-related bonds, purchased to buoy U.S. growth after the financial crisis, and shedding some of them would likely tighten monetary conditions in the same way an interest-rate hike would.
Fed members also discussed concerns over inflation trends. Members said they could "afford to be patient... in deciding when to increase the federal funds rate further" and that it was imperative to wait until "incoming information confirmed that the recent low readings on inflation were not likely to persist."
The central bank left the federal funds rate at 1% to 1.25% at that meeting, as widely expected. Another rate hike is not anticipated until at least December. Even then, chances of a year-end increase are only at 49.2%, according to CME Group fed funds futures.
"We know the Fed has a rate destination in mind, and a stated goal of three this year, but what remains to be seen is if they deliver this year or next," said Mike Loewengart, vice president of investment strategy at E*TRADE. "Many will be keeping a watchful eye on inflation. If we see improvement on that front, there's a good chance we'll see more action in 2017."
Goldman Sachs Alum Gary Cohn Is Not a Good Choice for Federal Reserve Chair, Barney Frank Warns
A retail rally inspired broader gains in financial markets with positive earnings from Target Corp. (TGT) - Get Target Corporation Report and Urban Outfitters Inc. (URBN) - Get Urban Outfitters, Inc. Report sweetening investor appetite. Target rose 3.6% on better-than-expected earnings and a sunny outlook. Net income rose to $1.22 a share over its quarter ended July 29, higher than $1.16 a share a year earlier. Adjusted earnings of $1.23 a share beat estimates by 4 cents.
Revenue increased 1.6% to $16.4 billion, edging out consensus by $130 million. Same-store sales gained 1.3%, smashing targets of 0.3% growth. 
"We are pleased that second-quarter traffic increased more than 2%, reflecting growth in both our store and digital channels," Brian Cornell, chairman and CEO of Target, said in a statement. "We continue to focus on our long-term strategy, as we work to transform every part of our business and build an even better Target that will thrive in this new era in retail."
Target also raised its full-year adjusted earnings guidance to $4.34 to $4.54 a share, higher than a previous range of $3.80 to $4.20. 
Urban Outfitters rocketed 17% higher Wednesday after topping quarterly estimates thanks to strength in its direct-to-consumer sales. Profit of 44 cents a share compared with analysts' estimates of 37 cents a share.
Revenue dipped 2% to $873 million, though it came in higher than an $862 million consensus.
Comparable retail segment sales fell 4.9%, while wholesale net revenue increased 10%. By brand, revenue at Free People gained 2.9%, but fell 4% at Anthropologie and 7.9% at Urban Outfitters.
Earnings surprises from Target and Urban Outfitters were a welcome change from a string of retail disappointments on Tuesday, Aug. 15, when disappointments from Coach Inc. (COH) , Advance Auto Parts Inc. (AAP) - Get Advance Auto Parts, Inc. Report , and Dick's Sporting Goods Inc. (DKS) - Get Dick's Sporting Goods, Inc. Report  pulled the S&P 500 lower for its first day in three. 
Retail Takes a Beating That Whips the Life Out of Wall Street Rally
Around 92% of S&P 500 companies have reported earnings so far this season. Of those, 73.7% have exceeded earnings estimates, above the historical average of 64%, according to Thomson Reuters data. More than 68% have topped revenue consensus, also above an average of 59%. Consumer discretionary and staples stocks have seen the slowest earnings growth, up 3.6% and 4.6%, respectively.
Retailers such as Costco Wholesale Corp. (COST) - Get Costco Wholesale Corporation Report , Dollar General Corp. (DG) - Get Dollar General Corporation Report , Sears Holding Corp. (SHLD) , Kohl's Corp. (KSS) - Get Kohl's Corporation (KSS) Report , Macy's Inc. (M) - Get Macy's Inc Report and Big Lots Inc. (BIG) - Get Big Lots, Inc. Report were also higher on Wednesday. The SPDR S&P Retail ETF (XRT) - Get SPDR S&P Retail ETF Report  added nearly 1%. 
J.C. Penney Shares Suffer Worst 5-Day Stretch in Your Lifetime
Separately, Mylan NV (MYL) - Get Mylan N.V. (MYL) Report increased about 1% on Wednesday after Citi analysts upgraded their rating to buy from neutral. The firm called Mylan the "best house on a somewhat beleaguered block" and argued that the drugmaker is best positioned to succeed in the tough healthcare climate.
Housing starts for July cooled to a seasonally adjusted annual rate of 1.16 million, according to the Commerce Department, coming in 4.8% lower than in June and 5.6% below the rate a year earlier. Analysts had anticipated a stronger pace of 1.23 million. Permits also declined, down 4.1% in July. 
Crude oil prices were lower even after a far sharper decrease in domestic stockpiles than anticipated. The Energy Information Administration reported an 8.9 million-barrel decline in U.S. crude supplies in the past week, much better than analysts' estimates of a 3.1 million-barrel fall. Stockpiles had dropped by 6.5 million barrels in the previous week. Gasoline stockpiles were unchanged, while distillates rose by 700,000 barrels. 
West Texas Intermediate crude settled 1.6% lower at $46.78 a barrel. 
Political headlines this week have centered on racial violence in Charlottesville, Va., and President Trump's response, or lack thereof. A white supremacist and neo-Nazi rally on Saturday, Aug. 12, escalated into violence as protesters and counter-protesters clashed, culminating in an intentional hit-and-run that killed one and injured at least 19 others. James Alex Fields Jr. has been charged with second-degree murder in the death of 32-year-old Heather Heyer. 
Trump has caused outrage in his response to the tragedy, appearing reluctant to call out the white supremacists who gathered in Charlottesville and instead blaming violence on "both sides." He doubled down on that stance in a defiant press conference on Tuesday evening.
"You had a group on one side and you had a group on the other, and they came at each other with clubs and it was vicious and it was horrible, and it was a horrible thing to watch," the president said. "I think there's blame on both sides." He went on to ask why the "alt-left" had not been found culpable in the violence.
Mid-afternoon Wednesday, Trump announced that he would disband both the manufacturing council and the Strategic and Policy Forum. The former had never convened, while the latter had only met twice. Trump's hand was forced after several members of the manufacturing council resigned following the president's Charlottesville remarks. 
Campbell Soup Co. (CPB) - Get Campbell Soup Company Report CEO Denise Morrison and 3M Co. (MMM) - Get 3M Company Report CEO Inge Thulin resigned from Trump's manufacturing council earlier Wednesday. Several members of the manufacturing council had voluntarily resigned after Trump's comments on violence in Charlottesville were interpreted as sympathetic to white supremacists. 
Trump also renewed his attack on Amazon.com Inc. (AMZN) - Get Amazon.com, Inc. Report in a Twitter post on Wednesday morning, accusing the company of hurting other businesses. 
"Amazon is doing great damage to taxpaying retailers. Towns, cities and states throughout the U.S. are being hurt -- many jobs being lost!" he tweeted, though offering no proof. Trump previously accused Amazon of paying no internet taxes, despite there being no such thing. 
Watch: This Is Why the Federal Reserve Needs to Raise Interest Rates Again This Year
More of What's Trending on TheStreet: