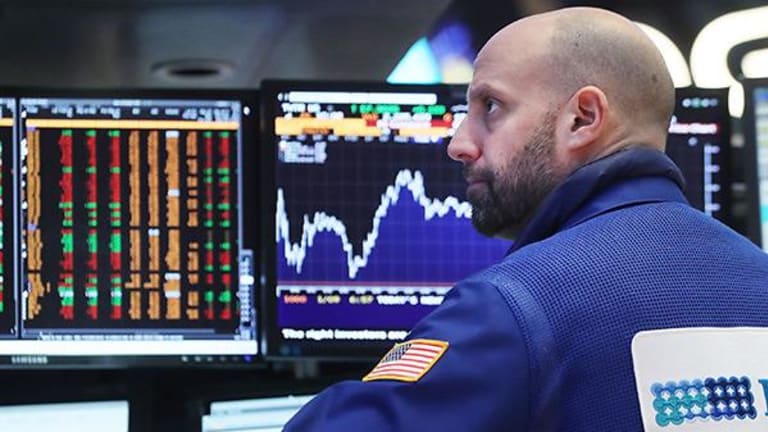 5 Things You Must Know Before the Market Opens Tuesday
U.S. stock futures are falling Tuesday as the Federal Reserve kicks off a two-day meeting at which it's expected to raise interest rates.
Updated from 5:35 a.m. EDT
If you'd like to receive "5 Things" in your email inbox every morning, please register for TheStreet Alerts and follow me.
Here are five things you must know for Tuesday, March 14:
1. -- U.S. stock futures were falling Tuesday as the Federal Reserve kicks off a two-day meeting at which it's expected, with near 100% certainty, to raise interest rates.
The rate hike would be the third in 15 months. Wall Street will be looking for signals Wednesday afternoon -- when the Fed makes its announcement -- on whether further rate increases are coming.
The U.S jobs report for February, released on Friday, made the likelihood of an interest rate hike in March all but a certainty. Solid job gains support the Fed's recent hawkish rhetoric and insistence that the U.S. economic recovery warrants more than one rate hike this year. An interest rate hike in March was given a 91% chance of happening as of last Friday, according to CME Group.
Besides the start of the Fedmeeting on Tuesday, the economic calendar in the U.S. also includes the Producer Price Index for February at 8:30 a.m. EDT. 
In Europe, stocks traded mixed. The FTSE-100 in the U.K. rose 0.2% and Britain's pound sterling fell sharply after Parliament voted to hand Prime Minister Theresa May the authority to begin formal exit procedures from the European Union. 
Earnings are expected Tuesday from Bon-Ton Stores (BONT) , HD Supply Holdings (HDS) - Get HD Supply Holdings, Inc. Report , Hostess Brands (TWNK) - Get Hostess Brands, Inc. Class A Report and YY (YY) - Get YY, Inc. Sponsored ADR Class A Report . 
2. -- The plan to repeal Obamacare and replace it with a plan being crafted by House Republicans and the Trump administration would cut the deficit by $337 billion through 2026 but the number of people without health coverage would increase to 24 million, according to estimates released by Capitol Hill budget and tax analysts.
The estimates from the Congressional Budget Office and the staff of the Joint Committee on Taxation are being closely watched because they could greatly affect the support for enacting the plan, key components of which were passed by House committees last week.
The prediction that millions will lose or give up insurance could diminish support for the package and the White House issued a statement saying it disagrees "strenuously" with the CBO analysis. Over the weekend, the White House insisted that no one will be made worse off by passage of the legislation.
3. -- Shares of Valeant Pharmaceutical International (VRX)  fell 13% in premarket trading on Tuesday after activist investor Bill Ackman reported he has liquidated his position in the drug company and plans to eventually step down from the board.
The liquidation is the latest blow for the troubled pharmaceutical company, whose stock has dropped from a high of about $262 in August 2015 to trade below $11 early Tuesday.
The company has been struggling in the aftermath of a report issued by short-seller activist Andrew Left of Citron Research in October 2015 alleging a secret relationship between Valeant, a mail-order pharmacy and one of its customers. Citron alleged that Valeant used the relationship to improperly hike revenue.
Ackman, the activist fund manager behind fund Pershing Square Capital Management, steadfastly has supported Valeant over the past year, but said Monday the investment represented a disproportionately large amount of time and resources and he decided to sell its investment and realize a large tax loss. 
4. -- Shares of Toshiba (TOSYY) rose modestly after the conglomerate said it would "aggressively" look at strategic options for its struggling Westinghouse unit in the United States as it sought a second delay in filing its fiscal third-quarter earnings.
Toshiba stopped short of saying it would seeking a Chapter 11 bankruptcy filing for Westinghouse, but nonetheless vowed to "aggressively consider strategic options" for the nuclear division that has cost the group more than $6.2 billion in goodwill write-downs. 
Tokyo Stock Exchange officials granted Toshiba's request to delay the filing of its earnings until April 11, although the stock is now deemed a "Securities Under Supervision" and could be de-listed if the filing is not made on time.
5. -- Ruby Tuesday (RT) shares rose nearly 18% in after-hours trading on Monday after the restaurant chain said it would explore strategic alternatives including a sale or merger.
The company said it has just begun a strategic review and doesn't plan to make more public comments until the process is completed. 
Ruby Tuesday also issued preliminary results for the quarter ended Feb. 28, saying that revenue fell to $225.7 million from $272 million a year earlier, and sales at establish locations declined 4%.