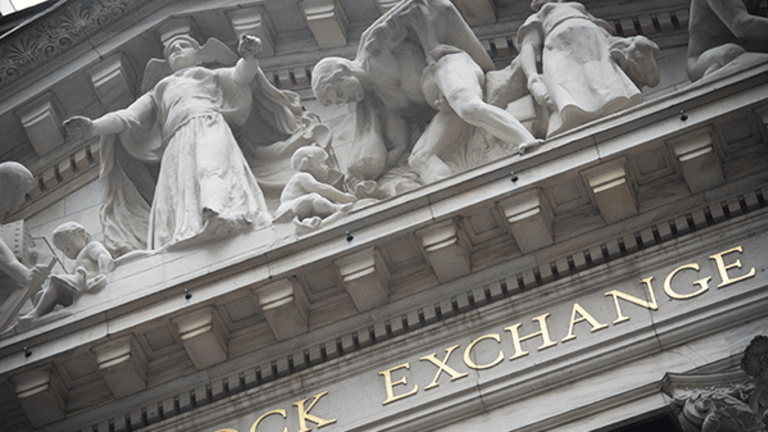 5 Things You Must Know Before the Market Opens Wednesday
U.S. stock futures point to a weak start for Wall Street on Wednesday as oil prices tumble into bear-market territory.
U.S. stock futures point to a weak start for Wall Street on Wednesday as oil prices tumble into bear-market territory.
Updated from 6:03 a.m. ET on Wednesday, June 21
If you'd like to receive the free "5 Things" newsletter, please register here.
Here are five things you must know for Wednesday, June 21:
1. -- U.S. stock futures pointed to a weak start for Wall Street on Wednesday, June 21, European stocks fell and Asian shares finished mostly lower after oil prices tumbled into bear-market territory.
Oil futures for August delivery in the U.S. early Wednesday fell 0.3% to $43.37 a barrel after crude entered a bear market on Tuesday, falling more than 20% from its Feb. 21 high. The declines came even as data from the American Petroleum Institute showed a bigger-than-expected decline in U.S. crude stocks for the week ended June 16.
"Unless we see a marked reduction in crude stockpiles, the possibility of further short-term falls in the price of oil cannot be ruled out," said Fawad Razaqzada, a market analyst at Forex.com.
Tumbling oil prices led U.S. stocks lower on Tuesday, June 20. The S&P 500 fell 0.66%, the Dow Jones Industrial Average declined 0.29%, and the Nasdaq finished down by 0.82%. The S&P 500 and Dow pulled away from records set a day earlier.
2. -- The economic calendar in the U.S. on Wednesday includes Existing Home Sales for May at 10 a.m. ET, and Oil Inventories for the week ended June 16, at 10:30 a.m.
Earnings are expected Wednesday from CarMax Inc. (KMX) - Get Report , Oracle Corp. (ORCL) - Get Report and SteelCase Inc. (SCS) - Get Report . 
On Tuesday, computer software company Adobe Systems Inc. (ADBE) - Get Report reported stronger-than-expected second-quarter earnings. 
The San Jose-based company reported earnings of $1.02 a share on revenue of $1.77 billion., topping analysts' forecasts for earnings of 95 cents on revenue of $1.73 billion.
Adobe said revenue from its digital media segment rose to $1.21 billion, with Creative revenue increasing to a record $1.01 billion.
"This truly was a beat across the board and we would expect Adobe to continue its momentous run as the company is the unmatched leader in the market for digital content creation." wrote Jim Cramer and the AAP team. Adobe is a holding in Cramer's Action Alerts PLUS Charitable Trust Portfolio.
Adobe shares rose 4.5% in premarket trading on Wednesday.
3. -- Travis Kalanick, the founder of Uber Technologies Inc., resigned as CEO of the ride-sharing company under pressure from investors and just days after he was asked to take a leave of absence in the wake of a report into allegations of discrimination and bullying at the startup.
"I love Uber more than anything in the world and at this difficult moment in my personal life I have accepted the investors request to step aside so that Uber can go back to building rather than be distracted with another fight," Kalanick said in a statement given to the New York Times, which originally reported his departure. 
Venture capital firm Benchmark, whose partner Bill Gurley is one of Uber's largest shareholders and sits on its board, as well as investors First Round Capital, Lowercase Capital, Menlo Ventures and Fidelity Investments, all pressed Kalanick to quit, according to a report from Reuters.
Uber is currently valued at around $70 billion, making it the highest-valued private technology company in the U.S., putting it well ahead of the $7.5 billion price associated with ride-sharing rival Lyft.
Uber has been beset by controversy, partly as a result of an aggressive corporate culture that allowed it to win more than 20% of the global taxi and limousine market in only a few years of operation. That culture, however, has drawn the ire of regulators and investigators, who have challenged the company's expansion amid allegations that it ignored local laws and skirted environmental regulations. 
Watch More:Travis Kalanick Has Resigned As CEO of Uber: A Timeline of Uber's Recent Struggles
Uber's internal culture was also in focus this year after a February blog post from one of its former engineers, Susan Fowler, detailed troubling allegations of sexism, discrimination and a toxic working environment.
More of What's Trending on TheStreet:
4. -- Toshiba Corp.  (TOSYY)  picked a Bain Capital-led consortium as the preferred bidder for its flash memory unit. 
Toshiba chose a group led by Bain but also supported by government-backed investment funds that has offered ¥2 trillion ($18 billion) for the world's second-largest producer of NAND flash memory chips.
The group includes Korea-based SK Hynix Inc., the Innovation Network of Japan and the Development Bank of Japan and appears to have won the bidding contest despite failing to meet the ¥2.2 trillion price proposed by a paring of U.S. chipmaker Broadcom Inc. (AVGO) - Get Report  and Silver Lake Private Equity Partners.
Toshiba needs to secure a sale for its semiconductor unit in order to raise cash to satisfy the billions it must pay to its U.S. creditors as a result of the chapter 11 filing of Westinghouse, its U.S. nuclear unit, earlier this year. 
However, the sale could be slowed -- or possibly cancelled altogether -- as a result of legal action from Western Digital Corp. (WDC) - Get Report , a former partner of Toshiba's that has consistently said the auction process violates prior agreements between the two companies. Western Digital's SanDisk unit owns a 49% stake in Toshiba's main chip plant in Yokkaichi.
"Toshiba Corporation continues to ignore both SanDisk's consent rights and the dual-track legal process currently underway," Western Digital said in a statement. "The language of the relevant agreements is clear: Toshiba Corporation has no right to transfer its JV interests to a third party without SanDisk's consent."
Western Digital is a holding in Jim Cramer's Action Alerts PLUS Charitable Trust Portfolio. Want to be alerted before Cramer buys or sells WDC? Learn more now.
Toshiba shares fell 2.2% in trading in Japan. 
5. -- Tesla Inc. (TSLA) - Get Report said Chris Lattner, the head of the electric-vehicle maker's autopilot software, has left the company after less than six months on the job.
"Chris just wasn't the right fit for Tesla, and we've decided to make a change," a Tesla spokeswoman told Reuters in an email on Tuesday.
"Turns out that Tesla isn't a good fit for me after all," Lattner tweeted. "I'm interested to hear about interesting roles for a seasoned engineering leader!" Lattner formerly worked at Apple Inc.
Tesla hired Andrej Karpathy as director of artificial intelligence and Tesla Vision team, the spokeswoman told Reuters.
Karpathy, who most recently worked as a research scientist at OpenAI, will directly report to CEO Elon Musk, Reuters said.
Tesla shares were rising slightly in premarket trading on Wednesday.
Read More Trending Articles:
Intel Just Got Smoked By AMD In the Race to Unleash a Super Chip
It's Worrying That These Sectors Have Just Taken a Crowbar to the Knee-Cap: Market Recon
Costco Sees an Extremely Damaging Flush In Aftermath of Amazon's Big Whole Foods Deal
'Walmart Rx' Takes Center Stage as Walgreens Rite Aid Saga Nears Homestretch