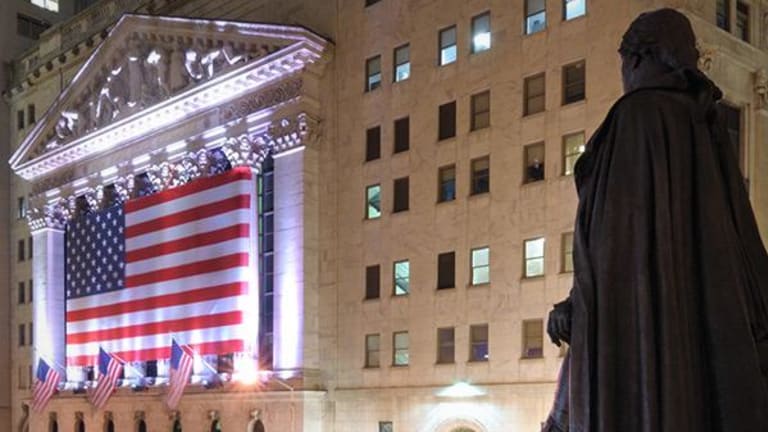 5 Things You Must Know Before the Market Opens Wednesday
U.S. stock futures turn mixed a day after the Dow comes very close but fails to cross the psychologically important 20,000 level; Nike shares rise following the company's earnings beat.
Updated from 6 a.m. EST
If you'd like to receive "5 Things" in your email inbox every morning, please register for TheStreet Alerts and follow me.
Here are five things you must know for Wednesday, Dec. 21:
1. -- U.S. stock futures turned mixed Wednesday while European shares reversed gains and Asian stocks finished mixed a day after the Dow Jones Industrial Average came very close but failed to cross the psychologically important 20,000 level.
The Dow ended Tuesday at 19,974, a new, all-time closing high. At one point during the session the index traded just 13 points off the 20,000 mark. The Dow also was on track to post a nearly 9% gain for the quarter, the best quarterly increase since the fourth quarter of 2013.
The economic calendar in the U.S. on Wednesday includes Existing Home Sales for November at 10 a.m. EST, and Crude Inventories for the week ended Dec. 17, at 10:30 a.m.
Accenture (ACN) - Get Report reported fiscal first-quarter earnings of $1.58 a share, topping forecasts of $1.49. Revenue expectations for the second quarter came in below estimates and the stock fell 1.6% in premarket trading.
Earnings are also expected Wednesday from Bed, Bath & Beyond (BBBY) - Get Report , Finish Line (FINL) , Micron Technology (MU) - Get Report and Red Hat (RHT) - Get Report .
Oil prices in the U.S early Wednesday were rising 0.7% to $53.65 a barrel.
2. -- Nike (NKE) - Get Report  shares were rising 2.7% in premarket trading on Wednesday after the footwear and apparel giant posted fiscal second-quarter earnings on Tuesday of 50 cents a share, topping Wall Street estimates of 43 cents.
Net sales in the quarter rose 6% from the prior year to $8.2 billion. Analysts had expected sales of $8.09 billion.
Nike said North American sales rose 2.9% to $3.65 billion.
On a conference call, Nike said its basketball sneaker business was "back" after seeing a bout of slowing sales in recent quarters due to a consumer shift toward more casual shoes and greater competition from Under Armour. 
But Nike's closely watched futures orders number -- which offers insights into demand by major retailers -- came up light. Excluding the impact of the strong U.S. dollar, Nike's futures orders increased by 2% for the second quarter ended Nov. 30, below analysts' estimates that called for 5.3% growth.
3. -- FedEx (FDX) - Get Report  fell 3.8% in premarket trading after the shipping giant reported second-quarter earnings that missed analysts' expectations.
FedEx reported adjusted earnings of $2.80 a share on revenue of $14.93 billion in revenue. Analysts expected profit of $2.90 a share on sales of $14.91 billion.
Operating expenses in the quarter rose 22% to $13.8 billion.
During a conference call with analysts, company officials voiced concerns about aspects of President-elect Donald Trump's trade agenda that could hit FedEx in the pocket book. 
FedEx Chief Financial Officer Alan Graf said he is optimistic about Trump and the GOP's broader promises of tax reform, but is hesitant to embrace the proposal for a border-adjustment tax that would tax goods imported into the U.S.
4. -- Twitter (TWTR) - Get Report shares were rising 0.3% to $17.98 in premarket trading Wednesday following the departure of two top executives at the social media company.
Twitter's chief technology officer, Adam Messinger, posted in a tweet that he "decided to leave Twitter and take some time off," while Josh McFarland, vice president of product at Twitter, also announced Tuesday he was leaving company. 
The resignations come on the heels of the departure of Chief Operating Officer Adam Bain in November. Bain had been with the company since 2010 and had held the operating chief post since October 2015. 
The departures prompted Trip Chowdhry, the managing director of equity research at Global Equities Research, to issue a note on Tuesday claiming Twitter is "toast" and "not even a $10 stock," CNBC reported.
5. -- President Obama on Tuesday designated the bulk of U.S.-owned waters in the Arctic Ocean and certain areas in the Atlantic Ocean as indefinitely off limits to future oil and gas leasing.
The move helps put some finishing touches on Obama's environmental legacy while also testing President-elect Donald Trump's promise to unleash the nation's untapped energy reserves, according to the Associated Press.
The White House announced the actions in conjunction with the government of Canadian Prime Minister Justin Trudeau, which also placed a moratorium on new oil and gas leasing in its Arctic waters, subject to periodic review.
Obama is making use of an arcane provision in a 1953 law to ban offshore leases in the waters permanently. The statute said that "the president of the United States may, from time to time, withdraw from disposition any of the unleased lands of the outer Continental Shelf."
Environmental groups hope the ban, despite relying on executive powers, will be difficult for future presidents to reverse. The White House said it's confident the president's order will withstand legal challenge and said the language of the statute provides no authority for subsequent presidents to undo permanent withdrawals, the AP reported.
The Atlantic waters placed off limits to new oil and gas leasing are 31 canyons stretching off the coast of New England south to Virginia, though some had hoped for a more extensive ban that would have extended further south.