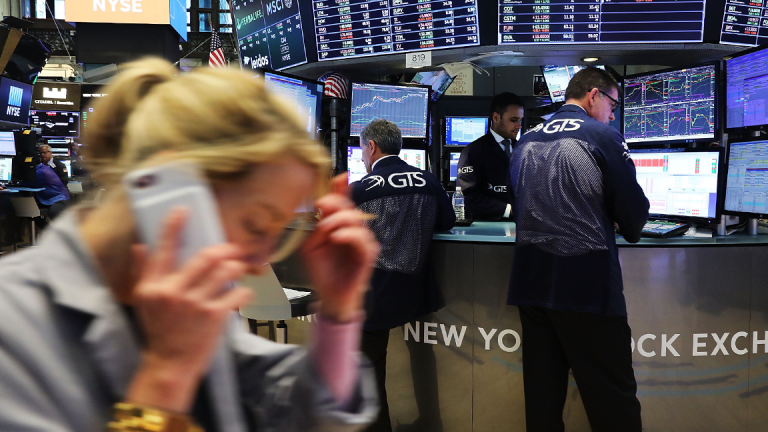 Publish date:
Procter & Gamble, Walmart and Wildfires - 5 Things You Must Know
U.S. stock futures are edging higher on Tuesday, Oct. 10.
U.S. stock futures are edging higher on Tuesday, Oct. 10.
Here are five things you must know for Tuesday, Oct. 10:
1. -- U.S. stock futures were edging higher on Tuesday, Oct. 10, after equities dipped in the previous session as Wall Street perhaps was looking to the end of the week when big U.S. banks will kick off the third-quarter earnings season.
Citigroup Inc. (C) - Get Report and JPMorgan Chase & Co. (JPM) - Get Report will get things started on Thursday, Oct. 12, when they release their earnings reports.
The Dow Jones Industrial Average fell 0.06% on Monday, Oct. 9 and the S&P 500 declined 0.18%. The Nasdaq dropped 0.16% and snapped a nine-day winning streak.
The economic calendar in the U.S. on Tuesday includes only a speech from Minneapolis Federal Reserve Bank President Neel Kashkari in Minneapolis at 10 a.m. ET, and an appearance from Dallas Fed President Rob Kaplan at a meeting of the Stanford University Institute for Economic Policy Research at 8 p.m. 
Earnings reports are expected Tuesday from Oil-Dri Corp. of America (ODC) - Get Report and Barracuda Networks Inc. (CUDA) .
If you'd like to receive the free "5 Things You Must Know" newsletter, please register here.
2. -- Procter & Gamble's (PG) - Get Report proxy fight with Nelson Peltz's Trian Partners will come to a close on  Tuesday at the Cincinnati headquarters of the the maker of Tide laundry detergent and Crest toothpaste.
Even if Peltz, the billionaire activist investor, doesn't score a Procter & Gamble board seat, his efforts won't go entirely to waste. Peltz's criticisms of the company have sent a strong message to CEO David Taylor about the need to acquire lesser known brands that boast millennials as customers.
The two parties have collectively spent more than an estimated $100 million on mailings, phone calls and advertisements to woo investors, according to Reuters, and the outcome as of late Monday was too close to call, according to sources who had estimates of a preliminary voting tally. 
P&G shares rose 0.8% in premarket trading on Tuesday.
3. -- When Walmart Stores Inc. (WMT) - Get Report holds its annual investor day on Tuesday, there will be much to highlight, according to TheStreet's Brian Sozzi.
From a new program that sends people into your home with a grocery order to venturing into digital returns, Walmart's year has been spent not just thinking about how to win against Amazon.com Inc. (AMZN) - Get Report , but how to pound Amazon into the ground over the next 10 years, Sozzi wrote.
The only unknown right now is the cost of implementing Walmart's new strategy, according to Sozzi. Walmart will need to reinvest even more in the year ahead in its people, website and R&D to build even quicker momentum in key areas.
4. -- American International Group Inc. (AIG) - Get Report estimated it will incur pretax catastrophe losses of about $3 billion in the third quarter from recent hurricanes and earthquakes.
The insurer said it estimates Hurricane Harvey caused it between $1.1 billion and $1.2 billion in insurance losses and Hurricane Irma more than $1 billion. Hurricane Maria will cost the company between $600 million and $700 million. The Mexico earthquakes were included in an additional $150 million in additional catastrophe losses it faced in the quarter.
The stock fell 0.9% in premarket trading.
5. -- Wildfires fanned by overnight winds roared out of control over large areas of California's wine country, burning at least 1,500 homes and buildings and covering the entire San Francisco bay area in smoke.
Ken Pimlott, director of California Department of Forestry and Fire Protection, said 1,500 structures had burned and 20,000 people had been evacuated ahead of the fast moving flames, the Associated Press reported. The latest reports early Tuesday said at least 11 were dead and at least 100 injured.
Taken as a group, the fires were already among the deadliest in California history, according to the AP.
Napa Wine Country Fires Burn 1,500 Homes and Buildings
This story has been updated from 6:06 a.m. ET.
More of What's Trending on TheStreet:
Join Jim Cramer, CNBC's Jon Najarian and Other Experts Oct. 28 in New York
Jim Cramer will host CNBC's Jon Najarian, TD Ameritrade's JJ Kinahan, famed analytics expert Marc Chaikin and other market mavens on Oct. 28 in New York City to share successful strategies for active investors.
You can join them as they discuss how smart investors can make the most of options trading, futures contracts, fundamental and quantitative analysis and great ETFs to buy right now. Participants will also get a chance to meet Jim and other panelists and take photos.
When: Saturday, Oct. 28, 8 a.m.-3 p.m.
Where: The Harvard Club of New York, 35 West 44th St., New York, N.Y.
Cost: Special early bird price: $150 per person. (Normal price: $250)
Click here for the full conference agenda or to reserve your seat now.