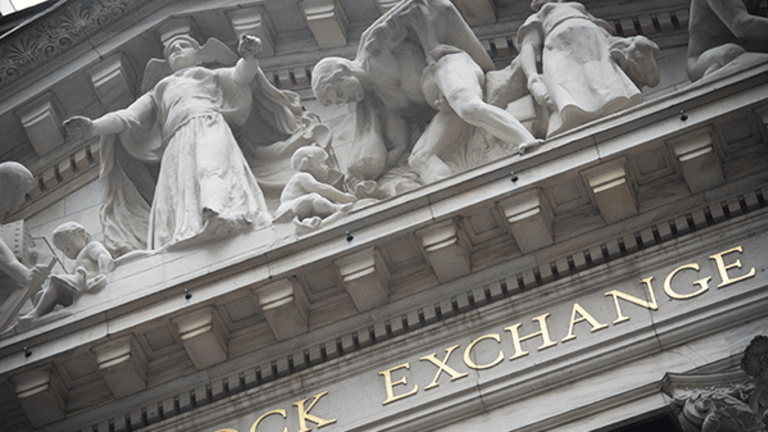 5 Things You Must Know Before the Market Opens Tuesday
U.S. stock futures point lower Tuesday as Wall Street returns from a long holiday weekend with a raft of economic data to digest in the coming week.
Updated from 6 a.m. EDT
If you'd like to receive the free "5 Things" newsletter, please register here.
Here are five things you must know for Tuesday, May 30:
1. -- U.S. stock futures pointed lower Tuesday as Wall Street returned from a long holiday weekend with a raft of economic data to digest in the coming week.
Oil prices in the U.S. early Tuesday fell 0.56% to $49.52 a barrel.
European stocks declined with financial shares leading markets to the downside as investors trimmed bets on a faster exit from easy monetary policy from the European Central Bank amid slowing inflation and political uncertainty.
Asian stocks ended Tuesday's session mixed. Japan's Nikkei 225 finished nearly flat while South Korea's Kospi fell 0.4%. Markets in Shanghai and Hong Kong were closed for a holiday.
The economic calendar in the U.S. on Tuesday includes Personal Income and Outlays for April at 8:30 a.m. EDT, the S&P Corelogic Case-Shiller Home Price Index for March at 9 a.m., and Consumer Confidence for May at 10 a.m. Data on the U.S. jobs market are scheduled for release at the end of the week.
2. -- Shares of International Consolidated Airlines (ICAGY) fell 2.9% in London Tuesday as investors reacted to an IT outage at the company's British Airways division which left tens of thousands of passengers stranded over one of the busiest travel periods of the year. 
British Airways was forced to cancel its entire schedule from both London airports -- Heathrow and Gatwick -- on Saturday after its IT system collapsed following a power surge which ultimately led to disruption for more than 300,000 passengers. A slow start getting backup systems into operation meant the airline wasn't able to resume flights until Sunday although a backlog of passengers waiting to travel meant that disruption lasted well into Monday.
British Airways could face a potentially hefty bill to compensate passengers whose flights were either delayed or canceled; some analysts have pegged costs at more than £100 million ($128 million). 
George Salmon, equity analyst at Hargreaves Lansdown, said "the  whole sorry episode has undeniably put a dent in BA's reputation for delivering a premium service."
3. --  London Stock Exchange (LDNXF) said it would buy two fixed income trading and benchmarking assets from Citigroup (C) , barely two months after a tie-up with Germany's Deutsche Boerse (DBOEY) fell apart. 
The U.K. stock exchange operator will buy The Yield Book and Citi Fixed Income Indices from the U.S. bank for $685 million, funded by cash on hand and bank debt. The Yield Book is a fixed income analytics platform, covering mortgage, government, corporate and derivative securities. Citi Fixed Income Indices, owner of the World Government Bond Index, compiles benchmarks and provides other associated data to clients across the globe.
Both assets will be folded into LSE's FTSE Russell Information Services division, which was picked up during the June 2014 acquisition of Russell Investments, and are expected to boost earnings from the first year onward.
4. -- The leader of Venezuela's National Assembly has threatened that a later government may refuse to pay $2.8 billion in bonds that Goldman Sachs (GS) recently purchased from the country's central bank, CNBC reported.
"It is apparent Goldman Sachs decided to make a quick buck off the suffering of the Venezuelan people," Julio Borges, the leader of the opposition-controlled congress, said in a letter dated on Monday to Goldman Sachs CEO Lloyd Blankfein.
"Given the irregular nature of this transaction and the absurd financial terms involved that are to the detriment of Venezuela and its people, the National Assembly will soon launch an investigation into the matter. I also intend to recommend to any future democratic government of Venezuela not to recognize or pay on these bonds," Borges wrote.
Goldman Sachs bought about $2.8 billion in Venezuelan bonds that had been held by the oil-rich country's central bank, a lifeline to President Nicolas Maduro's embattled government as it scrambles to raise funds in the midst of widening civil unrest, The Wall Street Journal reported last week.
Borges said the deal offered a "financial lifeline" to Maduro's regime, which has been accused of using violence against frequent protests, CNBC reported.
Shares of Goldman Sachs fell slightly in premarket trading on Tuesday.
5. -- Tiger Woods said an "unexpected reaction" to prescription medicine led to his DUI arrest, which landed him in a Florida jail for nearly four hours on Monday. The golfer denied that alcohol was involved.
Woods, the 14-time major champion who had back surgery five weeks ago, was arrested around 3 a.m. Monday on suspicion of driving under the influence in Jupiter, Fla. He was released on his own recognizance.
An arrest report might be available on Tuesday, Jupiter Police spokeswoman Kristin Rightler said, the Associated Press reported.
Nike shares fell 0.8% in premarket trading.
TheStreet's Brian Sozzi wrote that it may finally be time for Nike (NKE) to "cut bait at any cost in order to save itself from continuing to be associated with a troubled, low return on investment athlete."
Read More Trending Articles:
Sears Mind-Blowing Loss and Evaporating Cash Should Only Question If It Could Survive