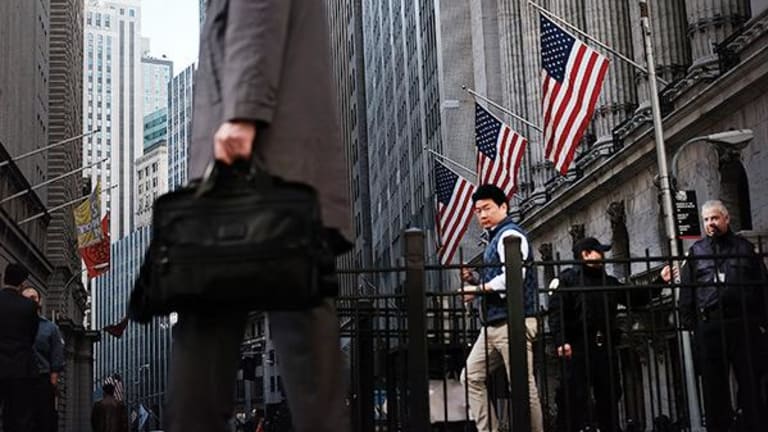 5 Things You Must Know Before the Market Opens Tuesday
U.S. stock futures slip as caution dominates trading ahead of the meeting later this week between Donald Trump and Xi Jinping of China.
Updated from 6:03 a.m. EDT
If you'd like to receive the free "5 Things" newsletter, please register here.
Here are five things you must know for Tuesday, April 4:
1. -- U.S. stock futures were slipping Tuesday as caution dominated trading ahead of the meeting later this week between Donald Trump and Xi Jinping of China.
European shares traded mixed Tuesday. Stocks in Asia closed mixed with the Nikkei 225 in Japan tumbling 0.9% and the Shanghai Composite in China rising 0.38%. 
The presidents of the U.S. and China are expected to discuss North Korea, trade, security, U.S. jobs and currencies when they meet for the first time on Thursday and Friday. Trump's past comments have raised concern over the potential for conflict, though some analysts said they see room for compromise.
The economic calendar in the U.S. on Tuesday includes the U.S. Trade Balance for February at 8:30 a.m. EDT. The U.S. trade deficit in January rose 9.6% to $48.5 billion, the highest level in nearly five years. Economists surveyed by FactSet expect the trade deficit to come in $46 billion. Also on the calendar are Factory Orders for February, scheduled at 10 a.m. 
Conn's (CONN) - Get Conn's, Inc. Report  reported adjusted earnings for the fiscal fourth quarter of 5 cents a share. Analysts were calling for a loss of 11 cents.
Acuity Brands (AYI) - Get Acuity Brands, Inc. Report andHudson's Bay also are expected to report earnings on Tuesday.
2. -- Chipmaker Qualcomm (QCOM) - Get Qualcomm Inc Report said it would file a motion to dismiss a lawsuit by the Federal Trade Commission that accused the company of engaging in anticompetitive behavior to maintain dominance over the market.
The chipmaker said its motion calls for U.S District Judge Lucy Koh, who is hearing the case in Northern California, to dismiss the FTC's complaint in its entirety, The Wall Street Journal reported.
The motion is expected to be filed early Tuesday, according to the Journal. It aims to "take on each one of [the FTC's] theories and explain why the theories don't support a proper claim," said Don Rosenberg, Qualcomm executive vice president and general counsel.
The FTC sued Qualcomm for anti-competitive behavior in the cell phone market in January. The FTC's complaint said Qualcomm used its dominant position to block competitors and impose onerous terms on handset manufacturers.
Qualcomm shares were rising slightly in premarket trading on Tuesday.
3. -- U.S. handbag maker Kate Spade (KATE) will spend a few more weeks negotiating a potential sale of the company after receiving an offer last week from Coach (COH) , three people told Reuters.
Michael Kors (KORS)  also remains interested in Kate Spade, though it hasn't been pursuing an acquisition of the company as actively as rival fashion accessories maker Coach, the people said, Reuters reported.
Shares of Kate Spade fell 1.9% on Monday to $22.80, giving it a market capitalization of about $2.9 billion. If Kate Spade manages to negotiate a sale of the company, a deal likely would value it below that level, according to the people. It is also possible that discussions end without a deal, the people told Reuters.
Michael Kors, Coach and Kate Spade declined to comment for Reuters.
Kate Spade shares fell 10.3% in premarket trading on Tuesday.
4. -- When Verizon (VZ) - Get Verizon Communications Inc. Report closes the $4.48 billion purchase of Yahoo!'s (YHOO) operating business, the telecommunications giant plans to rebrand the digital business containing the iconic Internet brand and AOL under the name Oath.
AOL boss Tim Armstrong tweeted the new name on Monday, following a report on Business Insider. Verizon didn't immediately say whether the Yahoo! and AOL brands would survive.
After a pair of cyber attacks that rocked Yahoo! last year and led to a $350 million mark-down in the deal value, Verizon may want to signal a commitment to subscribers and advertisers of the digital business.
The deal has yet to close. Verizon has said that the combined AOL and Yahoo! would have 1.3 billion users and $7 billion in sales.
5. -- Boeing (BA) - Get Boeing Company Report signed a new, $3 billion deal with Iran's Aseman Airlines to supply 30 737 MAX aircraft to the carrier, a new agreement on top of the $16.6 billion sale it made in the Middle East nation following the nuclear deal reached between Iran and world powers.
Boeing said the deal also includes purchase rights for an additional 30 737 MAX aircraft for Tehran-based Aseman, which flies domestic and international routes.
Boeing shares closed Monday down slightly at $176.65. The stock has risen 13.5% year to date.
Read more latest news on TheStreet:
Tesla's Stock Could Still Crash Because It's Relying Too Much on One Crucial Thing Happening