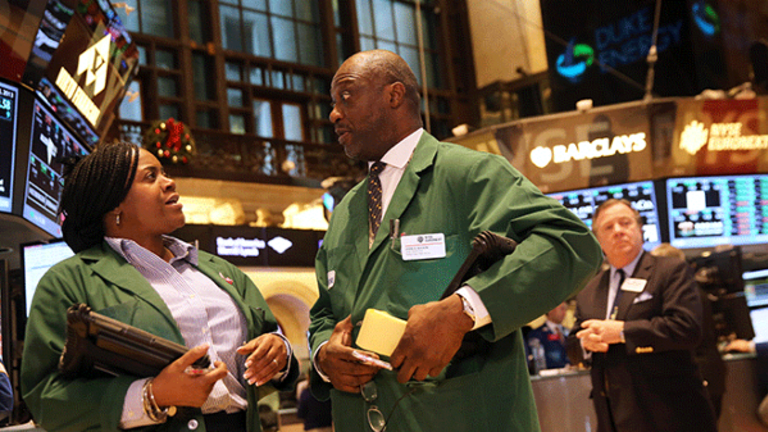 Publish date:
5 Things You Must Know Before the Market Opens Tuesday
U.S. stock futures on Tuesday are pointing to a second day of losses on Wall Street following weeks of gains.
U.S. stock futures on Tuesday are pointing to a second day of losses on Wall Street following weeks of gains.
If you'd like to receive "5 Things" in your email inbox every morning, please register for TheStreet Alerts and follow me.
Here are five things you must know for Tuesday, March 7:
1. -- U.S. stock futures on Tuesday were pointing to a second day of losses on Wall Street following weeks of gains that were boosted by optimism about the strength of the U.S. economy.
The declines Monday were blamed on brewing tensions in the Asia-Pacific region.
The S&P 500 fell 0.33% on Monday, the Dow Jones Industrial Average slid 0.24%, and the Nasdaq fell 0.37%, after North Korea fired four ballistic missiles into seas near Japan.
European and Asian stocks traded mixed on Tuesday.
The economic calendar in the U.S. on Tuesday includes the Trade Balance for January at 8:30 a.m. EST and Consumer Credit for January at 3 p.m.
Earnings are expected Tuesday from Bojangles (BOJA) - Get Report , H&R Block (HRB) - Get Report , Dick's Sporting Goods (DKS) - Get Report and Urban Outfitters (URBN) - Get Report .
2. -- Employers would no longer face a tax for offering high-value "Cadillac" health plans under the latest House Republican plan to repeal and replace Obamacare.
Two House committees are scheduled to vote on the plan Wednesday, GOP leaders announced late Monday. House Speaker Paul Ryan, R-Wis., plans to send the bill to the House floor for a vote and then forward it to the Senate by the beginning of April.
The latest version of the legislation, formally released by GOP leaders, contains a few important changes from the draft leaked to reporters last week. The changes are meant to draw critical support from conservatives worried that the original plan didn't do enough to rein in the costs of the Affordable Care Act, the health reform law enacted during Barack Obama's tenure in the White House. It also attempts to address worries of some GOP governors that the earlier incarnation of the Obamacare repeal plan would force them to impose too steep cuts in Medicaid.
The 123-page bill, now formally named the American Health Care Act, would, like the draft leaked previously, replace the ACA's income-based tax credits with age-based tax credits that in most cases would be smaller than what Obamacare offers.
It also would eliminate plans to increase federal funding for states' expansion of Medicaid, the insurance program for the poor. Medicaid also would be converted from an open-ended entitlement to one that provided capped, per-capita payments to the states.
The bill would retain funding for a Medicaid expansion until 2020. Subsidies for insurance purchases on Obamacare exchanges also will stay in place until 2020.
3. -- ExxonMobil (XOM) - Get Reportplans to invest $20 billion over 10 years to build plants along the U.S. Gulf Coast.
The energy giant said the work would create 12,000 permanent jobs and 35,000 construction jobs.
CEO Darren Woods said on Monday that such big investments "require a pro-growth approach and a stable regulatory environment and we appreciate the president's commitment to both."
The White House issued its own release with Donald Trump congratulating Exxon. 
4. -- CSX (CSX) - Get Reportreached a deal with activist investor firm Mantle Ridge to install Hunter Harrison as the railroad's new CEO. 
CSX said Harrison will become CEO immediately, replacing Michael Ward. Harrison, Mantle Ridge hedge fund founder Paul Hilal and three others will join CSX's board.
Harrison previously served as the CEO of Illinois Central Railway, Canadian National Railway and Canadian Pacific Railway.
He said he plans to implement the tightly scheduled operating model he used at Canadian National and Canadian Pacific to reduce costs and boost profits.
5. -- Walt Disney's (DIS) - Get ReportESPN confirmed Monday that it plans to lay off or buy out some of its biggest on-air personalities as part of a talent review to adjust the network's programming to reflect a decline in pay-TV subscribers.
The layoffs are expected to be limited to on-air commentators and content creators such as writers at ESPN's television, radio and mobile units, a source told TheStreet.
"We have long been about serving fans and innovating to create the best content for them," ESPN said in a statement. "Today's fans consume content in many different ways and we are in a continuous process of adapting to change and improving what we do. Inevitably that has consequences for how we utilize our talent. We are confident that ESPN will continue to have a roster of talent that is unequaled in sports."