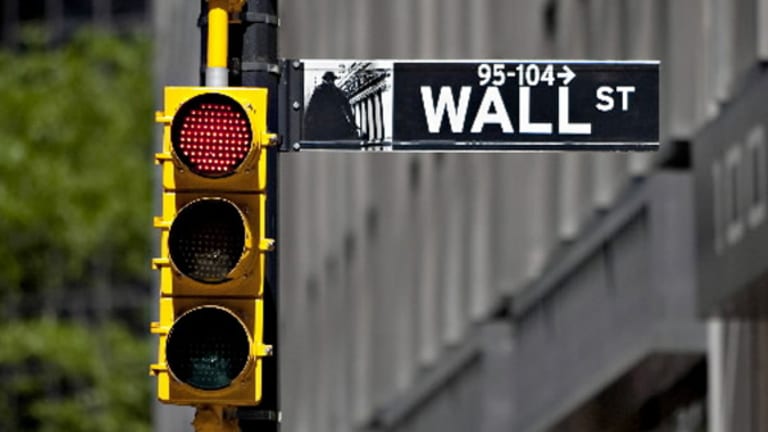 Publish date:
5 Things You Must Know Before the Market Opens Thursday
U.S. stock futures point lower; Bill Ackman concedes his wager on Valeant was a 'huge mistake,' Lululemon shares tumble after the apparel retailer issues a weak outlook.
U.S. stock futures point lower; Bill Ackman concedes his wager on Valeant was a 'huge mistake,' Lululemon shares tumble after the apparel retailer issues a weak outlook.
Updated from 6:02 a.m. EDT
If you'd like to receive the free "5 Things" newsletter, please register here.
Here are five things you must know for Thursday, March 30:
1. -- U.S. stock futures suggested Wall Street would open lower Thursday ahead of data on the growth of the U.S. economy and jobless claims.
European stocks were trading mixed while Asian shares finished Thursday's session mostly to the downside. The Shanghai Composite index declined 1% amid liquidity concerns after China's central bank refrained from open market operations for a fifth straight day.
U.S. stocks on Wednesday finished mixed as another rally in crude oil pushed prices to three-week highs and led to slight gains for the S&P 500. The Nasdaq rose 0.38%. The Dow Jones Industrial Average fell 0.2%, closing with losses for the ninth session out of 10.
Crude oil prices rose 2.4% on Wednesday after domestic inventories added 900,000 barrels over the past week, according to the Energy Information Administration. Analysts had expected a larger increase. Early Thursday, crude oil was down 0.2% to $49.42 a barrel. 
2. -- The economic calendar in the U.S. on Thursday includes the third estimate of fourth-quarter GDP at 8:30 a.m. EDT, and weekly jobless claims at 8:30 a.m.
Economists surveyed by FactSet expect GDP to rise 2% in the fourth quarter, up from the previous two estimates of 1.9%.
Federal Reserve officials Loretta Mester, Robert Kaplan, John Williams and William Dudley have speaking engagements planned throughout Thursday.
3. -- Billionaire hedge fund manager William A. Ackman conceded that his big wager on Valeant Pharmaceuticals (VRX) was "a huge mistake" that has cost his hedge fund firm, Pershing Square Capital Management, "a tremendous amount."
"I deeply and profoundly apologize," Ackman said in his annual letter to investors, The New York Times reported.
Ackman sold his entire stake in Valeant earlier this March, suffering a loss of about $4 billion. He bought the stake in early 2015.
In his annual letter to investors, released on Tuesday evening, Ackman took the blame for the bad bet, acknowledging that the investment had "damaged the record of success of our firm," the Times reported.
"My approach to mistakes is that I personally assume 100% of the responsibility on behalf of the firm while sharing the credit for our success," he added.
Pershing Square posted losses in 2015 and 2016, largely because of the firm's position in Valeant.
4. -- Saudi Aramco has formally appointed JPMorgan Chase (JPM) - Get Report , Morgan Stanley (MS) - Get Report and HSBC (HSBC) - Get Report as international financial advisers for its initial public offering, sources familiar with the matter told Reuters.
The three banks join Moelis and Evercore, which have been appointed independent financial advisers, one source told Reuters about what is expected to be the world's biggest sales of shares.
Saudi authorities are looking to sell up to 5% of Aramco, listing the shares in Riyadh and at least one foreign exchange to raise cash for investment in new industries in a bid to diversify away from oil exports, Reuters noted.
Saudi Aramco has yet to pick a foreign exchange at which to list.
Reuters previously reported that Saudi officials expect the IPO to value Aramco at a minimum of $2 trillion.
5. -- Shares of Lululemon Athletica (LULU) - Get Report  were tumbling nearly 19% in premarket trading on Thursday to $53.72 after the apparel retailer missed fourth-quarter earnings expectations and issued a weak outlook for the first quarter.
Lululemon said itexpects net revenue in the first quarter to be in the range of $510 million to $515 million, based on a total comparable sales decrease in the low-single digits. Earnings are expected to be in the range of 25 cents to 27 cents a share for the quarter. Analysts were looking for sales of $552 million and earnings of 39 cents a share.
For the fourth quarter of 2016, net revenue increased 12% to $789 million, while comparable sales, which include comparable-store sales and direct to consumer, rose 8%. Excluding one-time items, earnings in the quarter were $1 a share, below analysts' estimates of $1.01.
Lululemon's stock price target was cut early Thursday to $60 from $67 at Stifel Nicolaus.