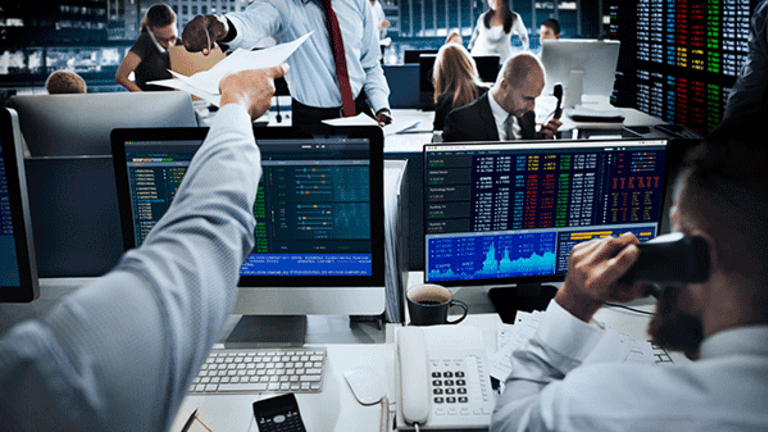 5 Things You Must Know Before the Market Opens Thursday
U.S. stock futures were slightly higher and not moving much on Thursday, as investors expect low trading volume. Dow 20,000 is still tantalizingly out of reach; Nvidia stock sinks.
Updated from 5:59 a.m.
Here are five things you must know for Thursday, Dec. 29:
1. -- U.S. stock futures were edging higher but not moving much on Thursday. European shares were slightly lower in a slow session as the year nears its end. Asian stocks were mixed as the U.S. dollar weakened on softer-than-expected housing data.
U.S. stocks fell across the board on Wednesday, and trading volume was light due to the holiday-shortened week. Friday is the final trading day of the year.
The Dow Jones Industrial Average slumped by 0.56% to 19,833.68 on Wednesday, while the S&P 500 sank 0.84% to 2249.92 and the Nasdaq dropped 0.89% to 5438.56.
The Dow has been flirting with the milestone 20,000 level that it looked likely to pass earlier in the week, though the blue-chip index ended up falling further on Wednesday.
The economic calendar in the U.S. on Thursday includes international trade data at 8:30 a.m., jobless claims numbers at 8:30 a.m., and the Energy Information Administration's petroleum status report at 11 a.m.
Oil prices were slightly lower at $53.96 a barrel for West Texas Intermediate crude oil, the U.S. measure, but Brent crude oil, the international measure, was slightly higher at $57.08 a barrel.
2. -- The final jobless claims report of 2016 said that a seasonally adjusted 265,000 new unemployment claims were filed last week, a decrease of 10,000 from the prior week.
Economists surveyed by Econoday had predicted that 262,000 new claims were filed in the past week. In the previous week, 275,000 new unemployment claims were filed, according to the Department of Labor. 
The number of new unemployment claims has been edging slightly higher in recent weeks, although the number is still near historic lows. There have been 95 consecutive weeks with fewer than 300,000 claims, the longest such streak since 1970.
A low number of unemployment claims could help encourage the Federal Reserve to raise interest rates in 2017.
3. -- The agreed-upon OPEC production cuts have pushed oil prices somewhat higher before the cuts take effect, and the Energy Information Administration's petroleum status report this morning should shed some light on the oil outlook.
Wednesday's data from the American Petroleum Institute industry group suggests that the U.S. crude oil stockpile may have increased by 4.2 million barrels last week. That would mean that idled U.S. oil sources may be coming online and could at least somewhat offset OPEC's production cuts, which are intended to support higher prices.
U.S. oil prices were edging lower in early trading.
4. -- Nvidia (NVDA) - Get Report shares were sharply lower as short-seller Citron Research cautioned on Twitter that the stock was overpriced. Citron, which is run by noted short Andrew Left, warned that Nvidia faced competition in its data center market and needed more growth in new markets, among other failings.
However, Nvidia stock has risen by more than 231% in 2016, so the come-down is small compared to the stock's gains.
Nvidia stock fell by 6.9% in Wednesday trading and was heading 2.7% lower in premarket trading to $106.24.
5. -- Sprint (S) - Get Reportis adding 5,000 jobs in the U.S. as part of its parent company SoftBank's plan to expand U.S. operations with a $50 billion investment and 50,000 new jobs. President-elect Donald Trump met with SoftBank's Masayoshi Son earlier this month to discuss job creation in the U.S., but the plans to expand U.S. employment for SoftBank and Sprint predated the election.
Sprint stock was rising by 0.9% in premarket trading to $8.80. The stock has risen almost 141% in 2016.