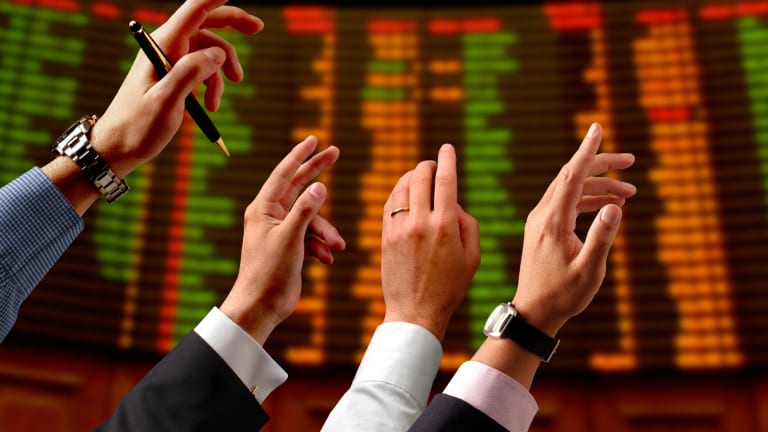 Publish date:
5 Things You Must Know Before the Market Opens Thursday
Apple CEO Tim Cook hits back at the EC's tax ruling; U.S. stock futures point higher; McDonald's says the head of its U.S. operations is stepping down.
Apple CEO Tim Cook hits back at the EC's tax ruling; U.S. stock futures point higher; McDonald's says the head of its U.S. operations is stepping down.
Your Money, Your Retirement, and the 2016 Presidential Election - What changes will you need to make to your portfolio should Hillary Clinton become president? What happens to your investments should Donald Trump become president? Join us on Sept. 12 as our panel of the world's top financial experts provide trusted information on the investment risks and opportunities that arise with the upcoming presidential election in November. [Learn more about the event and RSVP.]
If you'd like to receive "5 Things" in your email inbox every morning, please register for TheStreet Alerts and follow me.
Here are five things you must know for Thursday, Sept. 1 (updated from 7:41 a.m. EDT):
1. -- Apple (AAPL) - Get Report CEO Tim Cook hit back angrily at the European Commission's tax ruling in an interview with the Irish Independent.
"It's total political crap," Cook told the newspaper. as he rejected the EC's assertion that Apple paid just 0.005% tax in Ireland in 2014. 
On Tuesday, the EC ruled that Apple would have to pay €13 billion ($14.5 billion) in back taxes to Ireland. The EC said that "undue benefits" granted to Apple amounted to illegal state subsidies, and will need to be recovered.
"They just picked a number from I don't know where," Cook said during the interview. "In the year that the commission says we paid that tax figure, we actually paid $400 million. We believe that makes us the highest taxpayer in Ireland that year."
Both Apple and Ireland said they would appeal the decision in a process that Apple warned could take several years but with no impact on its cash balance or future tax rate. 
"This is a huge overreach that represents retrospective activity and is completely unfair," he told the newspaper. He added, "This conclusion that the commission has reached has no basis in law or in fact. So I think it clearly suggests that this is politics at play."
"All in all, although the penalty against Apple is admittedly large relative to any other decision of this kind (previous record was €1.3 billion in state aid recouped from Nurburgring racetrack in Germany), the tech giant is more than equipped to cope," wrote Jim Cramer and Jack Mohr of Action Alerts PLUS, which holds Apple in its portfolio. "Recall that Apple sits on an enormous international cash balance of some $215 billion. Regardless, the back taxes, which Ireland is responsible for officially calculating (the EC's figure is an estimate), will sit in escrow as the EC faces appeals from all sides of the spectrum."
2. -- U.S. stock futures were rising Thursday, shaking off the previous day's losses, as U.S. jobless claims rose and Wall Street readied itself for September, which historically is the market's weakest month.
The economic calendar in the U.S. Thursday also includes Construction Spending for July at 10 a.m. EDT, and the ISM Index for August at 10 a.m.
The number of new claims for unemployment benefits in the U.S. increased by 2,000 to 263,000 in the past week. Analysts had expected an increase to 265,000.
3. -- Just weeks after announcing a sluggish second quarter in the U.S., McDonald's (MCD) - Get Report announced Wednesday its U.S. head, Mike Andres, will retire from his role effective Dec. 31. Taking over the position on Jan. 1 will be Chris Kempczinski.
Kempczinski joined McDonald's in September, and was tasked with overseeing all aspects of strategy, planning, innovation and new concepts. Previously, he served as executive vice president of growth initiatives and president of international at the former Kraft Foods Group.
The timing of the announcement, which comes toward the end of the third quarter, suggests McDonald's hasn't regained a ton of momentum in the U.S. after its turnaround badly stalled in the second quarter.
Same-store sales in the U.S., its largest market, rose 1.8% from the prior year during the second quarter, badly missing Wall Street forecasts for a 3.2% increase. Of particular concern is that same-store sales growth cooled drastically from a 5.4% increase in the first quarter. McDonald's promised it will add additional items to its all-day breakfast menu and enhance its core items this fall in a bid to jump-start sales.
McDonald's shares rose slightly in after-hours trading on Wednesday.
4 -- Salesforce.com (CRM) - Get Report , the biggest player in the cloud CRM software market, posted fiscal second-quarter revenue of $2.04 billion (up 25% from a year earlier) and earnings of 24 cents a share, topping consensus estimates of $2.02 billion and 22 cents. However, it also guided for third-quarter revenue of $2.11 billion to $2.12 billion and earnings of 20 cents to 21 cents a share, below consensus estimates of $2.13 billion and 24 cents.
Shares of Salesforce were down 6.8% in premarket trading on Thursday.
Campbell Soup (CPB) - Get Report slipped 3.7% in premarket trading following a disappointing fourth quarter. The packaged food company swung to a loss of 26 cents a share from earnings of 5 cents a share a year earlier. Adjusted earnings of 46 cents a share missed consensus by 50 cents. Campbell's revenue of $1.687 billion came in short of consensus of $1.694 billion. 
Joy Global (JOY)  moved slightly lower after reporting a quarter in which weak demand for mining equipment hurt results. Total bookings fell 17%, dragged on by a 46% slump in original equipment orders. Japanese company Komatsu announced in July that it would purchase Joy Global for $2.9 billion. 
5. -- Automakers, such as General Motors (GM) - Get Report and Ford (F) - Get Report , are expected to post sales results for August throughout the day.
Car sales could show a seasonally adjusted annual sales pace of about 17.2 million cars and light trucks, according to a Bloomberg survey of analysts, down from a 17.9 million rate in July that was the highest of the year. 
Must Read: John Paulson Bought These 5 Stocks -- but the Charts Say Sell