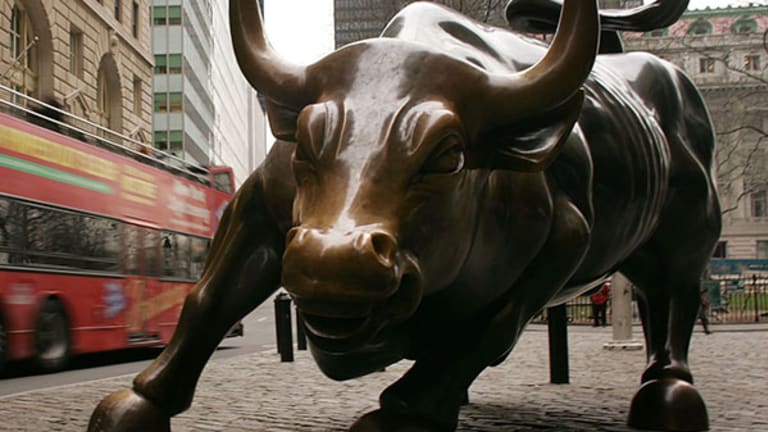 5 Things You Must Know Before the Market Opens Thursday
The Fed meets for a monetary policy summit, and investors consider dollar-store earnings and jobless claim numbers.
Updated from 6:31 a.m.
Here are five things you must know for Thursday, Aug. 25:
1. -- Discount retailers Dollar Tree (DLTR) and Dollar General (DG) reported earnings before the opening bell Thursday. These two companies, which sell cheap merchandise to price-sensitive consumers, are an indicator of the general health of the economy.
Dollar General stock was falling by more than 7% after it reported a disappointing second quarter. It earned $1.08 a share, one cent less than estimates. Revenue of $5.39 billion missed expectations by $110 million. Dollar General reported same-store sales growth of 0.7%.
Dollar Tree reported a miss on profit and sales expectations for its second quarter. The company reported earnings of $170.2 million, or 72 cents per share, missing estimates by a penny. Rvenue of $5 billion was short of consensus estimates of $5.08 billion. Same-store sales grew by 1.1%, when accounting for currency. In premarket trading, Dollar Tree was falling by 6.8%.
Dollar General shares are up 28% year to date. Dollar Tree is up 23%.
2. -- A Federal Reserve monetary policy summit at Jackson Hole, Wyo., convenes Thursday. The meeting gathers central bankers to decide which direction the Fed should take to best support the U.S. economy. The biggest question is when and by how much the Fed should raise interest rates again.
The odds of a September rate hike are at 21%, according to CME fed funds futures. A rate hike in November is more likely, at 41%.
Federal Reserve Chair Janet Yellen is scheduled to speak on Friday. Investors will be watching closely for hints about whether the Fed will raise interest rates in September.
3. -- U.S. stock futures were dipping lower on Thursday as investors await more information about the Fed's plans and consider jobless claims numbers. European stocks were falling after an earthquake in Italy on Wednesday.
On Wednesday, a drop in health care stocks and crude oil prices drove markets lower. The S&P 500 fell 0.52% to 2175.44. The Dow Jones Industrial Average sank 0.35% to 18,481.48. The Nasdaq dropped. 0.81% to 5217.69.
The economic calendar in the U.S. on Thursday includes durable goods order numbers at 8:30 a.m. and data on new jobless claims at 8:30 a.m.
Before the market opens Thursday, earnings reports are expected for Dollar General (DG) , Dollar Tree (DLTR) , Medtronic (MDT) , Michaels  (MIK) , Movado (MOV) , Sears Holdings (SHLD) and Tiffany (TIF) .
GameStop (GME) and Ulta (ULTA) report earnings after the closing bell.
4. -- The Department of Labor said that 261,000 new jobless claims were filed last week.
Economists surveyed by Econoday had estimated that 265,000 new jobless claims were filed last week. The Labor Department said 262,000 new unemployment claims were filed the prior week.
If jobless claims numbers seem low -- a sign of a strengthening economy -- that could nudge the Federal Reserve toward raising interest rates next month. Last week marked 77 consecutive weeks of fewer than 300,000 new claims per week, a record last achieved in 1970.
5. -- Drugmaker Mylan (MYL) caused blowback Wednesday for its announced plan to raise prices for its EpiPen, which delivers a rapid dose of drugs to severe allergy sufferers. Hillary Clinton condemned the move, which pushed the stock and the larger drug sector lower on Wednesday.
Mylan bought EpiPen in 2007, and it has increased the drug's price by nearly 500% since then. A two-pack of automatic injectors now costs about $600.
On Thursday, Mylan answered the pushback by cutting costs for those paying full price for the EpiPen and by offering a savings card for $300 off the cost of a pair of the injectors.
Mylan stock closed 5.4% lower on Wednesday to $43.15. In premarket trading the stock was rising by 3.8%.