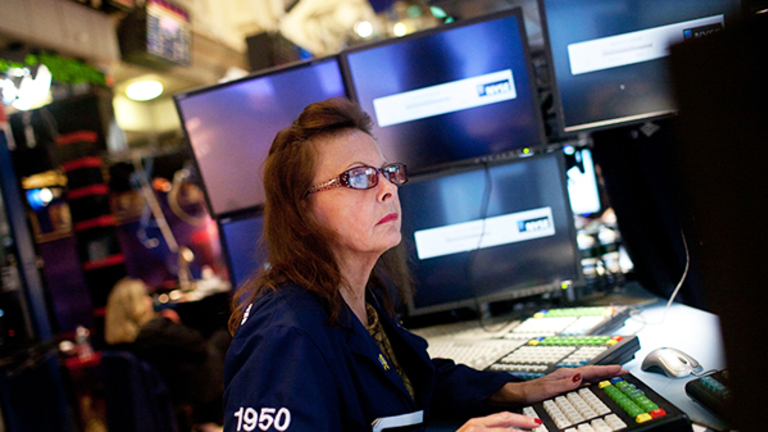 5 Things You Must Know Before the Market Opens Monday
U.S. stock futures mixed as Donald Trump was in Saudi Arabia over the weekend, allowing investors to breathe a bit following controversies that have been swirling around the White House.
Updated from 6:01 a.m. EDT
If you'd like to receive the free "5 Things" newsletter, please register here.
Here are five things you must know for Monday, May 22:
1. -- U.S. stock futures and global shares traded mixed Monday as Donald Trump was in Saudi Arabia over the weekend, allowing investors to breathe a bit following a number of controversies that have been swirling around the White House.
The president is visiting Israel on Monday and will then travel on to Europe to attend a summit of the Group of Seven nations.
The economic calendar in the U.S. on Monday is light but two Federal Reserve officials have speeches planned: Minneapolis Fed President Neel Kashkari will deliver welcoming remarks at the Opportunity and Inclusive Growth Institute Conference in Minneapolis at 10 a.m. EDT, while Philadelphia Fed President Patrick Harker will discuss "The Link Between Physical and Economic Well-Being" at the Jefferson College of Health Professions and Jefferson College of Pharmacy Commencement Ceremony in Philadelphia at 10 a.m.
Earnings are expected Monday from Agilent Technologies (A)  and Booz Allen Hamilton (BAH) .
Oil prices extended recent gains with West Texas Intermediate crude rising 0.85% early Monday to $51.10.

2. -- Ford (F)  shares were rising 2.7% in premarket trading on Monday following several reports that said CEO Mark Fields would be fired in a broad management shake-up.
The stock of the U.S. automaker has declined almost 40% since Fields took over the company more than three years ago. Reports of Fields' ousting come just weeks after Dearborn-based Ford delivered a dire set of first-quarter results, which brought about yet more share price weakness. The stock has fallen 10.4% so far this year.
Ford has chosen James Hackett, currently chairman of the company's Smart Mobility business, as Fields' replacement, according to The New York Times. Hackett's role at Smart Mobility has seen him oversee the group's effort to bring electric and autonomous vehicles to Main Street.  
Formerly a member of the Ford board, as well as an accomplished director elsewhere, Hackett faces the challenge of righting a capsized ship when he takes the helm of the automaker.
Reports said an announcement from Ford could be made Monday. 
3. -- Clariant (CLZNY) shares surged Monday after the Swiss chemicals group said it agreed to an all-share "merger of equals" with U.S.-based Huntsman (HUN) that would create a company valued at about $20 billion.
A merged HuntsmanClariant would have annual revenue of about $13.2 billion, the companies said in a statement, based on pro-forma 2016 sales and adjusted operating profit of $2.3 billion. The deal is expected to close before the end of the year. 
"This is the perfect deal at the right time," said Clariant CEO Hariolf Kottmann. "This is in the best interest of all our stakeholders. Peter Huntsman and I share the same strategic vision and I look forward to working with him."
Under terms of the deal, Clariant shareholders will swap their existing stake for a single HuntsmanClariant share and will ultimate own 52% of the combined entity. Huntsman shareholders will receive 1.2196 in HuntsmanClariant shares. 
4. -- Tesla (TSLA) CEO Elon Musk tweeted Sunday that he was excited about the Tesla autopilot software release "rolling out next month." 
In the tweet, Musk said the "new control algorithm feels as smooth as silk."
Tesla has been under the spotlight over the past six months after customers who ordered the Enhanced Autopilot feature complained of it not working or said it was unreliable when it did function. According to Musk, the upcoming update to the control algorithm will improve Autopilot functionality by making it more pleasant to drive, according to web site Teslarati.
Tesla shares rose slightly in premarket trading.
5. -- Donald Trump's visit to Saudi Arabia has heralded billions of dollars of deal announcements, including from those with White House ties. 
Private-equity giant Blackstone (BX)  on Saturday announced that Saudi Arabia would invest $20 billion in a new $40 billion infrastructure fund for projects mainly in the United States. On Sunday, Boeing (BA) said it had signed several defense and commercial deals with Saudi Arabia. Trump was referenced in both deal announcements. 
Blackstone, whose CEO Stephen Schwarzman is a close adviser to Trump and heads the president's business council, said Saturday's announcement is the culmination of "a year's discussions" between it and the Public Investment Fund of Saudi Arabia.
"There is broad agreement that the United States urgently needs to invest in its rapidly aging infrastructure," said Blackstone President Hamilton James in a statement, thanking Saudi Arabia for its "vote of confidence" in Blackstone and the United States.
Boeing said that Trump, Secretary of State Rex Tillerson and Saudi Arabian leaders took part in a signing ceremony that included Boeing products and services.
"These announcements reaffirm our commitment to the economic growth, prosperity and national security of both Saudi Arabia and the United States, helping to create or sustain thousands of jobs in our two countries," said Boeing CEO Dennis Muilenburg in a statement.
Read more of TheStreet's top stories:
We Quickly Learned Why Ford's New Truck Named After a Killer Dinosaur Is a Beast
Cisco Could Be Looking to Acquisitions to Help Solve Its Biggest Challenge