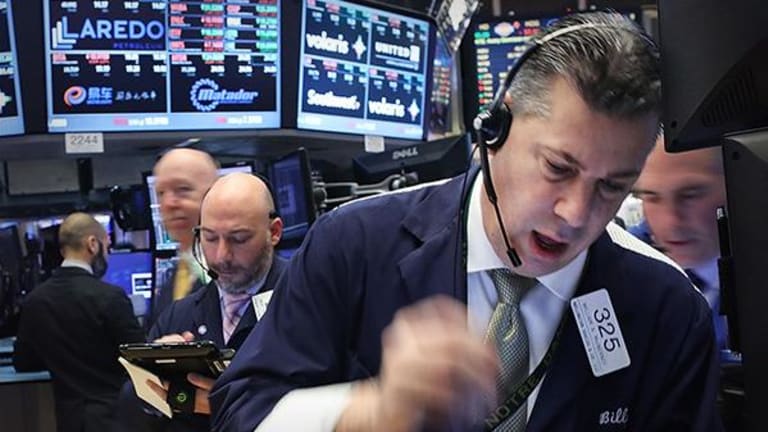 5 Things You Must Know Before the Market Opens Monday
GM reaches a deal to sell its money-losing European operations to PSA Peugeot for about $2.3 billion. U.S. stock futures are lower early Monday.
GM reaches a deal to sell its money-losing European operations to PSA Peugeot for about $2.3 billion. U.S. stock futures are lower early Monday.
Updated from 5:51 a.m. EST
If you'd like to receive "5 Things" in your email inbox every morning, please register for TheStreet Alerts and follow me.
Here are five things you must know for Monday, March 6:
1. -- General Motors (GM) - Get Report reached a deal to sell its money-losing European operations, Germany's Opel and British brand Vauxhall, to PSA Peugeot (PEUGF)   for about $2.3 billion.
PSA will buy the Opel and Vauxhall brands for around €1.3 billion ($1.38 billion) while PSA and BNP Paribas will take joint 50% stakes in Opel/Vauxhall financing for around €900,000, the companies said in a statement.
The deal creates Europe's second-largest carmaker behind Volkswagen, with a 17% market share. 
PSA is the maker of Peugeot and Citroen cars. 
Opel and Vauxhall had around €17.7 billion in revenue last year. Peugeot's revenue in 2016 was €54 billion, €37 billion of which came from automotive sales.
GM hasn't made a profit in Europe in 18 years.
GM CEO Mary Barra said the deal was a "win" for both sides. 
"This was a difficult decision for General Motors but we are united in belief that it is the right one," she told reporters, the Associated Press reported.
Shares of GM rose slightly in premarket trading.
2. -- Shares of Deutsche Bank (DB) - Get Reportfell nearly 7% inFrankfurt Monday after Europe's biggest bank confirmed it will raise around €8 billion ($8.5 billion) in capital from shareholders and said it plans sell off a stake in its asset management business.
"We had been listening to feedback from the market that we still didn't have enough capital," CEO John Cryan told CNBC Europe television when asked for the rationale behind the timing of the capital raising. "We had a big buffer over regulatory minimum, but our costs of (debt and equity) capital were still quite high."
Deutsche Bank said it will issue 687.5 million new shares later this month.
The stock of the lender has been one of the best performing bank stocks in Europe in the second half of 2016, rising more than 78% from its all-time low in September and gaining more than 38% since the U.S. presidential elections in November.
3. -- U.S. stock futures fell Monday and European stocks traded to the downside following reports of North Korea's launch of missiles into seas near Japan.
Reports said North Korea fired four ballistic missiles close to Japan's northwest coast in what Japan Prime Minister Shinzo Abe called an "extremely dangerous action" that is a "violation of U.N. Security Council resolutions."
Asian shares finished the session mixed, with Japan's Nikkei falling 0.5% and China's Shanghai Composite rising 0.5% amid concerns about the pace of China's economic growth.
U.S. stocks on Friday ended with slight gains as Wall Street took increased chances of an interest rate hike in March in stride.
Federal Reserve Chair Janet Yellen, in a speech in Chicago on Friday, telegraphed a move by the central bank to raise rates soon.
"At our meeting later this month, the Federal Open Market Committee will evaluate whether employment and inflation are continuing to evolve in line with our expectations, in which case a further adjustment of the federal funds rate would likely be appropriate," Yellen told the Chicago audience. Yellen also said current conditions support three rate hikes this year.
The economic calendar in the U.S. on Monday includes Factory Orders for January at 10 a.m. EST.
Minneapolis Federal Reserve Bank President Neel Kashkari has a speaking engagement in Washington at 3 p.m. He will be the last Fed official to speak publicly before the Fed meets on March 14-15.
4. -- Aberdeen Asset Management (ABDNY) and Standard Life (SLFPY) confirmed plans to create Europe's second-biggest asset manager in a £11 billion ($13.5 billion) all-share merger. 
The deal will see Aberdeen shareholders owning around 33% of the combined group, while Standard Life shareholders will receive 66.7%. The merged group will remain in Scotland, the companies said, and will have around £660 billion in assets under management, making it the second-largest in Europe behind Allianz .
5. -- Earnings are expected Monday from Ascena Retail (ASNA) - Get Report , Analogic (ALOG) , Casey's General Stores (CASY) - Get Report and Plug Power (PLUG) - Get Report .