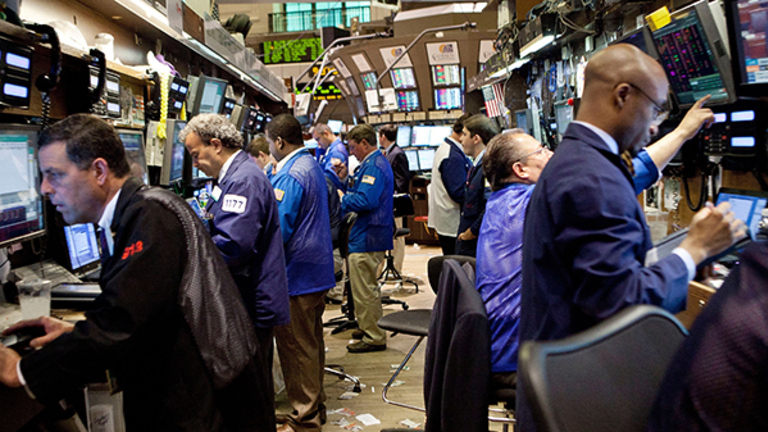 5 Things You Must Know Before the Market Opens Friday
U.S. stock futures and European shares rebound on Friday.
Updated from 6:01 a.m. ET
If you'd like to receive the free "5 Things" newsletter, please register here.
Here are five things you must know for Friday, June 30:
1. -- U.S. stock futures pointed to a rebound for Wall Street and European shares were higher on Friday, June 30, after another steep selloff in technology stocks pulled the Nasdaq lower and spilled onto broader markets on Thursday, June 29.
The tech-heavy Nasdaq index declined 1.4% on Thursday, erasing month-to-date gains achieved through to the end of Wednesday and laying the groundwork for the first negative month since October 2016. The Nasdaq index was still on track to close out the second quarter with gains of around 5%. The S&P 500 slipped 0.79%, and the Dow Jones Industrial Average fell 0.78%. The Volatility Index, otherwise known as the fear index, spiked as much 51% before calming.
Asian shares ended Friday's session mostly lower but stocks in Shanghai ticked up 0.1% following upbeat Chinese manufacturing data. 
The economic calendar in the U.S. on Friday includes Personal Income and Outlays for May at 8:30 a.m. ET, Chicago PMI for June at 9:45 a.m., Consumer Sentiment for June at 10 a.m., and the weekly Baker Hughes Rig Count at 1 p.m.
2. -- Nike Inc. (NKE) - Get Report shares were rising 6.1% in premarket trading on Friday after the athletic footwear and apparel giant reported earnings that topped Wall Street forecasts and it confirmed an agreement with Amazon.com Inc. (AMZN) - Get Report to sell certain products on the e-commerce conglomerate's website.
Earnings in Nike's fiscal fourth quarter were 60 cents a share on revenue of $8.7 billion, beating estimates for earnings of 50 cents on revenue of $8.6 billion.
In addition to confirming the deal with Amazon, in which footwear, apparel and accessories from Nike will be sold on the site, the company said some of the other ways it's selling directly to consumers is through Instagram. Trevor Edwards, Nike brands president, also touted Nike's membership program, which at the end of its year comprised of three-fourths of its total online customers. 
"We are moving at a faster pace than ever before," said Mark Parker, Nike CEO and board chairman.
3. -- Tesla Inc. (TSLA) - Get Report CEO Elon Musk said Friday there would be "news on Sunday" about the company's much anticipated Model 3. 
Musk tweeted the revelation in response to a follower's request for information on the release date of the car.
Musk has said previously that the Model 3 would be shown off in July. About 400,000 customers already have pre-ordered the car, which will cost $35,000 for the basic model, but with add-ons could come out to about $40,000. 
Tesla shares rose 1% in premarket trading on Friday.
4. --
Chipmaker Micron Technology Inc. (MU) - Get Report posted fiscal third-quarter adjusted earnings of $1.62 a share, topping forecasts by 10 cents, and the stock was higher by 3.2% in premarket trading on Friday.
Revenue in the quarter was $5.57 billion, up from $2.9 billion a year earlier and above analysts' estimates of $5.4 billion. Micron forecast better-than-expected profit and revenue for the fiscal fourth quarter. "We expect healthy industry demand to persist into 2018, reflecting broader trends in the data center and mobile markets," said CEO Sanjay Mehrotra on a conference call Thursday with analysts.
5. -- The Wall Street Journal, owned by News Corp. (NWSA) - Get Report , plans to scale back production of its print edition outside the U.S. as it reviews its international operations and sharpens its focus on digital subscriptions, the Financial Times reported.
The print edition of the newspaper will no longer be available in Europe, according to two people briefed on the plans, the FT reported. Free copies and deals in which hotels buy bulk copies at a discount are also being scrapped.
The newspaper also is pursuing a similar approach in Asia but is in talks with a partner about a print joint venture that would continue distribution in one big market there, the FT reported, citing people with knowledge of the discussions.
Read More Trending Articles:
Nike Officially Arrives on Amazon, but Then Adidas' Stock Does Something Bizarre
Elon Musk Teases 'News' on Tesla's Highly Anticipated Model 3
Big Banks Are on Steroids: Market Recon
Investing With Intent: Cramer's 'Mad Money' Recap (Thursday 6/29/17)
Here's Why Amazon Could Feast on the Remaining Carcass of Rite Aid After Failed Walgreens Merger