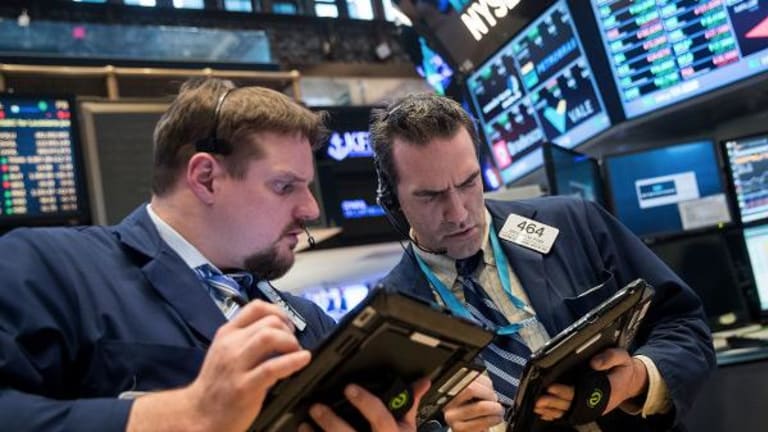 5 Things You Must Know Before the Market Opens Friday
Here are five things you must know for Friday, May 26.
If you'd like to receive the free "5 Things" newsletter, please register here.
Here are five things you must know for Friday, May 26:
1. -- U.S. stock futures were mostly lower on Friday, though just barely as crude oil prices stabilized and traders looked ahead to the long holiday weekend. 
Crude oil prices rebounded on Friday morning after settling at a one-week low a day earlier. West Texas Intermediate had barrelled below $50 a barrel on Thursday after an extension to a global output agreement disappointed investors looking for more. The Organization of Petroleum Exporting Countries agreed on a nine-month extension to a production cut agreement at a meeting in Vienna on Thursday. The original agreement was set to expire at the end of June.
Investors had widely accepted an extension to the current deal and had hoped for further action to balance global oil markets.
West Texas Intermediate crude oil rose 0.6% to $49.17 on Friday. Prices had slumped 4.8% on Thursday.
Meanwhile, the U.K. pound fell to a two-week low against the U.S. dollar Friday after fresh polling data showed a narrowing lead for incumbent Prime Minister Theresa May in the final weeks of the country's contentious election campaign. In the first survey of voters released since the deadly terrorist attack in Manchester earlier this week, polling expert YouGov said May's Conservative Party holds only a 5-point lead over their Labour Party rivals, lead by Jeremy Corbyn, down from 9 points last week.
Markets will be closed on Monday in honor of Memorial Day before reopening as normal on Tuesday. 
2. -- Donald Trump's son-in-law and close White House adviser Jared Kushner is reportedly the focus of the investigation into ties between the Trump campaign and Russia. The Washington Post reports that Kushner is under investigation because of the "extent and nature of his interactions with the Russians."
The Post said queries are being made into a number of meetings in December with Russia's ambassador to the U.S., Sergey Kislyak, and Moscow banker in December of last year. The paper had reported last week that a senior White House insider was the subject of the latest FBI probe, but did not name Kushner specifically.
"Mr. Kushner previously volunteered to share with Congress what he knows about these meetings," said one of Kushner's attorneys, Jaime Gorelick, in a statement released to the media. "He will do the same if he is contacted in connection with any other inquiry."
Both the Post and NBC News, which also reported the FBI investigation, said Kushner was not suspected of having committed any legality and that, at this stage at least, there were not indications he would be charged with any crime.
Separately, Trump's travel ban has been struck down in court again, this time in the U.S. 4th District Court of Appeals. The court refused to reinstate the President's travel ban, which targeted six majority-Muslim nations, saying the plan "drips with religious intolerance, animus, and discrimination." Attorney General Jeff Sessions said the administration would seek a review of the decision at the Supreme Court.
Trump is currently at the tailend of his nine-day international trip, his first abroad since assuming office in January. Trump will attend the G-7 meeting in Sicily on Friday, a day after meeting with NATO members in Brussels. Trump had also visited Saudi Arabia, Israel, and Vatican City as part of his trip. 
3. -- The second estimate of U.S. economic growth over the first quarter will be released before the bell on Friday morning. The measure is expected to be revised higher to 0.8% from 0.7%. A cautious consumer and delayed winter weather depressed growth over the first three months of the year.
Durable goods orders for April will also be released before the bell. Orders for long-lasting U.S.-made goods are expected to increase when excluding transportation. New orders are anticipated to fall 1.4%. Excluding transportation, orders are expected to climb 0.4%.
Elsewhere on the economic calendar, the final reading of consumer sentiment for May will be released shortly after the bell, while the weekly reading of oil-drilling activity from Baker Hughes is set for its usual time of 1 p.m. EDT Friday afternoon.
4. -- Higher membership fees propelled Costco (COST) earnings over its recent quarter. The warehouse retailer earned $700 million, or $1.59 a share, over its recent fiscal third quarter, compared to $545 million, or $1.24 a share, in the same quarter a year earlier. Adjusted earnings of $1.40 a share came in 9 cents above consensus. 
Revenue increased 8% to $28.22 billion, higher than consensus. Same-store sales increased 5%, above analysts' target of 4% growth. Membership fees gained 4%.
Costco shares rose more than 1% in premarket trading. 
5. -- GameStop (GME) reported a better-than-expected quarter with adjusted earnings of 63 cents a share coming in a dime above estimates. Revenue increased 4% to $2.05 billion, exceeding analysts' target of $1.97 billion. Same-store sales growth of 2.3% was largely tied to the launch of new portable gaming console, the Nintendo Switch.
However, shares fell 3% in premarket trading after the video game retailer left its forecasts unchanged. GameStop anticipates full-year earnings of $3.10 to $3.40 a share, wrapping consensus of $3.32 a share. Same-store sales are expected to come in flat to negative 5%. 
Other earnings of note include LionsGate (LGF) , Ulta Beauty (ULTA) , Splunk (SPLK) , Brocade Communications (BRCD) , and Big Lots (BIG) .
Read More Trending Articles:
Amazon's Bookstores and Fire Sticks Are Great, but Here's What's Really Driving It Toward $1000