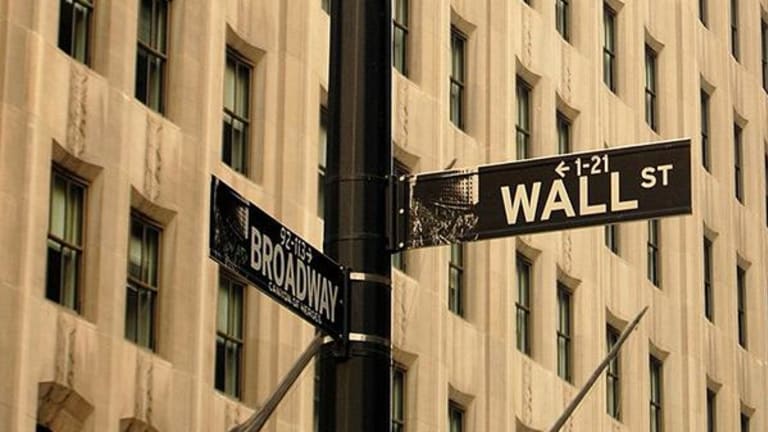 5 Things You Must Know Before the Market Opens Friday
U.S. stock futures trade mixed Friday as Wall Street turns its attention to U.S. jobs data and as oil prices reverse a sharp slide overnight.
Updated from 5:54 a.m. EDT
If you'd like to receive the free "5 Things" newsletter, please register here.
Here are five things you must know for Friday, May 5:
1. -- U.S. stock futures traded mixed Friday as Wall Street turned its attention to U.S. jobs data and as oil prices stabilized after a sharp slide overnight.
The economic calendar in the U.S. on Friday includes the U.S. jobs report for April at 8:30 a.m. EDT. Economists surveyed by FactSet expect 185,000 jobs were added to payrolls last month, while the unemployment rate is forecast to tick up to 4.6%. Average hourly earnings are expected to grow 0.3%.
 The U.S. added 235,000 and 98,000 jobs over February and March, respectively, the first full two months under Donald Trump's presidency.
"We believe the previous [March] number was more affected by weather, particularly in the Northeast and Midwest causing somewhat of an aberration," Tony Bedikian, head of global markets for Citizens Bank, told TheStreet. "The market is anticipating and expecting a bounceback here."
Federal Reserve Vice ChairmanStanley Fischer is scheduled to speak at Hoover's Monetary Policy Conference in Stanford, Calif., at 11:30 a.m., while Fed Chair Janet Yellen will speak about "125 Years of Women's Participation in the Economy" at Brown University in Providence, R.I., at 1:30 p.m.
Cigna (CI) - Get Free Report  posted adjusted earnings in the first quarter of $2.77 a share, beating analysts' forecasts of $2.45. Earnings are also expected from Revlon (REV) - Get Free Report , Cognizant Technology (CTSH) - Get Free Report and Moody's (MCO) - Get Free Report .
2. -- Global oil prices stabilized Friday after an overnight plunge that extended one of the biggest declines for crude in at least six months.
West Texas Intermediate crude oil for June delivery slipped 0.09% to $45.48 a barrel early Friday after hitting a six-month low of $44.14 in overnight Asia trading as investors adjusted to a glut in supplies and speculation that OPEC members won't agree to further production cuts later this month. Brent crude, the global benchmark, gained 0.4% to $48.56 a barrel but traded as low as $47.05 during Asia hours.
The moves are likely to add pressure to OPEC members as they prepare for their next meeting in Vienna on May 25, when they are expected to discuss extending an agreement reached in November that has, along with participation from Russia, taken 1.8 million barrels of crude from the market each day.
"The collapse in oil prices saw (WTI) plunge as the market continues to probe for a bottom amid oversupply concerns," said Stephen Innes, senior trader at OANDA. He said traders saw $45 as an important level because the Saudi oil minister said earlier this week that prices would be kept in the $45 to $55 range. "If $45 was OPEC line in the sand, well it's been breached so let us see how strong OPEC resolve is," he said.
3. -- Shares of IBM (IBM) - Get Free Report fell 2.5% in premarket trading Friday after Berkshire Hathaway (BRK.A) - Get Free Report Chairman and CEO Warren Buffett told CNBChe sold off about a third of his stake in Big Blue in the first and second quarters of 2017.
Buffett owned about 81 million shares of IBM at the end of 2016.
"I don't value IBM the same way that I did six years ago when I started buying ... I've revalued it somewhat downward," Buffett told CNBC. "When it got above $180 we actually sold a reasonable amount of stock."
IBM closed Thursday at $159.05.
Berkshire Hathaway still owns more than 50 million shares of IBM and with shares now trading below $160 Buffett said he has stopped selling, CNBC reported. 
4. -- Goldman Sachs (GS) - Get Free ReportCEO Lloyd Blankfein warned Friday that London's status as an international finance hub is at risk as a result of the country's decision to leave the European Union. 
In an interview broadcast on the BBC, Blankfein said he was confident that London would remain the principal base for his bank's non-U.S. operations, but nonetheless warned that there were things "beyond our control" that could alter those plans. He also warned that London's financial sector expansion, a key component of U.K. economic growth, could "stall" as a result of the ongoing Brexit uncertainty.
"I don't think it will totally reverse," he told the BBC. "It will stall, it might backtrack a bit, it just depends on a lot of things about which we are uncertain and I know there isn't certainty at the moment." 
When asked if the bank, which has more than 6,500 employees working in various London offices, would consider relocating as a result, Blankfein sounded open-minded.
"A lot of people elect to have their European business concentrated in one place and the easiest place would be the U.K.," Blankfein said. "If you cannot benefit from access to the EU from the U.K., and no one knows what those rules and determinations will be, then the risk is that they'll be some adjustment that will cause some people to have a smaller footprint in the U.K." 
"It is our hope that we will be able to conduct our business as close as we can to the way we conduct it today," he added. "But, without knowing how things will turn out, we have to plan for a number of contingencies.
5. -- The U.S. Department of Justice has begun a criminal investigation into Uber's use of a software tool that helped its drivers evade local transportation regulators, two sources familiar with the situation told Reuters.
Uber acknowledged the software, known as "Greyball," helped it identify and circumvent government officials who were trying to clamp down on Uber in areas where its service had not yet been approved, such as Portland, Ore., Reuters noted.
The company prohibited the use of Greyball for this purpose shortly after The New York Times revealed its existence in March, saying the program was created to check ride requests to prevent fraud and safeguard drivers. The Times report triggered a barrage of negative publicity for the company, which already was struggling with a number of business and legal issues.
Don't miss these top stories on TheStreet:
Tesla Didn't Earn Any Money in the First Quarter, but Here Are 8 Awesome Things We Just Discovered