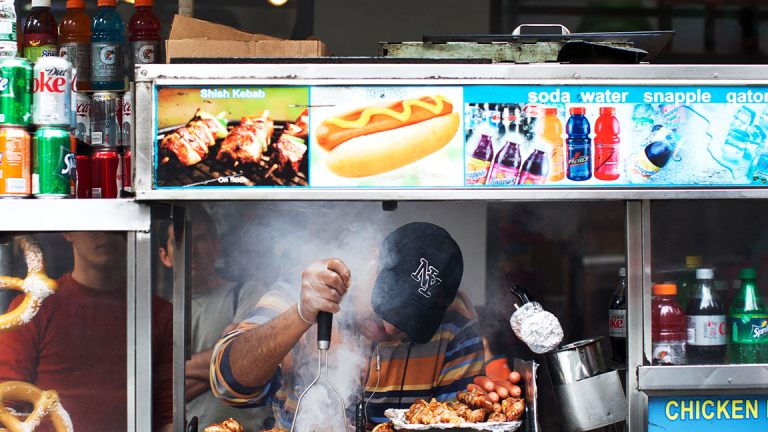 3 Things You Must Know About Wall Street as You Head to Lunch
Stocks prove resilient after a bomb explodes near New York's Port Authority, and bitcoin futures soar. Here is what's happening as you head to lunch.
Stocks prove resilient after a bomb explodes near New York's Port Authority, and bitcoin futures soar. Here is what's happening as you head to lunch.
Here are three things you must know at midday on Monday, Dec. 11:
1. -- Investors were rattled early Monday after the New York City Police Department confirmed that an explosion at the Port Authority in New York was a "terror-related incident." But Wall Street proved resilient, with stocks trading higher after a muted start to the day.
The explosion in New York also failed to dent the excitement over the start of futures trading for bitcoin. 
Bitcoin futures finally began trading on Sunday night, and it seems as though the whole investing world was watching.
Prices surged on their first day of trading and extended gains into Monday, taking spot prices for digital currencies higher as exchange regulators had to halt dealing twice in order to tame market volatility.
The maiden futures contract, which settles for cash on Jan. 18, opened at a price of $15,460 and promptly fell $40 until prices rebounded to as high as $18,850, according to Cboe data. At last check, futures were trading at $17,800 with close to 3,400 contracts changing hands. Bitcoin was trading at a spot price of $16,425, according to CoinDesk.com.
2. -- Alibaba Group Holding Ltd.  (BABA) - Get Report  continues to prove why its stock deserves to be up more than 103% this year.
China's e-commerce giant plans to invest about $200 million in India's largest online supermarket, Bigbasket, leading a $280 million funding round in the startup, Bloomberg reported, citing people familiar with the negotiations. 
Alibaba is taking a stake of about 25% in Bigbasket after months of negotiations, the people said.
Last week, Ford Motor Co. (F) - Get Reportinked a deal with Alibaba, Asia's second-largest company, that could see Ford sell cars through Alibaba's online retail platform.
3. -- Oil prices rose Monday, as cold weather is expected to boost demand and drive prices higher. Another factor boosting prices is that the U.S. economy and the global economy are growing, said Phil Flynn, senior market analyst at Price Futures Group, in a note on Monday. 
"Oil prices look like they are waiting around for Christmas to make a decisive move but really, they are just waiting for oil inventories and the (Federal Reserve). The news seems to suggest overnight that the market is worried about an increase in Non-OPEC production and shale production, but the way things are going on the demand side they may want to focus on that demand instead," Flynn wrote.
"The U.S. economy is on fire as we added 228,000 jobs in November, while the unemployment rate remained at a 17-year low of 4.1%. We also saw upward revisions in the two prior months of figures adding to the oil demand expectations in the overall market place. The global economy is growing as well, and oil demand is on an upward trajectory the likes of which we have not seen in decades."
Oil prices in the U.S. on Monday rose 1% to $57.92 a barrel, while Brent crude, the global benchmark, rose more than 2%.
This story has been updated from 11:45 a.m. ET.
More of What's Trending on TheStreet:
China Has a Fresh $7.2 Trillion Problem That Could Spook Markets