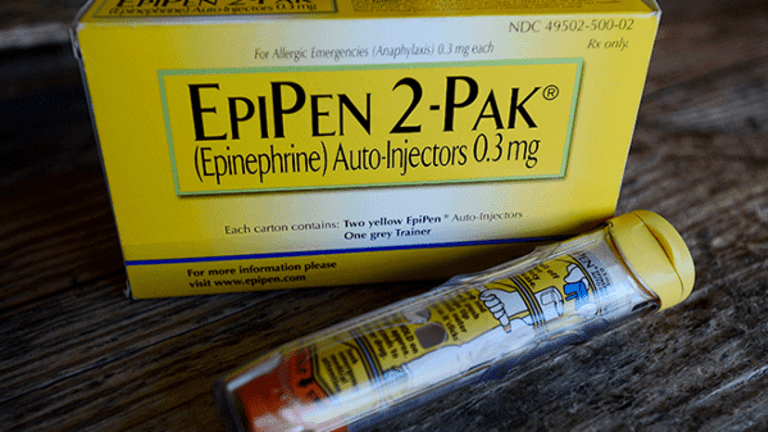 Futures Lower Following Clinton EpiPen Tweet; Asia Opens Down Too
Clinton hammers a whole sector by criticizing an increase in Epipens.
Futures for U.S. markets pointed downward late Wednesday after a single Hillary Clinton tweet on the rising price of the Epipen pressured healthcare stocks and pushed all three major indices to a lower close.
The S&P 500 was off 0.01%, the Nasdaq 0.02% and the Dow Jones Industrials 0.03% at 9:20 p.m. EDT.
After spending the week wondering what Federal Reserve Chair Janet Yellen will say Friday, investors Wednesday were surprised by a tweet from Hillary Clinton. The Democratic presidential candidate criticized a jump in the price for Mylan's (MYL) - Get Viatris, Inc. ReportEpipens, which help reverse life-threatening allergic reactions.
The tweet pushed the S&P Health Care index down 1.61% Wednesday as investors fear politicians could put additional pressure on healthcare companies to pare costs. The lower healthcare shares left the Dow off .035%, Nasdaq 0.81% and the S&P 0.52% in Wednesday trade.
Investors are still awaiting a signal from the Fed about a much-expected rate hike by the end of the year. Yellen will speak Friday at the Federal Reserve Bank of Kansas City's annual symposium in Jackson Hole, Wyo. The symposium this year is focusing on monetary policy and investors wonder what tools central banks have left should economies suddenly turn strongly south. Investors are especially pondering whether the Fed thinks the economy is growing strongly and could use a rate hike before the election, or if action can wait until December.
The down mood on Wall Street carried over to Asia, which opened lower. Japan's Nikkei was off 0.24%, South Korea's Kospi, 0.12%, and Hong Kong's Hang Seng, 0.19%, at 9:49 p.m. EDT.
Europe ended its day mixed as natural resources stocks in the U.K. reacted to lower oil prices and traders in France and Germany supported banking stocks. The FTSE in London slipped 0.48%, while Germany's Dax gained 0.28% and France's Cac ended Wednesday 0.32% higher.
The pound continues to recover and is moving nearer its post-Brexit high of $1.346 by gaining 0.08% in early Asian trade to $1.3242. The yen slipped 0.02% to ¥100.449.
Over in energy, industry standard Brent crude continued to retreat as Asia awoke and was off 0.16% at $48.96 per barrel with its West Texas counterpart 0.19% lower at $46.68. Both prices were current at 9:50 p.m. EDT and reflect futures for October delivery.
After-market trading was relatively quiet Wednesday as earnings releases slowed. Shares of Canadian fuel cell upstart Ballard Power Systems (BLDP) - Get Ballard Power Systems Inc. Report leapt 11.06% to $2.21 after the Barnaby, British Columbia company said its power cells received export approval from the Department of Commerce, sparking hopes of commercializing the product.
Shares of printer company Hewlett-Packard (HPQ) - Get HP Inc. Report trimmed 6.25% in extended trading to $13.50 after the company said it had 48 cents in earnings per share on $11.89 billion in revenue in its fiscal third quarter, down from EPS of 88 cents and $25.35 billion a year ago.
The figures beat analyst estimates of 44 cents in EPS and revenue of $11.47 billion. However, the Palo Alto, Calif.-based company disappointed with its fourth quarter outlook. It now sees Q4 EPS in the range of 34 cents to 37 cents while analysts wanted as much as 41 cents.