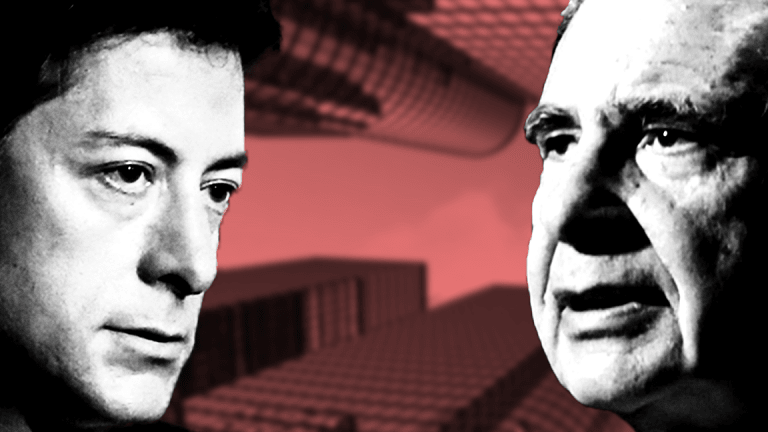 When Titans Collide: Starboard's Jeff Smith Challenges Carl Icahn at Newell
The activist fund is putting up four dissident director candidates to the company's board as part of a skirmish over the Mr. Coffee maker's divestiture plans.
Starboard Value's Jeff Smith on Wednesday officially launched a boardroom battle at Newell Brands Inc. (NWL) - Get Newell Brands Inc. Report , offering up a minority-slate of four candidates that will partly go up against directors recently installed by rival billionaire insurgent Carl Icahn, in a skirmish over which activist fund will be better able to oversee $10 billion worth of asset sales at the Mr. Coffee maker.
The activist slate is much smaller than the change-of-control 11 dissident candidates Starboard had originally sought to install on Newell's board. However, the slate also comes after Icahn last month reached an agreement with Newell to bring on five directors.
Smith and his team had been pushing to remove Newell CEO Michael Polk, who they argued hadn't been doing a good job. According to a person familiar with the situation, Starboard believes that Icahn implicitly came to an agreement with Polk that will allow the executive to retain his job. The insurgent fund had been pushing to install Jim Lillie, an ex-Jarden Corp/ executive, as Newel'sl CEO.
Lillie and Martin Franklin, the co-founder of Jarden, resigned from Newell's board earlier this year over a dispute involving bonus payments and integration of assets subsumed into Newell following a 2015 $17.4 billion acquisition of Jarden.
Franklin and Lillie and had both been members of the original larger Starboard slate but they stepped down after the Icahn settlement, in part because Franklin wanted to pursue acquiring Newell assets once they are up for sale, the person said.
As part of the deal with Icahn, Newell will seek to dispose of assets with a valuation of roughly $10 billion, up from the $6 billion the company had announced it was divesting in January.
However, Starboard argues that its candidates are better able to oversee asset sales, which may involve multiple buyers of the company's disparate assets.
"Unfortunately, instead of enacting the right change at Newell, Carl Icahn chose to place three of his direct representatives on the board and two other 'independent' directors, one of whom has no public board experience and graduated from the same college in the same year as Brett Icahn, another Newell director appointed by Carl Icahn," Starboard said.
Icahn's candidates, including his general counsel, Andrew Langham, his son, Brett Icahn, Courtney Mather, an Icahn portfolio manager and Patrick Campbell, an ex-senior vice president at diversified technology company 3M Co. Another Icahn-backed candidate, David Atchison, was added later. Atchison, graduated from the same college as Brett, according to Starboard.
Alternatively, Starboard argues that its candidates have more relevant experience and can oversee the asset sales so that Newell gets the best price for the assets.
One Starboard candidate, Pauline Brown, is an ex-chairman of LVMH Moet Hennessy Louis Vuitton, where she focused on luxury brands. Gerry Loez, another nominee served as CEO of Extended Stay America and candidate Bridget Berman, was previously CEO of Victoria's Secret Direct, an online and catalogue division.
Robert Steel, another Starboard candidate, currently sits on three boards, including BJs Wholesale Club Inc., according to relationship mapping service BoardEx, a service of The Street. He also held various executive and manager positions at Procter & Gamble Co. in a career spanning decades.
Regardless of who is on the board, analysts agree that Newell Brands may have a difficult time selling assets, which include Rubbermaid products, Rawlings baseball gloves, and a U.S. playing cards businesses, among others, because no natural buyers exist for the whole diverse portfolio of assets. Both Icahn and Starboard are supportive of the asset sales, at the right price, people familiar with the situation said.
However, the wide-ranging assets most likely won't find one buyer, making a sale process lengthy and complex. For example, sporting goods company Amer Sports of Helsinki, Finland, could be interested in Rawlings baseball gloves, but nothing else, analysts say.
The company has not said what additional assets will be on the auction block that will make up the additional $4 billion expected to be sold. One person familiar with the situation suggested that Newell's Polk agreed to increase the asset sales without a serious review just to appease Icahn.
However, most observers agree that one of the most likely buyers of a large segment of the portfolio for sale could be Franklin, the co-founder of Jarden and the chief of an investment vehicle J2 Acquisition Ltd., which raised $1.25 billion in an initial public offering in 2017. Franklin co-founded J2 with Lillie and Ian Ashken, another ex-Jarden executive.
However, people familiar with the situation said they were worried that Franklin wouldn't pay what Newell would demand for the assets.
Editor's note: This article originally appeared on The Deal, a sister publication of TheStreet that offers sophisticated insight and analysis on all types of deals, from inception to integration. Click here for a free trial.
Before You Go
Get ready for the must-attend investing conference of 2018, hosted by none other than TheStreet's Jim Cramer. From an exclusive interview with PayPal CEO Dan Schulman to expert panels that touch on investing in the stock market to alternative investing, you won't want to miss the event TheStreet is hosting on May 5. Details are below.
How to Diversify Your Portfolio: A Boot Camp for Investors
Date: Saturday, May 5, 2018
Location: 117 West 46th Street, New York City