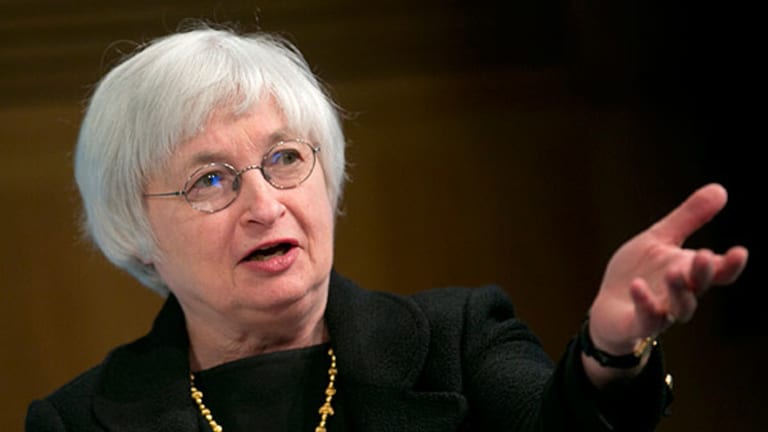 Yellen's a Shrewd Mutual Fund Investor
The Fed nominee seems to keep a close eye on costs and taxes.
NEW YORK (TheStreet) -- Janet Yellen, who was nominated to head the Federal Reserve, appears to be a shrewd mutual-fund investor. According to government disclosure documents filed in 2011, Yellen has up to $10.5 million in low-cost funds from Vanguard and Fidelity.
The document doesn't provide the exact amount in each fund. Instead, the disclosure lists a range. The portfolio has $250,001 to $500,000 in
Vanguard Extended Market Index
(VEXAX) - Get Vanguard Extended Market Index Adm Report
, a low-cost index fund that tracks mid-cap and small stocks. That choice should not be surprising. Yellen was a long-time professor of economics at Harvard and University of California at Berkeley, and many of her colleagues have argued for the use of index funds. But Yellen also holds some solid actively managed funds, including
Fidelity Diversified International Fund
(FDIVX) - Get Fidelity Diversified International Report
and
Fidelity Investment Grade Bond
(FBNDX) - Get Fidelity Investment Grade Bond Report
.
Yellen seems to be keenly aware of tax considerations. For her taxable account, she put up to $5 million in
Vanguard Tax-Managed Growth & Income
(VTGLX)
. The fund aims to limit taxes while roughly tracking the
S&P 500
. The portfolio manager uses a range of techniques to avoid taxes. In one approach, he sells losing stocks to book losses that can be used to offset gains. Because of the tax maneuvers, the fund runs the risk of lagging the benchmark. But the goal is to outperform conventional S&P 500 funds on an after-tax basis.
Despite doing some extra trading, the tax-managed fund did a beautiful job of tracking the index. During the past 10 years, the fund returned 6.96% annually, compared with 7% for the S&P 500. Yellen would have little reason to complain about that showing. But the tax-managed fund trailed the plain-vanilla index fund
Vanguard 500 Index
(VFIAX) - Get Vanguard 500 Index Adm Report
, which returned 6.99%. After taxes, the two funds finished in a dead heat.
Yellen might consider switching to the standard index fund, which did better than investors should have expected. Under normal circumstances, an index fund should lag its benchmark by the expense ratio, which is subtracted from returns. Since the index fund charges 0.05%, you would expect it to trail by that amount. In fact, the fund lagged by 0.01%. Smart trading by the Vanguard portfolio managers must have provided an edge.
Yellen apparently had a clear eye on taxes when she elected to put
Vanguard High Yield Corporate
(VWEAX) - Get Vanguard High-Yield Corporate Adm Report
into her individual retirement account. Financial advisors often suggest sheltering bond funds in retirement accounts where taxes are deferred. Bonds generate lots of income that is taxed as ordinary income. In contrast, stocks can produce primarily capital gains that are taxed at lower rates. High-yield bonds are particularly prone to deliver taxable income. Because of that, some advisors urge clients to own high-yield bonds only in tax-deferred accounts.
Vanguard High-Yield is actively managed, but it is a favorite of some advisors who normally prefer index funds. The Vanguard fund has an expense ratio of 0.23%, which is lower than what passive exchange-traded funds charge. While high-yield bonds come with default risk, the Vanguard fund is a relatively staid member of the category. Most assets are in bonds that are rated BB, the highest rating in the universe of below-investment grade bonds. Because of its credit quality, the fund does relatively well during periods when investors worry about defaults. In recent years, the Vanguard fund had a flood of assets, and the company closed the fund to new investors.
Yellen appears to be an old-fashioned buy-and-hold investor, but she did make a notable trade in 2010, putting up to $250,000 into
Vanguard Short Term Bond Index
(VBIRX) - Get Vanguard Short-Term Bond Index Adm Report
, a cautious fund that puts most its assets in Treasuries. If the Federal Reserve raises rates, Yellen should suffer only limited damage. When rates rise, short-term bonds are relatively resilient.
At the time of publication, the author had no position in any of the stocks mentioned.
This article was written by an independent contributor, separate from TheStreet's regular news coverage.
Stan Luxenberg is a freelance writer specializing in mutual funds and investing. He was executive editor of Individual Investor magazine.