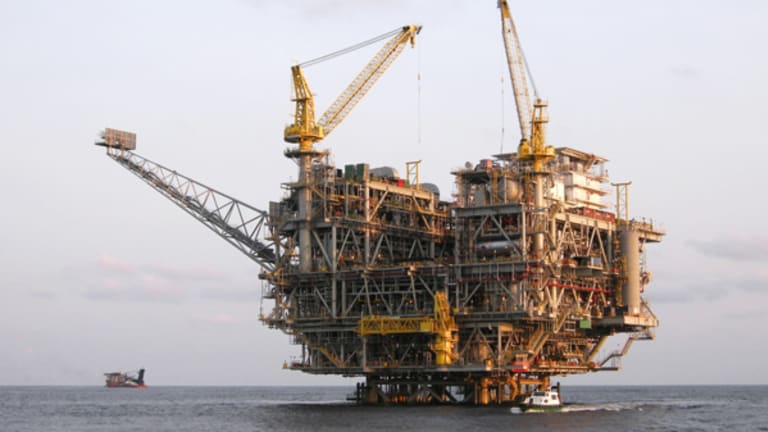 With Rising Oil Prices, Three Energy Funds to Consider
These funds are a way to bet on higher energy prices.
NEW YORK (TheStreet) -- Energy stocks have been rallying lately on rising oil prices.
So far his year, energy mutual funds have returned 3.9%, while the S&P 500 has lost 1.2%, according to Morningstar. A barrel of West Texas Intermediate crude sells for $103, up from $88 a year ago.
Can the energy stocks stay afloat? Some fund managers think so.
"Oil prices will stay high because there is resurgence in demand from Europe and other areas," says Brian Hicks, portfolio manager of U.S. Global Investors Global Resources Fund (PSPFX) - Get US Global Inv Global Resources Report.
Despite their recent upturn, energy stocks remain cheap, portfolio managers say. While the price-earnings ratio of the S&P 500 climbed in recent years, energy multiples trailed. During the three years ended in 2013, energy funds returned 5.7% annually, compared with 16.2% for the S&P 500. Leading blue chips, such as Chevron (CVX) - Get Chevron Corporation Report and Exxon Mobil (XOM) - Get Exxon Mobil Corporation Report command price-to-earnings ratios of 13 or less, compared with 18 for the S&P 500.
Fund portfolio managers say that the energy stocks lagged in recent years because investors worried about softening oil prices. According to energy bears, markets seemed poised to face oversupplies as U.S. shale production rose.
At the same time, demand was likely to remain stagnant as global economies struggled. But the excess supplies never materialized because of production slowdowns in foreign fields, including the North Sea and Iran. As a result, oil prices stayed firm.
To bet that demand will remain healthy, consider an energy fund. Top choices include Fidelity Select Energy Portfolio (FSENX) - Get Fidelity Select Energy Portfolio Report and Ivy Energy Fund (IEYAX) - Get Ivy Energy A Report.
For a broader portfolio, consider U.S. Global Investors Global Resources, a natural-resources fund that holds mining and precious metals along with energy.
Fidelity portfolio manager John Dowd holds a mix that includes fast-growing smaller companies as well as some lumbering giants that may be undervalued. During the past five years, the fund returned 16% annually, outperforming 87% of its peers.
Dowd holds some companies that are growing rapidly by exploiting shale fields. He is particularly keen on developers that have reduced costs through trial and error.
"The companies that have figured out how to improve productivity are reporting better earnings growth than the industry overall," he says.

One holding is EOG Resources (EOG) - Get EOG Resources, Inc. (EOG) Report, which produces oil and gas in the Marcellus Shale of Pennsylvania and the Permian Basin in Texas. EOG's return on equity has improved as the well costs declined.
Another holding is Anadarko Petroleum (APC) - Get Anadarko Petroleum Corporation Report. Besides working in U.S. shale fields, the company has proved to be an efficient operator in deepwater.
Ivy Energy aims to overweight companies that seem poised to record strong growth. During the past five years, the fund returned 15.3% annually, outperforming 73% of its peers.
Portfolio manager David Ginther favors companies that own pipelines and storage systems that service the gas shale fields. He says demand will grow as more manufacturers shift to low-cost gas.
"We will need more pipelines and more ways to process gas," he says.
One holding is MarkWest Energy Partners (MWE) , a master limited partnership that operates storage and processing facilities in the Marcellus Shale. Its dividend yield is 5.4%.
U.S. Global Investors Global Resources has about half its assets in energy stocks. Hicks, the portfolio manager, favors exploration and production companies that can grow rapidly. He looks for businesses that have the most promising acreage and lowest costs.
One holding is Continental Resources (CLR) - Get Continental Resources, Inc. Report, a leading producer in the Bakken formation of North Dakota.
"They should increase production at a rapid clip over the next three years," Hicks says.
Another holding is oil services giant Halliburton (HAL) - Get Halliburton Company (HAL) Report. The company assists drillers that are using hydraulic fracturing to develop shale fields.
At the time of publication, the author held no positions in any of the stocks mentioned.
This article represents the opinion of a contributor and not necessarily that of TheStreet or its editorial staff.