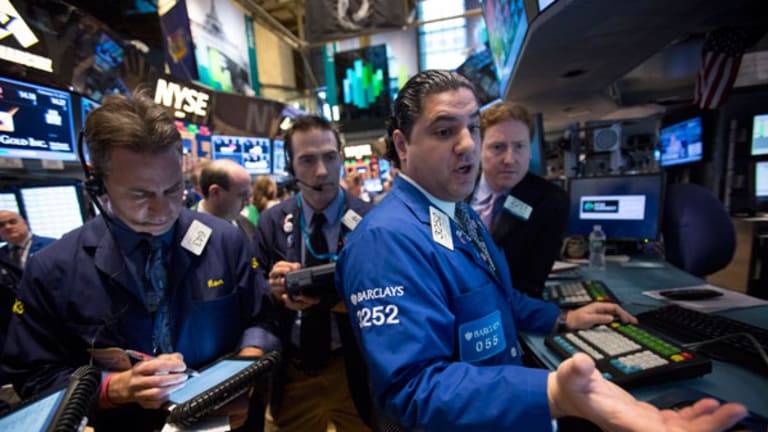 Why Rising Interest Rates Could Help Merger Funds
Deals deliver bigger returns when rates are higher.
NEW YORK ( TheStreet ) -- Worried about rising interest rates, investors are scrambling to protect their portfolios. Many are dumping bonds and dividend-paying stocks, which tend to do poorly when rates climb.
What investments will thrive when the
Federal Reserve
finally raises rates? Among the likely winners are merger funds, which buy the stocks of companies that are being acquired.
Top-performing mutual funds include
Merger Fund
and
Arbitrage Fund
(ARGAX) - Get The Arbitrage A Report
. ETF investors can try
IQ Merger Arbitrage
(MNA) - Get IQ Merger Arbitrage ETF Report
.
Merger funds delivered solid results throughout the last big run-up in rates, which occurred in the three years that began in 2004. During that time, the Federal Reserve raised the federal funds rate from 1% to 5.25%. For the period, Merger Fund returned 5% annually, topping the average intermediate government fund by a wide margin. "When interest rates rise, bond investors have the wind in their faces, but we have the wind at our backs," says John Orrico, portfolio manager of Arbitrage Fund.
In up and down markets, the merger funds churn out modest results, delivering single-digit returns almost every year. During the past 10 years, Merger Fund and Arbitrage Fund both returned 3.8% annually, according to Morningstar. The funds outdid the average short-term bond funds, while being only a bit more volatile.
"Merger arbitrage is a way to preserve wealth, not necessarily an easy way to become rich," says Paul Rosenberg, portfolio manager of
Catalyst Event Arbitrage Fund
(CEAAX)
, a mutual fund that invests in merger stocks.
In a typical deal, a fund buys the shares of company that is about to be acquired. Say an acquirer announces that it will pay $12 a share for the target stock, and the deal is expected to close in two months. Before the deal is completed, the shares may trade for $11.50 because investors worry that the sale could be scotched by regulators or other problems.
If that happens, the shares could sink well below the proposed acquisition price. The merger investor buys the shares, betting that the deal will close. If the acquisition happens on schedule, the investor pockets profits of $.50 a share. Such small gains can add up to single-digit annual returns.
Wealthy investors have long prized merger arbitrage hedge funds because they are seen as safe. Most deals do close and generate small profits for arbitrage investors. More importantly, the merger funds offer diversification since the returns are not necessarily dependent on the direction of the overall stock or bond markets
The returns of merger funds tend to track interest rates. As rates climb, so do returns. This occurs because merger investors shy away from deals unless they promise to deliver returns in excess of the risk-free rates of Treasury bills. Under normal circumstances, promising deals tend to produce annualized returns that are about 4 percentage points above yields on Treasury bills.
If Treasury bills yield 2%, then investors will not buy a deal stock until they can get annualized returns of about 6%. When Treasury rates rise to 3%, investors will seek to obtain returns of 7%. If the spread between the current share level and the final deal price is too narrow, merger investors will sit on the sidelines until the price sinks.
At the moment, three-month Treasury bills yield almost nothing, so safe deals promise to generate annualized returns of about 4%. In a pending deal,
Hanesbrands
(HBI) - Get Hanesbrands Inc. Report
announced it would pay $23.50 a share for
Maidenform
(MFB)
. The shares currently trade for $23.38, and the deal is expected to close in the fourth quarter. If things run smoothly, investors could obtain annualized returns of about 4%.
To spread its bets, Arbitrage Fund typically invests in 40 to 60 transactions. While some deals close in 30 days, others take several months. The aim is to book quick gains, and then reinvest the proceeds in other deals. If a deal turns sour, the managers cut their losses and move on to more promising opportunities. Portfolio manager John Orrico holds a mix of different kinds of deals, including safe choices and riskier opportunities that can deliver higher returns.
Among his riskier positions currently is
Dell
(DELL) - Get Dell Technologies Inc Class C Report
. The shares trade for $13.73, and a group led by Michael Dell has promised to pay shareholders a package worth $13.95. Orrico figures that the deal will close in October, producing an annualized return of around 9%. Carl Icahn and some other big shareholders oppose the deal. But Orrico thinks that the acquisition will close because many shares are now in the hands of arbitrage funds that would profit from the sale.
At the time of publication the author had no position in any of the stocks mentioned.
This article was written by an independent contributor, separate from TheStreet's regular news coverage.
Stan Luxenberg is a freelance writer specializing in mutual funds and investing. He was executive editor of Individual Investor magazine.