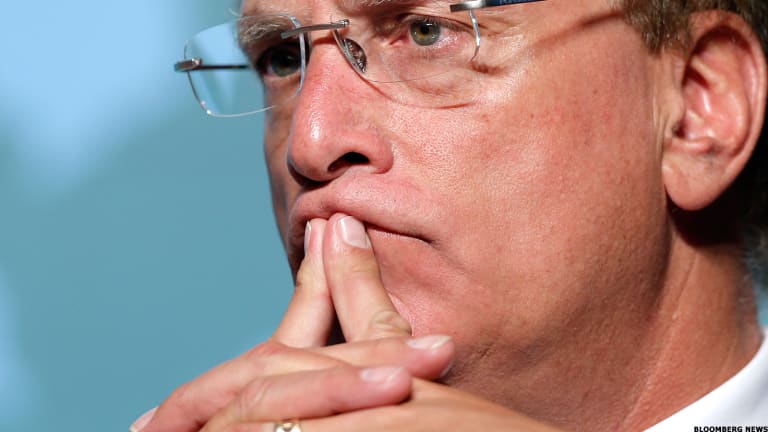 Publish date:
Why Larry Fink May Be the Trustbusters' Next Target
Experts say mutual funds' stakes across an industry can thwart competition and that anti-trust regulators should require them to pare their holdings in that case.
Experts say mutual funds' stakes across an industry can thwart competition and that anti-trust regulators should require them to pare their holdings in that case.
In the past few months antitrust regulators came down hard on activist and private equity investors for non-controlling investments in portfolio companies. Mutual funds might be their next target. The upshot: They might be required to unload the stocks of companies involved in deals.
In May the Federal Trade Commission required Hikma Pharmaceuticals (HKMPY) to return its rights to a generic treatment for accelerated heart rhythms to the drug's developer, Unimark Remedies and sell its partial stake in Unimark. The FTC's moves were the condition of antitrust approval for Hikma's acquisition of Roxane Laboratories.
In July ValueAct Capital agreed to pay a record $11 million to settle Department of Justice allegations that the activist investor failed to comply with federal antitrust notification requirements when it began building stakes in Halliburton (HAL) - Get Report and Baker Hughes (BHI) soon after the two oilfield services competitors announced plans to merge in November 2014.
The competition enforcers' actions were motivated by concern about potential for competitive harm posed by investors' stakes in competing firms. Their worries are shared by other officials in the Obama Administration. In April a paper authored by the White House Council of Economic Advisers listed common ownership of stock by large institutional investors as one of a number of potential areas where new regulations might be necessary to address increasing concentration in several industries.
The ValueAct and Hikma decisions were aimed at investors that, in the eyes of the FTC and the DOJ, were taking an active role in the operations of the companies they had invested in. But investors traditionally thought of as purely passive—the big indexed mutual funds—have also caught the attention of government officials.
Several academic papers released this year suggest that the big mutual fund managers, including BlackRock (BLK) - Get Report and Vanguard, have harmed competition and contributed to price increases by taking large stakes in most of the sizeable competitors across several industries.
Several academic papers released this year suggest that the big mutual fund managers, including BlackRock (BLK) - Get Report and Vanguard, have harmed competition and contributed to price increases by taking large stakes in most of the sizable competitors across several industries.
The studies' specifically examine the effect of mutual fund holdings in technology giants Apple (AAPL) - Get Report and Microsoft (MSFT) - Get Report , big pharmaceutical firms, airlines and the mega-banks. The studies suggest that the mutual fund investors, both implicitly and explicitly, press their portfolio companies to defend prices in their industries rather than fight each other for market share, all to the detriment of consumers.
U.S. antitrust enforcers are well-aware of the studies' purported link between common ownership in an industry by institutional investors and higher prices but have not indicated whether they will incorporate that evidence into their competition analyses and merger reviews. They could reveal their thinking soon, however. At least four mergers currently being reviewed by the Department of Justice are in industries that have substantial common ownership by mutual funds-Alaska Air's (ALK) - Get Report plan to buy Virgin America (VA) for $4 billion and three mergers in the agricultural chemicals/seeds sector, China National Chemical's $46.3 billion bid to acquire Syngenta, Dow Chemical's (DOW) - Get Report effort to acquire DuPont (DD) - Get Report for $130 billion and Bayer's (BAYRY) - Get Report $66 billion offer for Monsanto (MON) .
The DOJ declined to comment for this story but Acting Associate Attorney General Bill Baer addressed the issue at the prodding of Sen. Richard Blumenthal, D-Conn. during a Senate hearing in March, telling the hearing that it was something the FTC was "looking at."
According to the most prominent of those studies, one by University of Michigan professor Martin Schmalz and others, indexed mutual funds and other institutional investors now hold as much as 80% of the shares of publicly traded firms in this country and that percentage is increasing.
Schmalz and his colleagues noted there are several instances in which a single mutual fund company is the largest shareholder in multiple firms within several industries. For instance Vanguard and BlackRock are the largest shareholders of both Apple and Microsoft with respective stakes of just over 6% and 5%. Vanguard is also the top unaffiliated investor in CVS, Walgreens Boots Alliance and Rite Aid, while BlackRock is number two at CVS and Rite Aid and number three at Walgreens, according to Schmalz's numbers.
He and his fellow authors examined the airline industry to determine whether increased common ownership concentration over time on a given route is associated with changes in ticket prices. They found that ticket prices are 3% to 10% higher on the average U.S. airline route than there would be under separate ownership.
In an interview with The Deal, Schmalz argued that the harm to competition posed by mutual funds' common ownership may be greater that the threat antitrust regulators have already said is posed when activist or private equity firm hold stakes in a couple of competitors.
"The ValueAct case was a rarity among activists," he said. "Activists usually push their companies to compete with one another. Show me last time [BlackRock CEO] Larry Fink (pictured) pushed one of his portfolio firms to take market share from competitor. That doesn't happen."
What Washington should do about Schmalz's findings is the subject of the other prominent paper, written by Harvard Law School professor Einer Elhauge, who was among those President Obama considered to run the DOJ Antitrust Division when he first came to office in 2008. 
Elhauge said that existing antitrust law already gives the government sufficient authority to block mergers if they lead to common ownership by institutional investors that will harm competition. A useful tool, he said, would be a modification to the Herfindahl-Hirschman Index (HHI) traditionally used by competition authorities to measure whether a merger leads to an ant-competitive increase in concentration. Rather than simply measure changes in concentration among sellers in an affected industry, a modified HHI (MHHI) would take into account partial-ownership overlaps among horizontal rivals. Anytime a merger causes an increase in MHHI above 200 and a final MHHI above 2500, the paper contends a deal should be considered anti-competitive and that regulators should require the investors to pare their holdings. 
It should be no surprise that the mutual fund industry rejects this line of thinking. 
"The recent academic papers explore a subject of study that is in its infancy," said Mike McNamee, spokesman for the Investment Company Institute, the trade group for the mutual fund industry. "It would be premature to draw any conclusions from them."
BlackRock spokesman Ed Sweeney had a more blunt assessment. "The idea that we actively view our holdings on an industry-wide basis, whether active or passive, rather than trying to maximize the returns of each shareholding is wrong."
Sweeney said he could come up with only one example of BlackRock taking an active role in a portfolio company—when the fund manager worked to remove the management of an Asian mining company that sold the mine to become a broker dealer.
"The idea that large-scale, passive ownership affects the nature of corporate behavior and reduces incentives for corporate managers to succeed and try their best is not borne out by reality."
Apple and Dow are holdings in Jim Cramer'sAction Alerts PLUS Charitable Trust Portfolio.Want to be alerted before Cramer buys or sellsAPPL and DOW?Learn more now.