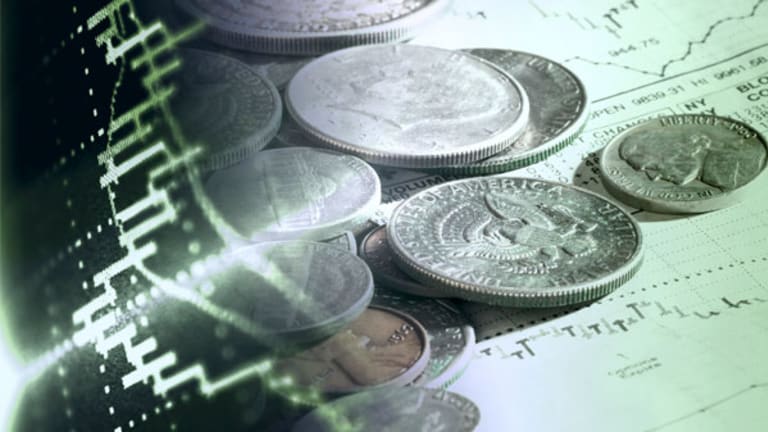 Publish date:
Why Foreign Bond Funds Look Appealing
Now that Europe is stabilizing, yields appear solid.
Now that Europe is stabilizing, yields appear solid.
NEW YORK (TheStreet) -- Since the financial crisis, investors have poured $900 billion into bond mutual funds.
Nearly all the money has gone into U.S. mutual funds. Only a trickle of cash has found its way to world bond funds, which invest in overseas securities. Investors have seen little reason to look abroad at a time when European markets have been in crisis.
But there are considerable reasons to consider foreign bonds. Foreign issues can help to diversify portfolios, and world bond funds have been rallying lately.
During the past three months, the foreign funds have returned 4.0%, compared to 1.5% for the Barclays Capital U.S. Aggregate index.
Part of the strength can be traced to the improving climate in Europe. With the European Central Bank pledging to buy more bonds, prices of securities in Italy and Spain have been climbing.
Many world bond funds can provide especially powerful diversification because they are exposed to foreign currencies. When the dollar sinks against foreign currencies, then the value of the funds climbs for U.S. investors.
If the dollar drops in the future, as some economists fear, then the foreign funds could provide some protection. Part of the reason for the recent strength of world bond funds is that the euro has been rising in recent months.
To benefit from overseas markets, look for funds with steady records. Top choices include
Loomis Sayles Global Bond
(LSGBX) - Get Report
,
Putnam Global Income
(PGGIX) - Get Report
and
Wells Fargo Advantage International Bond
(ESIYX) - Get Report
. All those funds have outpaced the Barclays benchmark by a wide margin.
Wells Fargo has been a consistent performer. During the past decade, the fund returned 8.2% annually, compared to 5.3% for the Barclays index.
Wells Fargo holds a mix of government and corporate issues. When markets seemed shaky during the financial crisis, the fund took shelter in high-quality government issues. That protected the fund. During the turmoil of 2008, Wells Fargo returned 8.4%, while the average intermediate-term fund lost 4.7%.
Following the financial crisis, the fund had no bonds in the troubled peripheral countries of Europe, including Greece, Ireland and Spain.
But Wells Fargo began buying Spanish and Italian bonds late in 2011 when the European Central Bank embarked on a program of making sizable loans to banks.
The move into Europe has proved profitable. Portfolio manager Peter Wilson argues that the debt burdens of Italy and Spain are not much worse than the position of the U.S., but the European countries offer richer yields.
"Europe does not have a solution to its problems, but it is taking steps toward a solution," he says.
Loomis Sayles Global Bond holds a broad collection of securities from developed and emerging markets. During the past 10 years, the fund has returned 8.1% annually.
The portfolio managers prefer buying unloved bonds that yield more than Treasuries.
Portfolio manager Lynda Schweitzer currently likes Mexican issues. She says that the country has a sound balance sheet and offers yields of around 6%.
"The Mexican economy is likely to strengthen and attract investors from around the world that are starved for yield," she says.
Loomis Sayles is underweight Japanese bonds. The country's 10-year government issues yield a puny 0.8%. That is scant reward for investing in an economy that is plagued by huge debt burdens.
Putnam Global Income holds a mix of foreign and U.S. bonds. During the past 10 years, the fund has returned 7.5% annually.
Concerned about skimpy yields and mounting risks, the fund is staying diversified and avoiding big overweight positions.
Portfolio manager William Kohli worries that U.S. rates could rise as the economy grows slowly. That will push down bond prices. If rates on 10-year Treasuries climb by 1 percentage point, the bonds could sink about 9%.
To obtain better returns, he is focusing on corporate bonds that yield more than Treasuries. Kohli is slightly overweight in German bonds. The outlook for Germany is solid now that the prospects for Europe have improved.
"The possibility of an imminent blowup in Europe has been taken off the table," he says.
At the time of publication, Luxenberg held no positions in securities mentioned.
This article is commentary by an independent contributor, separate from TheStreet's regular news coverage.
Stan Luxenberg is a freelance writer specializing in mutual funds and investing. He was executive editor of Individual Investor magazine.