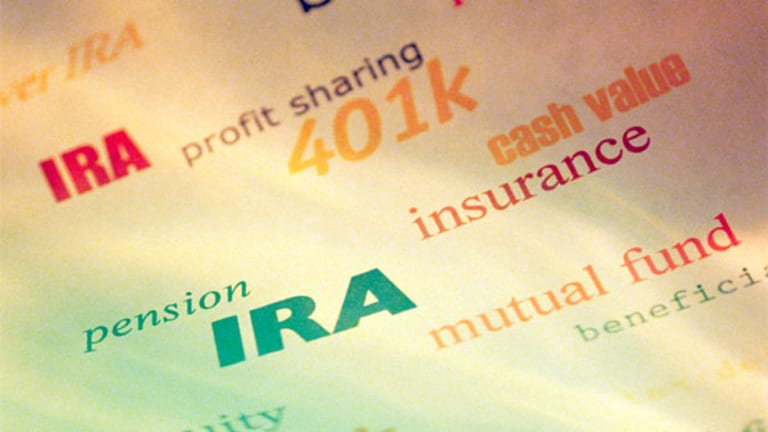 Value Funds Could Take the Lead
After trailing growth stocks for five years, unloved financials are beginning to shine.
NEW YORK (TheStreet) -- Investors have begun embracing unloved financial and resource stocks lately. That has given a boost to value funds, which hold out-of-favor shares. During the past three months, large value funds have returned 7.8%, while large growth funds -- which focus on stocks with higher prices -- gained 6.4%, according to Morningstar.
The leadership of value stocks represents a shift from recent trends. Since the financial crisis, investors have generally preferred growth names, including technology and consumer stocks. Favored companies delivered growth at a time when many businesses have struggled.
Can value funds continue leading? Yes, argues Ted Baszler, a diehard value investor who is portfolio manager of
Heartland Select Value
(HRSVX) - Get Heartland Select Value Inv Report
.
Baszler says that market leadership alternates. First value moves into the front for five or six years, then growth takes the lead for a similar period. After growth led in the bull market of the late 1990s, value moved in front from 2000 through 2007. Since then growth has been on top for about five years, so value is due for a period of outperformance.
Baszler says after the financial crisis, value funds were held back partly by the poor performance of financial stocks, which account for 26% of the
Russell 1000 Value Index
. But the outlook for financials has been improving as the economy continues plodding forward. He says the economy is now being held back because of the uncertainty about the presidential election.
"After the election, there will be more political clarity, and you will see a pickup in the economy," he says. "A stronger economy would benefit financials and value stocks generally."
Many investors divide their equity portfolios equally, putting half in growth and half in value. But this could be a time to overweight value. Sound funds to consider include
American Century Value
(TWVLX) - Get American Century Value Inv Report
,
Invesco Van Kampen American Value
(MSAVX) - Get Invesco American Value A Report
and
MFS Value
(MEIAX) - Get MFS Value A Report
.
The MFS fund is among the steadiest choices. The portfolio includes many familiar blue chips with strong balance sheets and dominant market positions. Portfolio manager Kate Mead looks for companies that can maintain consistent profits.
"We want businesses that will be successful 10 or 15 years down the road," she says.
Holdings include
Johnson & Johnson
(JNJ) - Get Johnson & Johnson Report
,
Exxon Mobil
(XOM) - Get Exxon Mobil Corporation Report
and
3M
. Such high-quality names tend to be resilient in downturns, and the fund outdid most competitors during the turmoil of 2008. During the past five years, MFS returned 0.3% annually and surpassed 74% of peers.
Mead likes some big banks, including
JPMorgan Chase
(JPM) - Get JPMorgan Chase & Co. Report
and
Goldman Sachs
(GS) - Get Goldman Sachs Group, Inc. Report
. The giants have above-average capital levels and market positions that have become stronger since many competitors vanished during the financial crisis.
American Century Value is another fund that excels in downturns. The fund buys high-quality stocks that are in the cheapest third of the market as indicated by price-earnings ratios and other measures. In 2008, American Century outdid 97% of peers. Holdings include such giants as
Procter & Gamble
(PG) - Get Procter & Gamble Company Report
and
AT&T
.
Portfolio manager Michael Liss seeks dominant companies with high returns on capital. A holding is
CareFusion
(CFN)
, a provider of surgical instruments and equipment used for infusion therapy. "They have leading market shares in niches where there is not a lot of competition," says Liss.
Another holding is
Republic Services
(RSG) - Get Republic Services, Inc. Report
, which operates landfills and waste management operations. The stock suffered after a recent earnings disappointment. But Liss says that the company has a strong balance sheet and little competition in its markets.
Invesco Van Kampen American Value focuses on mid-caps. During the past five years, the fund has returned 2.0% annually, outdoing 68% of mid-cap value competitors. The portfolio managers screen through underperforming companies that are earning less than they have in the past. The aim is to find disappointing businesses that are starting to show improvement.
"We like situations where analysts hate the stock, but the earnings outlook is improving," says portfolio manager Sergio Marcheli.
A holding is
Snap-on
(SNA) - Get Snap-on Incorporated Report
, which supplies tools to auto repair shops and airlines. During the financial crisis, many customers trimmed orders. But lately the business has been improving as airlines upgrade tools.
Marcheli also owns
Fidelity National Information Services
(FIS) - Get Fidelity National Information Services, Inc. Report
, which provides technology that banks use to process transactions and manage back offices. He says that banks are spending more on technology to meet new regulatory requirements.
This article is commentary by an independent contributor, separate from TheStreet's regular news coverage.
Stan Luxenberg is a freelance writer specializing in mutual funds and investing. He was executive editor of Individual Investor magazine.