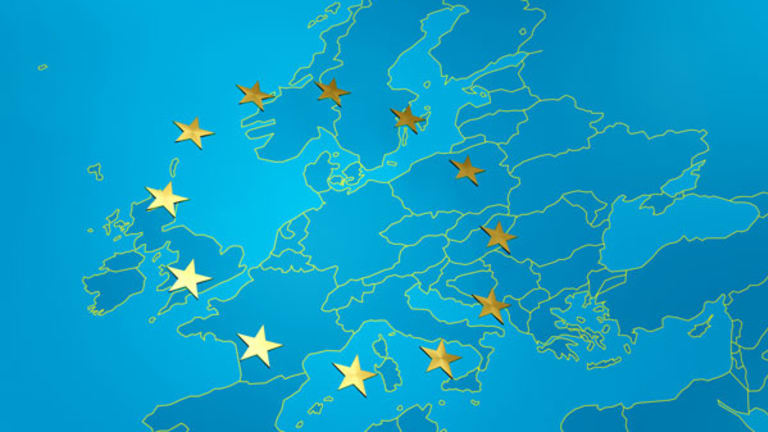 Use Mutual Funds to Profit From Europe's Revival
Although the eurozone economy is improving, many stocks remain unloved.
NEW YORK (
) -- After languishing for years, European stocks are at last rebounding.
During the past three months, European mutual funds returned 12.9%, compared to 7.4% for the
S&P 500
, according to Morningstar.
Better economic news has helped spark the rally. In the second quarter, the European Union reported that its GDP grew 1.2%, the first gains after a prolonged contraction.
Despite the recent rally, there is still room for European stocks to continue climbing, say some fund portfolio managers.
Many European stocks are cheaper than their U.S. counterparts. The average stock held by European funds sells for 1.8 times its book value, compared to a figure of 2.4 for the S&P 500. As the eurozone continues its long slog back to full recovery, sales should revive, and stock prices will climb.
"We are in the fourth inning of a long game," says Paul Ehrlichman, portfolio manager of
ClearBridge International All Cap Opportunity
(SBIEX) - Get Clearbridge International Value A Report
.
To participate in the revival, consider international funds. Although they can invest anywhere overseas, some top choices have outsized stakes in Europe.
Solid performers include
Causeway International Value
(CIVVX) - Get Causeway International Value Inv Report
, ClearBridge International All Cap Opportunity, and
Northern International Equity
(NOIGX) - Get Northern International Equity Report
.
At the height of the eurozone crisis, Causeway International snapped up depressed shares. Those rebounded and delivered strong returns. During the past five years, the fund returned 7.7% annually, outdoing 91% of foreign large-blend funds. Causeway currently has 78% of assets in Europe.
A die-hard value fund, Causeway looks for companies with earnings setbacks that seem poised to recover. Many holdings are restructuring, selling off troubled divisions or focusing on new lines.
One holding is
Akzo Nobel
(AKZOY)
, a Dutch maker of paints and coatings. The company recently sold a troubled U.S. paint operation.
"It is a good sign, when management sells a business that has been a drain on resources," says Causeway portfolio manager Sarah Ketterer.
Another holding is
Tesco
(TSCDY)
, the largest grocery retailer in the U.K. The company has struggled in recent years, but it is increasing capital expenditures, revamping stores.
Another contrarian fund is ClearBridge International, which has 79% of assets in Europe. During the past five years, the fund returned 6.2% annually, outdoing 78% of foreign large blend peers.
Portfolio manager Paul Ehrlichman likes to find companies where earnings are down substantially from their peak levels. "Europe is a place where earnings are depressed and have room to grow," he says.
Ehrlichman favors high-quality businesses that are poised to turn around and gain market share. A holding is
Shanks Group
, a U.K. waste management company. Shanks once emphasized incinerating trash and other businesses that were struggling because of opposition due to environmental concerns. To grow, Shanks has begun refocusing, moving into growing areas, such as turning organic waste into fuel and fertilizer.
Ehrlichman also owns
A.P. Moller-Maersk
, a gigantic Danish shipping company. The shipping industry has suffered a downturn because of an excess supply of vessels and sluggish world trade. At a time when many competitors are going out of business, Maersk is gaining market share and reducing costs.
Northern International Equity often favors stocks that have below-average prices and above-average sales growth. During the past five years, the fund has returned 5.6%, outdoing 71% of foreign large blend peers. Northern has 70% of assets in Europe.
Portfolio manager Douglas McEldowney says that shares of some multinationals are depressed simply because their corporate headquarters are located in Europe. Investors figure that the companies are doomed to slow growth, even though sales may be climbing in dynamic overseas markets.
One holding is
LMVH MOET Hennessy Louis Vuitton
(LVMHF)
, the French luxury brands giant. The company sells dozens of brands, including Givenchy fashion, Christian Dior cosmetics, and Bulgari jewelry. Sales have been climbing in the U.S. and emerging markets.
"These brands will earn high margins for a long period of time," says McEldowney.
At the time of publication, Luxenberg had no positions in stocks or funds mentioned.
This article is commentary by an independent contributor, separate from TheStreet's regular news coverage.
Stan Luxenberg is a freelance writer specializing in mutual funds and investing. He was executive editor of Individual Investor magazine.