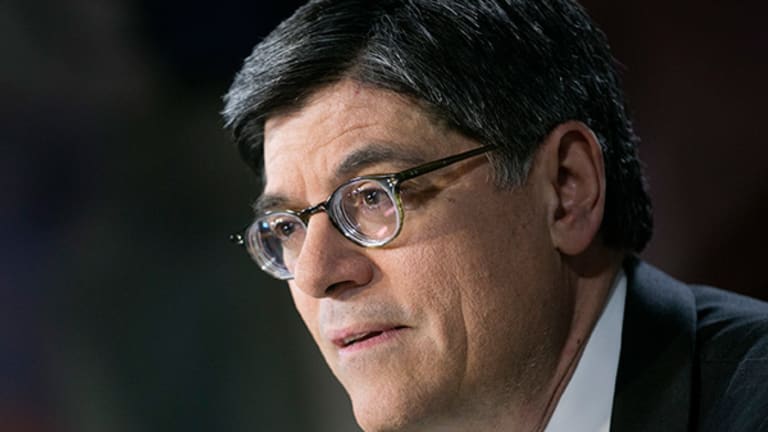 U.S. eyes big asset manager risks with update
Regulators last month said they had talked about liquidity, redemption and leverage risks associated with asset managers and "certain factors" that could mitigate those concerns.
Federal regulators in Washington plan to provide an update on their review of the asset management industry Monday afternoon, a move that comes after the Treasury Department last month said it was concerned about potential liquidity and redemption risks for the industry.
Although it is unlikely that specific asset managers will be singled out for tougher capital and liquidity rules, the update isn't expected to be good news for the industry. Specific managers that could be impacted include large mutual fund complexes like BlackRock Inc. ( (BLK) - Get BlackRock, Inc. Report ), T. Rowe Price Group Inc. ( (TROW) - Get T. Rowe Price Group Report ), Fidelity Investments, Invesco Ltd. ( (IVZ) - Get Invesco Ltd. Report ), Charles Schwab Corp. ( (SCHW) - Get Charles Schwab Corporation Report ) and big hedge funds and private equity firms such as Blackstone Group Inc. ( (BX) - Get Blackstone Inc. Report ) and KKR & CO. ( (KKR) - Get KKR & Co. Inc. Report ).
At issue is a review being conducted by the Financial Stability Oversight Council, a group of federal regulators set up as part of the Dodd-Frank Act after the 2008 financial crisis. The group, which meets periodically and is headed by Treasury Secretary Jacob Lew (pictured), seeks to coordinate their activities and discuss potential risks to the economy. For years, the council has been looking at whether asset manager products and activities pose problems for financial stability.
A brief statement the council made on March 21 indicated that regulators could take a tougher line on asset managers. In that statement the council noted that the members' ongoing review of risk to U.S. financial stability from asset management products and activities included a discussion "regarding potential financial stability risks related to liquidity and redemption risks and risks associated with the use of leverage by asset management vehicles." The council also said at the time that it had discussed "certain factors that could mitigate such potential risks" but didn't provide any specific details except that it planned to provide a public update on its analysis in the Spring. 
The potential for some action Monday comes after the council in 2013 considered a formal recommendation that the Securities and Exchange Commission, one of its members, impose tougher rules on the money-market-fund industry. That effort put pressure on the agency to take action. In 2014, the SEC adopted rules intended to block a repeat of a major money-market fund exodus that occurred during the financial crisis.
However, in December 2015 Third Avenue Management LLC, a mutual fund company founded by investor Marty Whitman, shocked the credit world when it said it would freeze redemptions on its well-known Focused Credit Fund as it liquidated holdings.
In the wake of the Third Avenue Management problems, BlackRock, the largest money-manager, in February recommended that regulators set up a formal notification system where a fund's board and regulators are informed when the amount of illiquid assets tops a specific threshold. The recommendation was posted on the SEC's website. 
Despite the apparent inclination to act on concerns about the asset management industry, FSOC may be gun shy about acting too aggressively. The council is still reeling from a major rebuke it received late last month when a federal court judge decided to order U.S. regulators to remove designation it imposed on MetLife Inc. ( (MET) - Get MetLife, Inc. Report ) that came with tougher capital and liquidity rules as well as other stress test and living will regulatory requirements to help assess whether it could withstand a 2008-style financial crisis. The Justice Department earlier this month said it will appeal the decision on behalf of FSOC. As a result, members of the council on Monday may also focus some of their discussion on the judge's decision to revoke MetLife's SIFI designation and how the government plans to proceed with its appeal and SIFI designation process.
MetLife and a number of other financial institutions were designated by FSOC as "Systemically Important Financial Institutions," or SIFIs. Some observers had expected the council to start designating certain large asset managers as SIFIs but after receiving pressure from the industry, regulators had indicated that they would be focusing on asset manager activities rather than individual firms.