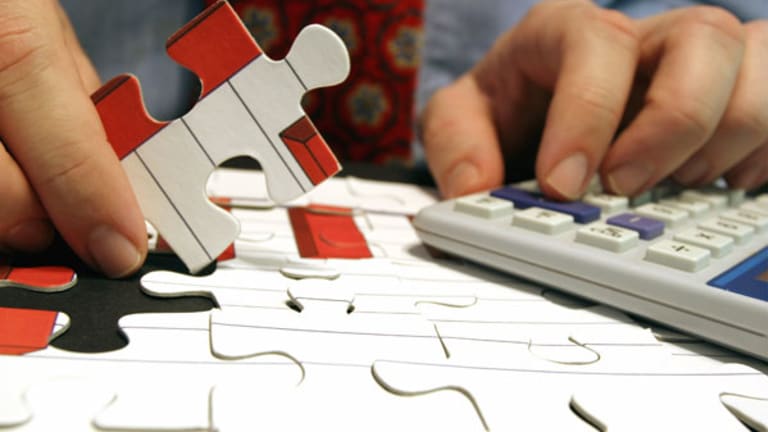 Small-Stock Mutual Funds Keep Growing
Small stocks' earnings are increasing as the economy continues to grow, and this has helped small growth mutual funds.
NEW YORK (
) -- Small growth stocks have climbed sharply lately, as have the mutual funds that invest in them.
The average small growth mutual fund returned 25.2% this year, compared to 17.8% for the
S&P 500
, according to Morningstar.
Despite concerns about the
Federal Reserve's
tapering plans, many small growth mutual funds have continued rallying in recent weeks. During the past month,
Buffalo Emerging Opportunities
(BUFOX) - Get Report
gained 2.0%, and
MFS New Discovery
(MNDAX) - Get Report
returned 2.8%. In contrast, the S&P 500 lost 2.2%.
A variety of factors are lifting small growth funds. For starters, the recovering economy is providing a special boost for small stocks. As investors gain more confidence that the economy can avoid recession, they are shifting to riskier small stocks that seem poised to increase sales.
In addition, the small stocks seem well positioned to survive the turbulence that could be caused by Federal Reserve's tapering program.
Read: 5 Things You Have to Know About Buying a Home This Fall
Faced with the prospect that the Fed could slow its bond purchases, investors have pulled out of emerging markets. That has slowed emerging economies and hurt multinational blue-chips that derive a big part of their sales from Asia and Latin America. But many small growth companies have avoided the damage because they serve only U.S. markets.
Concern about tapering has also hurt dividend-paying blue-chips. Investors figure that when the Fed stops buying securities, bond prices will fall and yields will rise. That will make bonds more attractive compared to dividend-paying stocks. But rising rates have done little to harm small growth stocks, since many do not pay dividends.
After their big rally, small growth stocks are no longer cheap. The average small growth fund's portfolio has a price-to-earnings ratio of 22, compared to 18 for the S&P 500. If the economy slips, small stocks could tank. Still, small growth stocks should continue leading the markets as long as the U.S. economy keeps plodding ahead.
To bet that the rally will continue, try Buffalo Emerging Opportunities. During the past five years, the fund returned 17.8% annually, outdoing 99% of peers.
Buffalo aims to buy small companies that seem poised to grow substantially for the next three to five years. The portfolio managers identify economic trends that will enable industries to grow. Then the managers pinpoint companies that are positioned to ride the trends.
Read: Apple's iWatch Could Be 2013's Version of Pets.com
"We want to look at areas that will grow at least twice as fast as the overall economy," says Buffalo portfolio manager John Bichelmeyer.
One holding is
Proto Labs
(PRLB) - Get Report
, which makes customized industrial parts. The business is benefiting from the growth in U.S. manufacturing that relies on new technologies. Customers send Proto Labs electronic files that describe parts. Within minutes of receiving the orders, Proto Labs responds with a cost estimate and the date when the parts can be delivered.
Another holding is
Omnicell
(OMCL) - Get Report
, which enables hospitals to track the location of drugs from the time they arrive at the facility until the medications reach the patient. Demand has been growing as hospitals struggle to eliminate waste and control costs.
Read: Delta Shuns Boeing Dreamliner, Buys Airbus Ordinary-Liner
Another solid fund is MFS New Discovery. During the past five years, the fund returned 15.1% annually, outdoing 96% of peers. MFS owns a variety of growth stocks. Some holdings are consistent growers that command premium prices. Other stocks in the portfolio are strong companies that sell for modest prices because their industries are out of favor.
"By holding different kinds of stocks, we can stay diversified and perform well in a variety of markets," says MFS institutional portfolio manager Andrew Boyd.
One holding in a weak industry is
Diana Shipping
(DSX) - Get Report
, which transports dry bulk cargo, such as iron ore and coal. In recent months, shipping companies have suffered as global trade has stagnated. But Diana Shipping can gain market share and rebound strongly when trade revives.
One holding with growing revenue is
SciQuest
(SQI)
, which provides cloud-based management systems to universities and government agencies. The software enables customers to control costs by efficiently managing inventory and handling accounts payable.
At the time of publication, Luxenberg had no positions in securities mentioned.
This article is commentary by an independent contributor, separate from TheStreet's regular news coverage.
Stan Luxenberg is a freelance writer specializing in mutual funds and investing. He was executive editor of Individual Investor magazine.