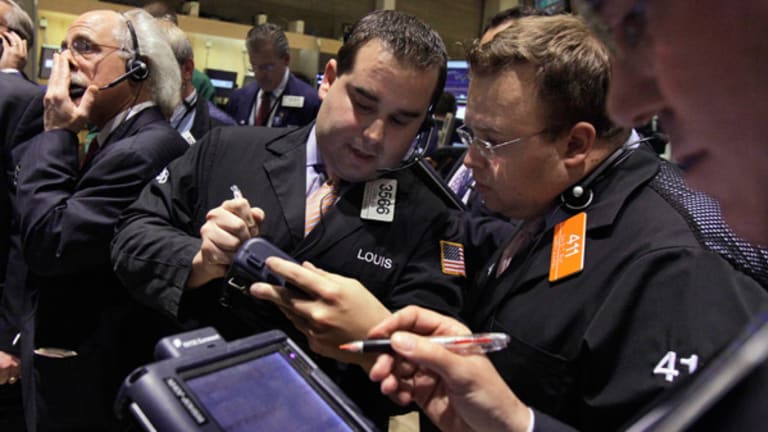 Shopping International Funds for European Bargains
Despite the sluggish economy, fund managers find companies that can grow.
NEW YORK (TheStreet) -- The news from Europe may be unnerving, but the region's stock markets have not done badly lately.
This year Europe stock funds have returned 10.1%, compared to 13.9% for the
S&P 500
, according to
Morningstar
. Markets in the stable northern countries have been particularly strong.
Fidelity Nordic
(FNORX) - Get Fidelity Nordic Fund Report
, which invests mainly in Sweden and Denmark, returned 13.2%, while
iShares MSCI Germany
(EWG) - Get iShares MSCI Germany ETF Report
returned 14.9%.
Can Europe continue climbing? Yes, argue some fund managers. The managers concede that the European economy will remained troubled for years. But they argue that plenty of companies will continue reporting strong earnings.
The star performers include global businesses that are increasing sales in the emerging markets. Some domestic powerhouses are also growing by taking market share in reliable businesses such as health care.
No matter how successful they may be, the growth stocks tend to be tarred by their associations with Europe. That has created bargains, say the fund managers.
"The multiples on many European stocks are substantially lower than what you see for comparable U.S. companies," says James Hunt, portfolio manager of
Tocqueville International Value
(TIVFX) - Get American Beacon Tocqueville IntlVal Report
.
To bet that the rally will continue, you can buy a European fund. Another approach is to try an international fund with a big stake in Europe. International funds with strong track records and sizable European holdings include
Cambiar International Equity
(CAMIX) - Get Cambiar International Equity Inv Report
,
Manning & Napier World Opportunities
(EXWAX)
and Tocqueville International Value.
Value investors may prefer the Tocqueville fund, which has 54% of its assets in Europe. During the past 10 years, the fund returned 9.0% annually, outdoing 94% of foreign large value funds. Portfolio manager James Hunt looks for companies that sell for discounts of 25% to 40% of their fair values. To control risk, he prefers solid businesses with limited amounts of debt.
Lately Hunt has been buying cyclical companies with global sales. "Economically sensitive companies have been sold off indiscriminately because investors figure that European demand will be weak," he says.
A holding is
Nexans
, a French company that makes cables used by utilities and telecom businesses. The company has growing sales in the emerging markets. A holding with a secure niche is
M6 Metropole Television
, a French broadcaster. The company is a dominant broadcaster with strong cash flows.
While it can invest anywhere, Manning & Napier World Opportunities has 67% of its assets in Europe. During the past 10 years, the fund returned 9.1% annually outdoing 95% of peers in the foreign large blend category. Manning & Napier buys a wide range of stocks, including shares with strong growth profiles and depressed names that sell at big discounts.
Lately portfolio manager Marc Tommasi has been finding unusual bargains among growth stocks.
"Because there is a healthy dose of fear in the marketplace, you can get well-positioned businesses at really good valuations," he says.
Tommasi likes companies with dominant positions that are poised to grow for years. A favorite holding is
Adidas
, the German maker of athletic footwear and apparel. Helped by a large advertising budget, the company is expanding around the world and maintaining its dominant position.
Another holding is
Qiagen
, a German producer of sample technologies that are used by medical researchers and pharmaceutical companies to process DNA. The company has developed tests that will help doctors determine whether a patient is predisposed to contracting a disease.
Cambiar International Equity has 61% of assets in Europe. During the past five years, the fund has lost 2.1% annually, outdoing 77% of foreign large blend peers. Cambiar seeks high-quality stocks that are priced below their historical levels.
A holding is
Saipem
, which builds offshore oil facilities. When European stocks collapsed in 2011, the shares fell to a price-earnings ratio of 11, says portfolio manager Jennifer Dunne. That seemed like a bargain because the stock had traded at multiples in the high teens.
"There was no way that this kind of high-quality franchise could stay at 11 times earnings," says Dunne.
Dunne also holds
Syngenta
(SYT)
, a Swiss maker of insecticides and genetically modified seeds. The company has been spending heavily to expand the seed business. That has held back the multiple, but Dunne argues that the big expenditure will result is increased earnings.
This article is commentary by an independent contributor, separate from TheStreet's regular news coverage.
Stan Luxenberg is a freelance writer specializing in mutual funds and investing. He was executive editor of Individual Investor magazine.