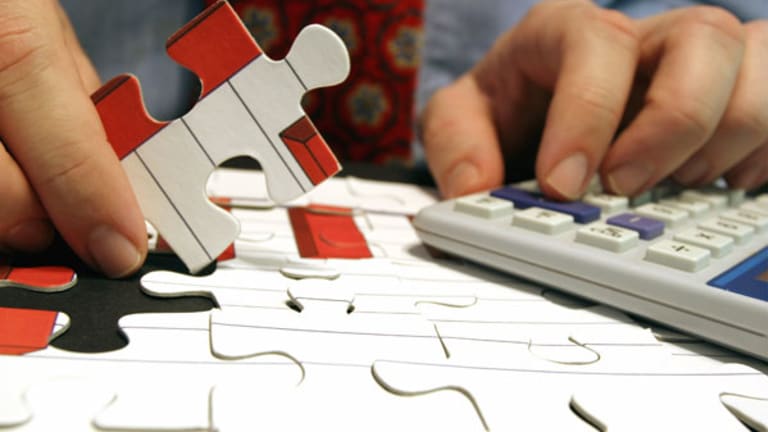 Retirement Savers Should Benefit From Declining Target-Date Fund Fees
Target-date mutual funds are rushing to cut their management fees -- a good thing for investors.
NEW YORK (TheStreet) -- Many target-date funds have been slashing fees.
Allianz Global Investors
recently reduced its expenses from 0.91% to 0.64%, while
Nationwide
( NFS) cut costs from 0.64% to 0.42%.
Companies such as
Fidelity Investments
and
TIAA-CREF
have introduced index funds with expense ratios less than 0.50%. The average expense ratio of the target funds is 0.72%, according to BrightScope.
The reductions are important for retirement savers because the target funds are staples in many 401(k) and IRA accounts.
Target-date funds are designed for people who will retire around a certain year, such as 2020 or 2040. These funds, which have diversified portfolios of stocks and bonds, have been embraced by employers seeking convenient choices for 401(k) plans. At many companies, target-date funds are now default choices; if employees take no action, money is automatically withdrawn from their paychecks and deposited into target funds.
In recent years, money has flowed into target funds, which now have $431 billion in assets, according to Ibbotson Associates.
As more participants have invested in target funds, employers have become increasingly concerned about maintaining low fees.
The emphasis on fees is likely to increase because of new 401(k) disclosure rules. Starting this fall, employees will receive written statements in the mail detailing the costs of the plans.
The statements could be an eye-opener for many plan participants, says Eddie Alfred, BrightScope's vice president of data and research.
"A lot of people don't think they pay any fees at all for their 401(k)s," he says. "It could be a rude awakening when they suddenly see that they are paying 1% or 1.5% of plan assets in fees."
Average expense ratios could fall sharply in coming years because companies are introducing target funds that invest in low-cost index mutual funds and exchange-traded funds. New entrants include
BlackRock
Lifepath Index Portfolios and
Lincoln Advisors
Presidential Protected Profile Funds.
Index funds track benchmarks such as the
S&P 500
. Because they make no effort to outdo the markets, index funds can come with low costs. In contrast, actively managed funds must charge more to support analysts and portfolio manager who seek to outdo benchmarks.
The leader in passive target funds has long been
Vanguard Group
, which charges 0.19% on some of its funds. Lately Vanguard has been attracting strong flows into its funds as more investors have abandoned active funds and shifted to passive choices.
The growth at Vanguard has encouraged competing target funds to lower fees and shift to passive strategies, says Eddie Alfred of BrightScope. "Vanguard has had the lowest fees in the institutional target-date field," Alfred says. "Other companies are making changes to meet the low-cost challenge."
Fidelity Investments introduced passive choices that match the Vanguard fees.
Fidelity Freedom Index 2030
(FXIFX) - Get Fidelity Freedom Index 2030 Inv Report
charges 0.19%. In comparison,
Fidelity Freedom 2030
(FFFEX) - Get Fidelity Freedom 2030 Report
, which uses active funds, charges 0.71%.
While many target funds hold collections of eight or more funds, Vanguard takes a simple approach, investing in just a few funds.
Vanguard Target Retirement 2050
(VFIFX) - Get Vanguard Target Retiremt 2050 Inv Report
has about 63% of its assets in
Vanguard Total Stock Market Index
(VTSMX) - Get Vanguard Total Stock Mkt Index Inv Report
, 27% in
Vanguard Total International Stock Index
(VGTSX) - Get Vanguard Total Intl Stock Index Inv Report
and 10% in
Vanguard Total Bond Market II Index
(VTBIX) - Get Vanguard Total Bd Mk II Index Inv Report
.
"Target-date funds should be as straightforward as possible because they are designed for people who may not be deeply engaged in the investing process," says Scott Donaldson, a senior analyst in Vanguard's investment strategy group.
TIAA-CREF Lifecycle Index 2050
(TFTIX) - Get TIAA-CREF Lifecycle 2050 Instl Report
has investments in four funds. In contrast, the company's actively managed 2050 target-date fund has investments in 14 funds. The extra holdings may provide diversification, but they also come with higher fees.
This article is commentary by an independent contributor, separate from TheStreet's regular news coverage.
Stan Luxenberg is a freelance writer specializing in mutual funds and investing. He was executive editor of Individual Investor magazine.