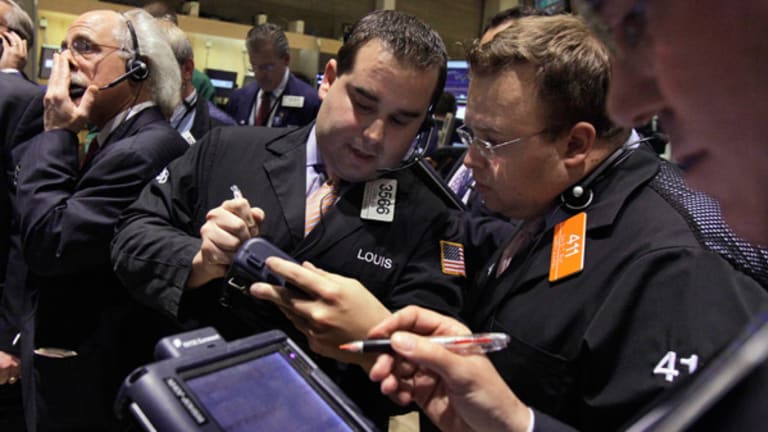 Pessimism a Positive Sign for Stocks in 2013
Stocks have performed well this year in the face of overwhelmingly negative sentiment, and that's a positive sign for the markets heading into 2013, says John Buckingham, portfolio manager for the Al Frank Fund.
NEW YORK (
) -- Stocks have performed exceptionally well this year in the face of overwhelmingly negative sentiment, and that's a positive sign for the markets heading into 2013, said John Buckingham, portfolio manager for the
Al Frank Fund
(VALUX) - Get Al Frank Fund Inv Report
. The fund, which garners three stars from fund-rater
Morningstar
, has returned 15% year to date, beating the
S&P 500
by more than a full percentage point.
Welcome to
TheStreet's
Fund Manager Five Spot, where top fund managers give their best stock picks and views on the market in a five-question format.
What is your view of the economy?
Buckingham: Whether it is confidence, retail sales, auto sales, housing numbers or jobless claims, much of the data points associated with the consumer have been trending very much in the right direction. Further, important statistics on manufacturing and GDP growth recently have come in better than expected. Despite these seemingly positive developments, the mood of business executives has been pessimistic. In third-quarter earnings releases and conference calls, those occupying the corner offices have been very guarded in their outlooks, with the lack of optimism showing up recently in a big drop in the Business Roundtable's CEO Economic Outlook Index.
Happily, when management has been down in the dumps over the past 10 years, it has been a great time to be buying stocks as the pendulum soon swings in the favorable direction. And we can't forget that Ben Bernanke and central bankers around the world are presently expending plenty of firepower in an effort to ignite a global economic rebound, suggesting to us that the
Federal Reserve's
2013 projections for U.S. GDP growth in the 2.5% to 3% range are not unreasonable.
What is your top stock pick?
Buckingham: As broad diversification is a central tenet of our investment philosophy, we can never label just one stock as our favorite. Sorry about that. That said, a few that are top of mind right now, in alphabetical order, are
Archer-Daniels-Midland
(ADM) - Get Archer-Daniels-Midland Company Report
,
Corning
(GLW) - Get Corning Inc Report
,
CSX Corp
(CSX) - Get CSX Corporation Report
,
Freeport-McMoran Copper and Gold
(FCX) - Get Freeport-McMoRan, Inc. Report
,
Hasbro
(HAS) - Get Hasbro, Inc. Report
,
MetLife
(MET) - Get MetLife, Inc. Report
and
Total
.
What is your top "sleeper" or "under the radar" stock pick?
Buckingham: That's a tough one. But keeping diversification in mind, I would say
Marvell Tech
(MRVL) - Get Marvell Technology, Inc. Report
,
PetMed Express
(PETS) - Get PetMed Express, Inc. Report
and
Portugal Telecom
(PT) - Get Pintec Technology Holdings Ltd. Report
. I suppose you could characterize these as little known, dividend-paying, undervalued stocks.
What stocks or sector would your sell or avoid right now?
Buckingham: Because consumer staples and utilities performed very well in 2011 and they have performed admirably again in 2012, we are not finding a lot of inexpensive stocks in those sectors. Valuations are generally tilted more toward the high end of their historical range and above the metrics associated with the average stock in our broad-based
Russell 3000
benchmark.
What is your outlook for 2013?
Buckingham: While we suspect that the equity markets thus far in 2012 have vastly exceeded the expectations of most pundits, it is fascinating that investor fear levels are running a long way from optimistic, taking into consideration sentiment gauges, mutual fund flows and our own conversations with our managed account clients! To be sure, there is plenty about which to be concerned, from the results of the election to the so-called fiscal cliff to the long-playing problems in Europe, but the lack of enthusiasm for stocks is why valuations are attractive, especially relative to the record-low interest rate environment.
All this in mind, and with an economy that is likely to "muddle through" to 2.5% or so GDP growth, we can't help but be upbeat about the prospects for equities in 2013. Corporate balance sheets generally are quite healthy, corporate profits are robust with stronger growth projected next year than what was seen in 2012 and dividend yields are as lucrative relative to the 10-Year Treasury as at any time since 1958. That doesn't mean we are expecting smooth sailing in 2013, but gains of 10% to 12%, in line with the historical norm, certainly would not be a surprise.
Disclosure: TheStreet's editorial policy prohibits staff editors and reporters from holding positions in any individual stocks.