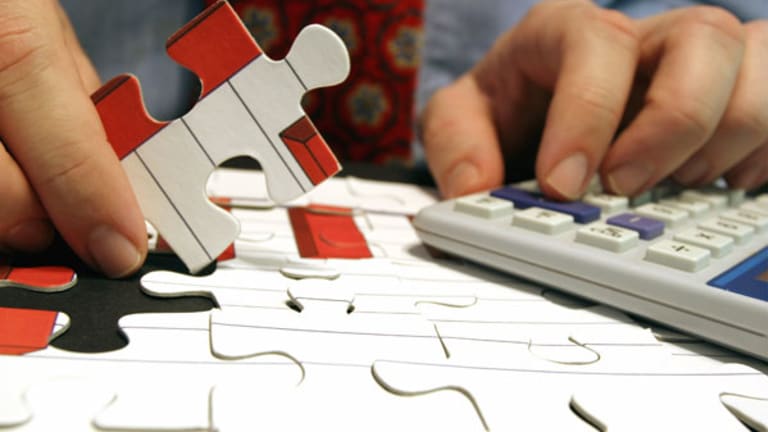 Publish date:
Paul Ryan's Jumbled Mutual Fund Portfolio
The presumptive GOP vice presidential candidate should sell his lemons and focus on a few top performers.
The presumptive GOP vice presidential candidate should sell his lemons and focus on a few top performers.
NEW YORK (TheStreet) -- While Mitt Romney may favor complicated overseas accounts, his running mate Paul Ryan is a more down-to-earth millionaire.
According to disclosure documents, the presumptive GOP vice presidential candidate and his wife Janna have up to $3.2 million in assets, and much of the portfolio is stashed in mutual funds. The couple's documents are posted at opensecrets.org, a Web site maintained by the Center for Responsive Politics.
Holdings include some well-known funds, such as
Pimco Total Return
(PTTRX) - Get Report
, the biggest bond fund, and
Fidelity Contrafund
(FCNTX) - Get Report
, a star performer with $82 billion in assets.
Those are good choices, but in many respects the portfolio is a jumble. Altogether the couple own more than 30 mutual funds, including eight different international funds and more than a few lemons.
The strategy of the Ryans -- or their financial advisers -- resembles the approach taken by all-too-many investors who latch onto one promising fund and then buy another that strikes their fancy. Holding too many funds, investors lose control of their portfolios and pay unnecessary expenses.
The best approach is to shop carefully for six to ten funds. The holdings should complement each other and provide adequate diversification. By buying a limited number of funds, you can keep track of each one and understand its role in the portfolio.
To demonstrate how mutual funds can be used effectively, I have designed a model portfolio for the Ryans. Holding six funds, the portfolio is suitable for someone of the couple's age and family responsibilities.
To find the funds I sorted through the couple's existing holdings, eliminating some poor performers and selecting solid funds that are worth keeping. Because the Ryans are in their 40s with three children, I set the allocation for 40% in bonds and 60% in stocks. That classic approach takes only moderate risk and allows potential for growth.
In their current portfolio, the Ryans have two intermediate-term bond funds --
Nuveen Intermediate Term Bond
(FAIIX)
as well as Pimco Total Return. Both funds have similar holdings, including big stakes in government issues and high-quality mortgage-backed securities.
Because there is no reason to duplicate assets, it makes sense to keep only the Pimco fund. With bond star Bill Gross at the helm, the Pimco fund returned 7.0% annually during the past ten years, while the Nuveen fund only returned 4.7%. I will put 30% of assets in Pimco.
For some extra protection, I am including another one of the Ryans' current holdings,
iShares Barclays TIPS Bond
(TIP) - Get Report
, which owns Treasury Inflation-Protected Securities. Inflation may be tame now, but it could increase eventually. If that happens, the value of TIPS will rise and protect purchasing power. While the Ryans currently have not more than $15,000 in the TIPS ETF, I will put 10% of the model portfolio in the iShares fund.
Of the Ryans' current international funds, I will eliminate most, including
Janus Worldwide
(JANWX) - Get Report
. The fund has gone through a series of managers in recent years while compiling an uninspiring record. The current manager has been on the job for a year, and it is too soon to tell how the fund will fare. A better choice is
Scout International
(UMBWX) - Get Report
, which has a veteran manager who has achieved strong returns while taking modest risk.
During the past 10 years, Scout returned 9.1% annually, outdoing 85% of peers in the foreign large growth category. The fund buys rock-solid blue chips with healthy growth prospects. While the Ryans currently have up to $15,000 in Scout, I will put 20% of the model portfolio into the international fund.
Among the Ryans' large cap holdings is
Hartford Capital Appreciation
(ITHAX) - Get Report
. The fund has a decent long-term record, but in recent years it has been volatile and suffered in downturns. For steadier large-cap performance, I will put 15% of assets in
Hartford Dividend & Growth
(IHGIX) - Get Report
, a large value fund, and 15% in Fidelity Contrafund, a champion in the large growth category . Both those funds are among the steadier members of their categories.
The Ryans hold two midcap funds,
Hartford Midcap
(HFMCX) - Get Report
and
Neuberger Berman Genesis
(NBGNX) - Get Report
. I will eliminate Hartford, which just changed managers, and put 10% of assets in the Neuberger fund, which has a veteran management team that has limited losses in downturns while delivering strong long-term returns.
By sticking with a few solid funds like Neuberger, the Ryans could protect their nest eggs and perhaps generate enough income to cover the costs of serving in high office.
This article was written by an independent contributor, separate from TheStreet's regular news coverage.
Stan Luxenberg is a freelance writer specializing in mutual funds and investing. He was executive editor of Individual Investor magazine.