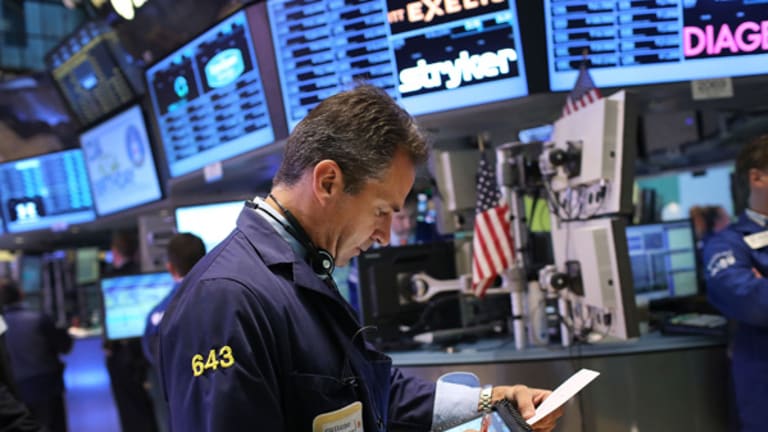 Obamacare Boosts Health Sector
Medical software providers and innovative biotechs will continue to thrive under new legislation.
NEW YORK ( TheSTreet ) -- As Congress labored to pass Obamacare in 2009 and 2010, health stocks lagged the markets. Investors feared that the mammoth legislation would force health insurers to cover sick people, a process that would pinch profits. Pharmaceutical companies would be hurt by new fees that had been designed to cover the costs of the legislation. In addition, the complicated process created uncertainty, which unnerved investors and depressed even stocks that seemed likely to benefit as millions of consumers gained health insurance.
These days the picture looks brighter. With some of the uncertainty gone, health stocks have been climbing. During the past year, health funds returned 20.7%, outpacing the
by 7 percentage points, according to
Morningstar
. Can the rally continue? Yes, say some mutual fund managers. They argue that Obamacare will provide a boost to some companies while inflicting only limited damage on insurers.
For years, health has been a growth sector. With demand for services increasing relentlessly, health funds returned 10.7% annually, during the past ten years, outpacing the S&P 500 by 2 percentage points. Health stocks were particularly appealing because they often showed defensive characteristics, outdoing the S&P in down markets. Obamacare will enable the health sector to continue performing much as it did in the past, says Eddie Yoon, portfolio manager of
Fidelity Select Health Care
(FSPHX) - Get Free Report
. "As utilization of services continues increasing, this will still be a growth sector that is recession resistant," Yoon says.
Yoon cautions that some companies stand to gain more than others. He particularly likes medical software providers. As more consumers seek services, health costs will climb faster than analysts expect, he says. The inflation will lead hospitals and nursing homes to spend more heavily on software and technology that can help to control costs. "Right now hospitals don't have a clear picture of what their services really cost," Yoon says. "To become more efficient, they will have to buy software and build new kinds of infrastructure."
A leading health technology company that Fidelity has owned is
Cerner
(CERN) - Get Free Report
. It helps hospitals install electronic patient records that reduce paperwork and enable doctors to coordinate care.
Obamacare will put pressure on health insurers, leading weaker companies to merge or vanish, says Andrew Acker, portfolio manager of
Janus Global Life Sciences
(JFNAX) - Get Free Report
. But as competitors struggle, big national companies are likely to gain market share and thrive.
Acker owns
Aetna
(AET)
, a leading insurer. He says that the stock has been beaten down to attractive levels. Acker concedes that it could become less profitable to insure individuals under Obamacare. But Aetna mostly provides coverage for large employers. That business should not suffer under the new legislation. "Aetna's total exposure to healthcare reform is much smaller than people think," he says. "Only 12% of the total book of business involves covering individuals and small businesses."
This year Obamacare is scheduled to charge pharmaceutical companies $2.8 billion in fees, which are imposed on sales of drugs to federal health programs. That will hurt industry profits, but the damage will be limited at many companies because they have growing sales overseas where there are no special fees. Acker of Janus particularly likes companies with innovative products that serve global markets. One holding is biotech powerhouse
Gilead Sciences
(GILD) - Get Free Report
. The company is bringing out a new treatment for Hepatitis C, a disease that affects 170 million people worldwide. "We think that the drug will have a large market that is ready to explode," says Acker.
Obamacare will not help nursing homes, says Erin Xie, portfolio manager of
BlackRock Health Sciences
(SHSAX) - Get Free Report
. The expanded coverage will serve mostly younger people who do not require nursing home care. While Xie is staying away from nursing homes, she has stakes in large pharmaceutical companies. The stocks were depressed because of concerns that patents on blockbuster drugs would expire, but many expirations have already occurred. The stocks are poised to rebound because they have rich dividends and solid balance sheets. "The price-earnings ratios have been low, but now we are going to see some multiple expansion," says Xie.
BlackRock owns such blue-chip pharmaceuticals as
Pfizer
(PFE) - Get Free Report
and
Johnson & Johnson
(JNJ) - Get Free Report
.
This article was written by an independent contributor, separate from TheStreet's regular news coverage.
Stan Luxenberg is a freelance writer specializing in mutual funds and investing. He was executive editor of Individual Investor magazine.