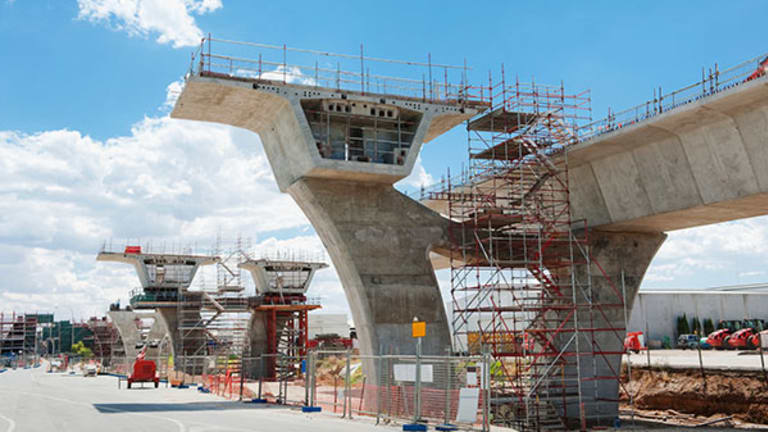 NEW YORK (TheStreet) -- It has been a while since there was much buzz about infrastructure investing.
A few years ago there were a flurry of funds issued into this niche, including the
SPDR S&P Global Infrastructure ETF
(GII) - Get SPDR S&P Global Infrastructure ETF Report
, the
iShares Global Infrastructure ETF
(IGF) - Get iShares Global Infrastructure ETF Report
, and a line of single-country infrastructure funds targeting Brazil, India and China from Emerging Global Advisors.
The prospects for the theme were very bright based on estimates that more than $1 trillion needed to be spent in just India along with hundreds of billions elsewhere. There was also a boost when Brazil was awarded the 2014 World Cup and the 2016 Olympics.
The returns for funds in the sector have varied. Broader funds such as IGF have mostly performed like utility funds, and the more volatile emerging-market funds from Emerging Global have mostly traded like the
iShares MSCI Emerging Markets ETF
(EEM) - Get iShares MSCI Emerging Markets ETF Report
.
With that backdrop, Northern Trust has launched the
Flex Shares STOXX Global Broad Infrastructure Index Fund
(NFRA) - Get FlexShares STOXX Global Broad Infrastructure Index Fund Report
. NFRA will be more like IGF or GII as opposed to one of the narrower based funds.
NFRA will provide exposure to 17 infrastructure-related industries including segments in communications, utilities, energy and an area referred to as "social infrastructure."
At the sector level, NFRA allocates 29% each to energy and communications, 26% to transportation with the remainder split between utilities and government outsourcing. Companies in the social-infrastructure industry include mostly publicly traded hospitals and publicly traded post offices.
At the country level, the U.S. is the largest at 38%, followed by Japan at 11%, the U.K. and Canada at 10% each, and Germany at 6% with a few other countries rounding out the fund with much smaller weightings. Obviously emerging-market infrastructure companies will have little to no effect which means NFRA could look much different than a fund like the
iShares Emerging Markets Infrastructure Fund
(EMIF) - Get iShares Emerging Markets Infrastructure ETF Report
. That isn't necessarily good or bad, but a point of differentiation.
NFRA is a market cap-weighted fund investing in developed markets. There are constraints built in to limit country exposure to no more than 40%, 30% to any sector and no more than 5% to any individual stock. Not surprisingly, there are a lot of familiar companies in the fund including
AT&T
,
Vodafone
(VOD) - Get Vodafone Group Plc Sponsored ADR Report
and
Canadian National Railway
(CNI) - Get Canadian National Railway Company Report
.
NFRA will charge a 0.47% expense ratio, and for now, there is no indication of dividend yield for the fund.
Investing in infrastructure is tricky because it requires patience. The world's infrastructure needs to be updated as is the case with the U.S. or built almost from scratch like in India or outside the largest cities in Brazil. The dollars involved as mentioned above are huge, and the money is going to be spent because it needs to be, but there will be obstacles along the way. The downturn in mining will hinder a country such as Brazil, economic dysfunction could impede progress in India, and political dysfunction could impede new bridges in the U.S.
There are more than half a dozen infrastructure exchange-traded funds in the marketplace with only IGF and EMiF exceeding $100 million; IGF is much bigger at $560 million and so it could be difficult for yet another fund to gain traction. NFRA's relatively small exposure to utilities stands to be a point of differentiation that could eventually attract meaningful assets.
At the time of publication, the author held no positions in any of the stocks mentioned.
This article is commentary by an independent contributor, separate from TheStreet's regular news coverage.