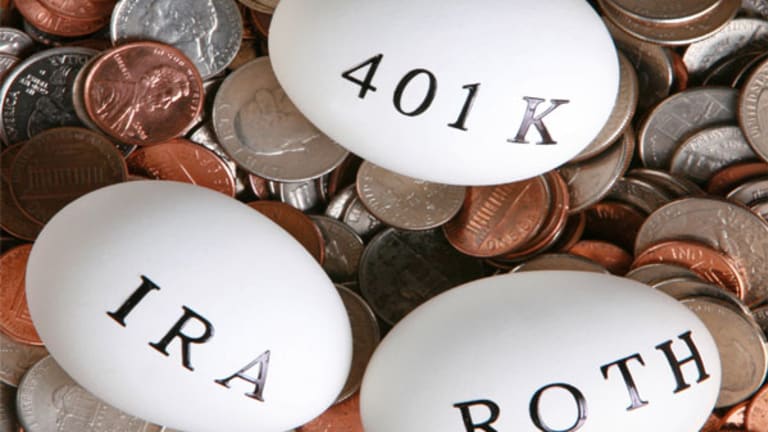 Mutual Funds That Protect Against Erratic Markets
By holding baskets of alternative strategies, the managers of these funds aim to diversify portfolios.
NEW YORK (TheStreet) -- To reach skittish investors, Wall Street has introduced a wave of alternative investments, including mutual funds that focus on commodities, currencies, and short selling.
These mutual funds aim to provide diversification, sometimes rising when stocks or bonds are tanking.
The strategies gained attention during the financial crisis when some alternative investments managed to avoid big losses.
Investors have embraced the new offerings, pouring $18 billion into alternative and commodities funds in the past year, according to Morningstar.
For protection in downturns, some financial advisers recommend holding a basket of several funds.
But shopping for the right choices can be difficult. To simplify the process, companies have introduced one-stop shopping with multialternative funds.
Some of the funds hold positions in eight or more strategies. The idea is to provide a diversified collection that can cushion portfolios in hard times.
So far, most of the new funds have produced uninspiring results. But a few top performers have achieved their goals, delivering decent returns while excelling in downturns and helping to diversify portfolios.
Solid performers include
Dreyfus Global Absolute Return
(DGPAX)
),
John Hancock Alternative Asset Allocation
(JAAAX) - Get JHancock Alt Asset Alloc A Report
and
Virtus Alternatives Diversifier
(PDPAX) - Get Virtus Duff & Phelps Real Asset A Report
.
Among the most diversified choices is John Hancock Alternative Asset Allocation, which has returned 11.8% annually during the past three years, outdoing 99% of its competitors.
The fund compares itself to a benchmark that has 55% of assets in stocks and 45% in investment-grade bonds.
Its goal is to produce competitive returns while recording less volatility than the benchmark. During the past year, the fund has hit its target.
The John Hancock fund invests in a dozen mutual funds and exchange-traded funds, including
Turner Spectrum
(TSPEX)
, a long-short fund,
John Hancock2 Currency Strategies
(JCUNX)
and
PowerShares DB Gold
(DGL) - Get Invesco DB Gold Fund Report
.
"The idea of the fund is to provide a complement to a traditional balanced portfolio of stocks and bonds," says portfolio manager Robert Boyda.
John Hancock varies the allocation of the individual holdings in the portfolio.
In recent months the portfolio managers have been increasing their stake in
John Hancock Global Absolute Return Strategies
(JHAAX) - Get JHancock MultiAsset Abslt Rtn A Report
, which takes many small long and short positions in stocks and currencies.
Because of the broad diversification, the absolute return fund tends to avoid big losses.
"For protection against the volatility in the stock markets, we have been emphasizing the lowest-volatility strategies that we have," says Boyda.
Another multialternative fund that ranges widely is Virtus Alternatives Diversifier. During the past three years, the fund has returned 9.2% annually, outdoing 93% of peers.
Virtus invests in eight sectors, including commodities, currencies, and global infrastructure. For each sector, the portfolio managers have a neutral target allocation.
The managers overweight sectors when they appear more promising. The fund currently has 17.6% of assets in commodities, compared to the neutral allocation of 15%.
In its neutral allocation, the fund has 10% in
Virtus Senior Floating Rate
(PSFIX) - Get Virtus Newfleet Senior Float Rate I Report
, which invests in loans made to companies with below-investment grade credit.
Although most multialternative funds do not hold floating-rate securities, the Virtus managers argue that the instruments belong in the portfolio because of their unusual characteristics.
When interest rates rise, yields on the floating instruments also climb. That enables the instruments to stay in the black when most other bonds are sinking.
"Floating-rate securities have very low correlations to traditional fixed-income investments," says Peter Batchelar, vice president for product management of Virtus.
A fund that excelled in the downturn of 2008 is Dreyfus Global Absolute Return. Dreyfus takes long and short positions in stocks, bonds, and currencies.
The fund is currently short on bonds. Portfolio manager Vassilis Dagioglu worries that interest rates are skimpy.
"The current interest rates do not provide enough compensation for the future risk of inflation," he says.
Dreyfus uses futures and other derivatives for exposure to different stock markets.
The fund currently has long positions on markets in Germany and Netherlands. The managers figure that panicked investors have driven down European stocks to bargain levels.
Stan Luxenberg is a freelance writer specializing in mutual funds and investing. He was executive editor of Individual Investor magazine.