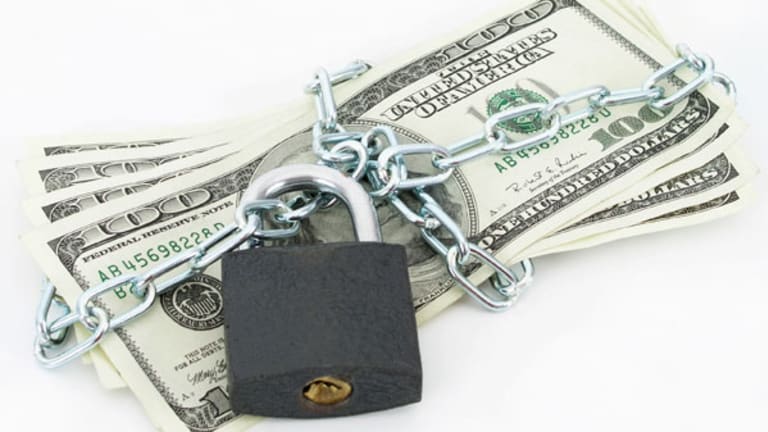 Mutual Funds That Get High Returns From Low-Quality Companies
Stocks with heavy debts have climbed this year. The mutual funds that invest in these stocks have done well, too.
NEW YORK (TheStreet) -- Plenty of mutual funds focus on high-quality stocks. Their portfolios include familiar names such as Coca-Cola (KO) - Get Coca-Cola Company Report and Johnson & Johnson (JNJ) - Get Johnson & Johnson Report, companies with rock-solid balance sheets.
But
Aquila Three Peaks Opportunity Growth
(ATGAX) - Get Aquila Opportunity Growth A Report
takes a different approach. The fund specializes in stocks with below-investment grade ratings. Buying low-quality names has proved to be a winning formula lately. This year Aquila has returned 16.5%, outdoing the
S&P 500
by 6 percentage points and topping 99% of competitors in the mid-cap growth category, according to Morningstar.
Aquila is not the only investor to prosper by buying companies with heavy debt burdens and shaky balance sheets. According to a study by Morningstar, companies with above-average debt levels outdid those with below-average debt by 2 percentage points this year.
Part of the reason for the strong showing of low-quality investments has been a rally in high-yield bonds, which are issued by below-investment grade companies. Desperate for income, investors have been racing to buy high-yield bonds, which yield more than 6%. That has provided easy financing for low-quality companies. In addition, low-quality companies have climbed this year as optimistic investors have looked to boost returns by taking on more equity risk.
>>>On Tuesday, November 20 at 6pm ET, TheStreet will host a Trade Credit Insurance webinar with Todd Lynady, Senior Underwriter for Zurich in North America and Mike DeLuca, Senior Partner of One Source.Register now.
Among the top-performing low-quality funds this year is
Putnam Capital Spectrum
(PVSAX) - Get Putnam Capital Spectrum A Report
, which returned 18.2% this year, outdoing all its peers in the moderate allocation category.
Putnam Equity Spectrum
(PYSAX) - Get Putnam Equity Spectrum A Report
returned 16.1% and outdid 95% of peers in the mid-cap value category.
Perhaps the most notable low-quality fund is
Fidelity Leveraged Company Stock
(FLVCX) - Get Fidelity Leveraged Company Stock Report
, which returned 18.4% this year. During the past 10 years, the Fidelity fund returned 15.4% annually, ranking as the top-performing domestic equity fund tracked by Morningstar.
Seeing the numbers, you may be eager to buy one of the low-quality funds. But keep in mind that low-quality companies tend to have weaker profits and grow more slowly than average businesses. Because of their shaky profiles, heavily indebted companies can fall hard in downturns as investors worry about the risk of bankruptcies.
During the turmoil of 2008, Fidelity Leveraged Company dropped 54% and trailed 98% of its peers. Still, a low-quality fund can make an intriguing holding, providing extra gains in bull markets and helping to diversify a portfolio.
Aquila's portfolio managers learned about the virtues of low-quality investing while they were overseeing high-yield bond funds, including Aquila
Three Peaks High Income
(ATPAX) - Get Aquila High Income A Report
. Searching for promising bonds, the managers noticed that the stocks of some high-yield issuers performed well. That led to the development of a fund focused on stocks from high-yield issuers.
In their bond funds, the Aquila managers employ a relatively cautious strategy, looking for the most reliable issuers. The Aquila stock fund follows a similar approach. To limit risk, the Aquila managers look for stocks of companies that are actively working to improve their balance sheets. Many holdings are using their cash flows to pay down debts. "As companies lower their leverage, their credit ratings improve, and the stocks can do better than the market expects," says Aquila portfolio manager Brent Olson.
To avoid trouble in downturns, Olson stays away from cyclical businesses, such as automakers, airlines and financials. Such companies can sink hard when the economy turns down. Instead, he favors steady businesses that suffer only minor setbacks in recessions. Holdings include
Dish Network
(DISH) - Get DISH Network Corporation Class A Report
and
DIRECTV
(DTV)
, satellite TV providers. Those enjoy steady revenues because customers pay monthly subscriptions, even during hard times.
A favorite holding is
Berry Plastics Group
(BERY) - Get Berry Global Group Inc Report
, which makes containers, including plastic bottles for prescription drugs, squeeze tubes for foods and drink cups. "We are fond of packaging companies because they are very stable," says Olson. "In a great year, the sales volume might go up in the mid single digits, and in a bad year the volume goes down in the mid single digits."
Another holding is
Lions Gate Entertainment
(LGF)
, a fast-growing producer of movies and TV shows. The company has borrowed to acquire rights to a giant film library and film franchises. Now Lionsgate is aiming to pay down its debt, says Olson.
Stan Luxenberg is a freelance writer specializing in mutual funds and investing. He was executive editor of Individual Investor magazine.