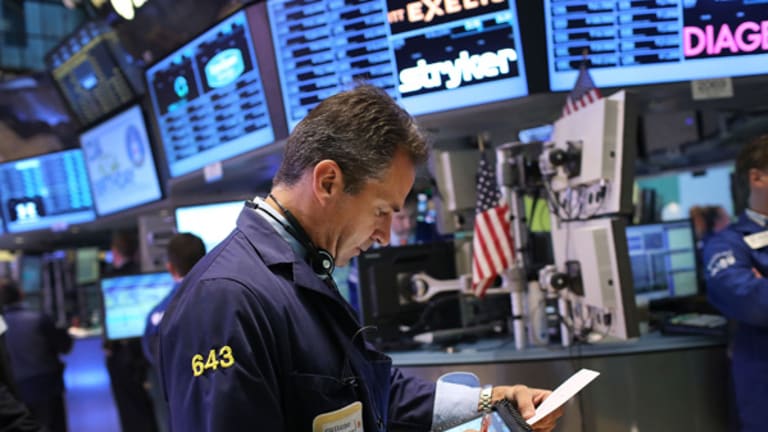 Mutual Funds Profit From Merger Spree
Managers record steady gains by investing in companies that are being acquired.
NEW YORK (TheStreet) -- Corporations are going shopping. The volume of mergers and acquisitions has been increasing, with big deals making headlines, including offers for H.J. Heinz (HNZ) and Dell (DELL) - Get Dell Technologies Inc Class C Report. All the activity is welcome news for mutual funds that specialize in merger arbitrage. The funds buy stocks that are about to be acquired.
During the financial crisis, deal activity slowed, and some funds were forced to hold fixed-income while they waited for takeover activity to resume. With deals plentiful now, the funds can choose from among many stocks to buy.
In the current positive environment, merger funds are likely to return 4% to 5% this year, say fund portfolio managers. That might sound like a modest result. But merger funds can be attractive investments because they deliver steady results while being only about as volatile as intermediate-term bond funds. "With the merger arbitrage funds, you can get returns in the mid-single digits -- and maybe a little higher in a favorable environment," says Chris Sawyer, a research analyst for
Litman Gregory
.
Part of the appeal of the funds is that they can provide diversification. When bonds fall, merger funds sometimes stay in the black. If interest rates rise this year, as many economists expect, then bond returns could be meager, and the single-digit results of merger funds will look appealing.
The best merger funds are extremely steady. Consider
Merger Fund
. During the past ten years, the fund returned 4.3% annually. The only losing year came in 2008, when Merger Fund lost 2.3%. The following year, the fund bounced back, returning 8.5%. The best year of the decade was 2003 when the fund returned 11.0%. Other steady performers include
Arbitrage Fund
(ARBFX) - Get The Arbitrage Fund R Report
, which returned 4.1% annually during the past ten years, and
Gabelli ABC
(GABCX) - Get Gabelli ABC AAA Report
, with a return of 4.6%.
Instead of trying to hit a few home runs, merger funds aim to achieve many small scores. In a typical deal, an acquirer may offer to pay $20 for shares of a company that had been trading at $15. Anticipating that the purchase will be completed soon, investors immediately bid up the shares to $19.50. The stock does not go to the full deal price because investors worry that the acquisition could collapse at the last minute, and the shares will fall back to their earlier level.
The merger funds are willing to buy when the shares are trading close to the acquisition price. Portfolio managers hold for periods ranging from one to four months. If they can earn 50 cents a share during a short holding period, then the funds will achieve a sound annualized return.
Fund portfolio managers aim to avoid deals that could collapse. Barbara McKenna, portfolio manager of
Touchstone Merger Arbitrage
(TMGAX)
, looks for mergers where the acquirer has much to gain from a purchase. She is wary of heavily leveraged buyouts that could collapse if financing proves to be shaky. Last year she profited when car rental giant
Hertz Global Holdings
(HTZ) - Get Hertz Global Holdings Inc Report
offered to buy
Dollar Thrifty Automotive
. McKenna bought the acquisition target's shares when they seemed likely to deliver an annualized gain of 5.5%.
ETF investors can try
ProShares Merger
(MRGR) - Get ProShares Merger ETF Report
, which tracks the S&P Merger Arbitrage Index. The index includes shares of up to 40 companies that are the targets of publicly announced acquisition bids. The index excludes small companies and deals where acquirers seek to buy less than 50% of companies.
The ETF starts by putting 3% of its assets in each new deal. When there are not enough deals available, the ProShares fund holds cash. The cash stake could help to cushion the portfolio during bear markets when stocks are sinking and deals could collapse. Current holdings include
American Greetings
(AM) - Get Antero Midstream Corp. Report
,
Coventry Health Care
( CVH), and
OfficeMax
(OMX)
.
This article was written by an independent contributor, separate from TheStreet's regular news coverage.