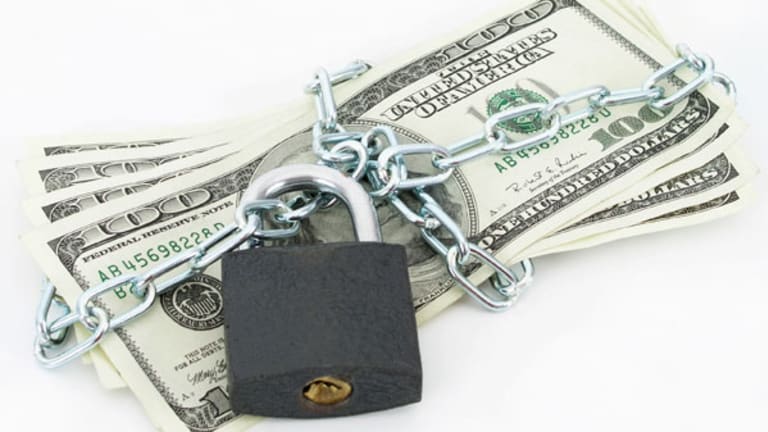 Municipal Funds That Pay Rich Yields
At a time when municipal finances are strengthening, these high-yield funds should produce reliable income.
NEW YORK ( TheStreet ) -- With the Federal Reserve keeping a lid on interest rates, 10-year Treasuries yield a skimpy 1.75%. For a better payout, consider high-yield municipal funds.
According to Morningstar, the average fund in the category yields 4.2% tax-free. That is the equivalent of a taxable bond that yields more than 7% for high-income investors.
Make no mistake, high-yield municipals are riskier than Treasuries. But at a time when municipal finances are strengthening, the high-yield funds should produce reliable income.
The high-yield funds invest in tax-free debt from states, cities and other issuers. The high-yield municipal funds should not be confused with the better-known high-yield bond funds, which hold taxable corporate bonds. The taxable funds invest almost exclusively in junk bonds that are rated below-investment grade. The junk securities pose clear risks of default. In 2012, 2.6% of junk issues defaulted, according to Moody's. The historical average default rate is 4.8%.
In contrast, only a handful of municipal issuers default every year. In 2012, five of the approximately 50,000 issuers defaulted.
High-yield municipal funds limit their risk by diversifying portfolios and holding some high-quality bonds. The typical fund has about one third of assets in bonds that are rated below-investment grade or unrated. Another third are in securities rated BBB, the lowest category of investment-grade issues. A final third are rated A or higher. Because they hold some high-quality issues, high-yield municipal funds tend to be less volatile than their high-yield corporate counterparts.
>>Also see: Netflix Jumps on Love From Goldman Sachs >>
During the turmoil of 2008, high-yield municipals suffered painful losses. Since then the funds have been rallying as investors have grown more willing to take risks in search of higher yields.
In recent months, municipals received a boost from the changes in tax rates. With the expiration of the Bush tax cuts, the top bracket rose from 35% to 39.6%. That made the tax shelter of municipals more valuable and boosted demand for the bonds. During the past year, high-yield municipal funds returned 10.4%, compared to 3.9% for the Barclays Capital U.S. Aggregate bond index.
Among the top-performing high-yield funds is
Ivy Municipal High Income
(IYIAX) - Get Delaware Ivy Muni High Income A Report
. During the past five years, the fund returned 8.1% annually, compared to 5.7% for the average peer. In the turmoil of 2008, Ivy lost 18.1%. That was a miserable result, but it outpaced peers by eight percentage points.
Portfolio manager Michael Walls limited losses by taking a defensive stance. Walls became cautious as early as 2006, a time when municipal markets were climbing. "We thought municipals were getting hot, and prices were rich," he says.
To avoid trouble, he put 15% of assets in cash and another 15% in AAA-rated securities backed by
Fannie Mae
(FNMA)
and other government agencies. The safe assets helped cushion the portfolio. Late in the year, Walls put the cash to work, buying investment-grade issues that sold at depressed prices. In 2009, the holdings rebounded, and Ivy returned 32.3% for the year, outdoing peers.
These days Walls is concerned that interest rates could rise in coming years, as many economists expect. When rates rise, bond prices tend to fall. For protection, Walls is holding some floating-rate securities. Those raise their payouts as interest rates climb.
A steady fund is
MFS Municipal High Income
(MMHYX) - Get MFS Municipal High Income A Report
. The portfolio managers stay diversified, often maintaining slightly higher credit quality than typical peers. Most often the cautious approach has succeeded. The fund has finished in the top half of its category for eight consecutive years. During the past five years, MFS returned 7.2% annually. "Some of our aggressive competitors have great years and terrible years," says portfolio manager Geoffrey Schechter. "We want to be above-average in all markets."
In the past, the fund often had slight overweight positions in hospitals and other health care issuers. But lately the fund is reducing its positions because of concerns that Congress could cut Medicare, reducing the reimbursements for health providers.
MFS is overweight tobacco bonds. Those are backed by payments that tobacco companies make to states to cover health costs of smoking. The bonds have rallied lately as investors have become more confident that the states would receive enough income to cover interest costs.
>>Also see: Apple iPhone Cowboy T-Mobile Reloads MetroPCS Guns >>
Another top performer is
Delaware National High-Yield Municipal
(CXHYX) - Get Delaware National H/Y Muni A Report
. During the past five years, the fund returned 8.1% annually. Portfolio manager Steve Czepiel aims to stay broadly diversified. He typically keeps the sector weightings in his portfolio close to the average figure of peers. The goal is to outperform by picking better securities. "We have avoided credit problems, and that has helped our performance," he says.
Czepiel is wary of Puerto Rico's general obligation bonds, which are backed by general tax revenue. Moody's recently downgraded the bonds because of budget problems. But he likes Puerto Rican bonds that are backed by sales taxes. Those are unlikely to default, and they sell at bargain prices, he says.
This article was written by an independent contributor, separate from TheStreet's regular news coverage.
Stan Luxenberg is a freelance writer specializing in mutual funds and investing. He was executive editor of Individual Investor magazine.