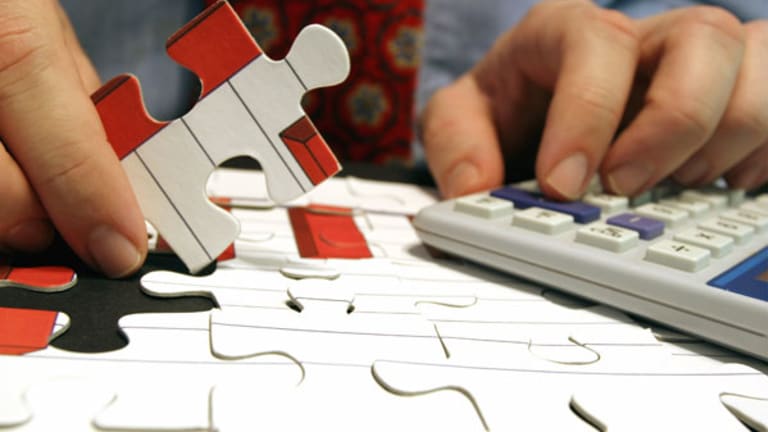 Managed Futures Funds Excelled in Downturns
By selling short, traders can stay in the black when stocks and commodities are sinking.
NEW YORK (TheStreet) -- The turmoil of 2008 put managed futures on the map. In a year nearly every investment category suffered sizable losses, the average managed futures mutual fund returned 8.3%, according to Morningstar (MORN) - Get Morningstar, Inc. Report. Impressed with the results, nervous investors began pouring into the funds.
But newcomers have had little reason to be pleased. Since their time in the limelight during the financial crisis, managed futures have lagged stocks. While the
S&P 500
returned 26.5% in 2009, managed futures lost 5.8%. The managed futures funds also trailed in 2010 and last year. Are the managed futures funds failures? Not necessarily. Managed futures are designed to provide diversification, and the funds have been accomplishing the goal, showing little correlation with stocks.
Managed futures funds trade securities that track a wide range of markets, including foreign currencies. This year trend followers have made money by shorting the euro.
Managed futures mutual funds briefly jumped into the lead when stocks dropped this May. While the S&P 500 lost 8.8% for the month, the managed futures mutual funds gained 0.35%. Mutual funds that provided downside protection include
Altegris Managed Futures Strategy
(MFTAX) - Get Altegris Managed Futures Strategy A Report
,
Direxion Indexed Managed Futures Strategy
(DXMAX)
,
Grant Park Managed Futures
(GPFIX)
and
Princeton Futures Strategy
(PFFAX)
.
Whether managed futures funds will prove to be sound long-term investments is hard to know. Most of the funds have short track records, so it is too soon to draw firm conclusions. Still, the category remains intriguing because hedge funds and other traders have used managed futures strategies successfully over the years.
Managed futures funds trade securities that track a wide range of markets, including crude oil, soybeans, foreign currencies and stock indexes. Traders can go long the futures -- betting prices will rise -- or they can take short positions and profit when prices fall. Because they can short, the funds often have little correlation with stocks or bonds. Over the years, managed futures have often scored big gains in years when stocks collapsed. When the S&P 500 lost 22.2% in 2002, the Barclay CTA Index, a managed futures benchmark, gained 12.4%. But the futures can have long periods of subpar performance, sometimes sinking when stocks are rising. In 1999, the Barclay index lost 1.2%, while the S&P 500 gained 21.1%.
Many managed futures traders are trend followers. If cocoa prices rise, traders may bet that the trend will continue. When the commodity begins to sink, traders take short positions, betting prices will keep falling. The funds tend to do best when trends are prolonged. Futures traders often excel during big stock downturns because there are clear moves that last for months. Funds made big profits in 2008 by riding the massive declines in stocks and oil. This year traders gained by trading currencies. "A lot of trend followers have made money this year by shorting the euro and going long the dollar," says Dick Pfister, executive vice president of
Altegris
.
Managed futures funds suffer when markets move erratically and there are no clear trends to follow. That happened last year. After riding stocks to gains early in the year, traders were whipsawed in the summer when stocks suddenly sank.
One drawback for the funds is that they are expensive. The average expense ratio is 2.52%. To hold down fees somewhat, use an index fund. Among the cheaper choices is Direxion Indexed Managed Futures, which has an expense ratio of 1.45%. The fund tracks the Auspice Managed Future Index, which uses a model to follow trends. When a commodity price rises, the index goes long. It shorts when prices decline. "The index is completely transparent and rules-based, " says Ed Egilinsky, managing director of alternative investments for
Direxion
.
A strong performer recently is Altegris Managed Futures, which gained 3.3% in the past month. Altegris divides its assets among a half-dozen active managers who each follow slightly different strategies. Some hold positions for short periods, such as a week, while others aim to follow longer trends by holding up to six months. By employing a mix of managers, Altegris aims to diversify results and avoid big losses in difficult markets.
For diversification, Princeton Futures employs 17 active managers. While most are trend followers, some study the fundamental outlook and invest according to forecasts of future trends. The fund also employs some countertrend managers, who sometimes bet against existing trends. The diversified approach paid off last year, when Princeton outdid most peers. "The trend followers had a difficult time in 2011, and the countertrend managers were the best-performing group for the year," says Greg Anderson, chief investment officer of
Princeton Fund Advisors
.
This article is commentary by an independent contributor, separate from TheStreet's regular news coverage.
Stan Luxenberg is a freelance writer specializing in mutual funds and investing. He was executive editor of Individual Investor magazine.