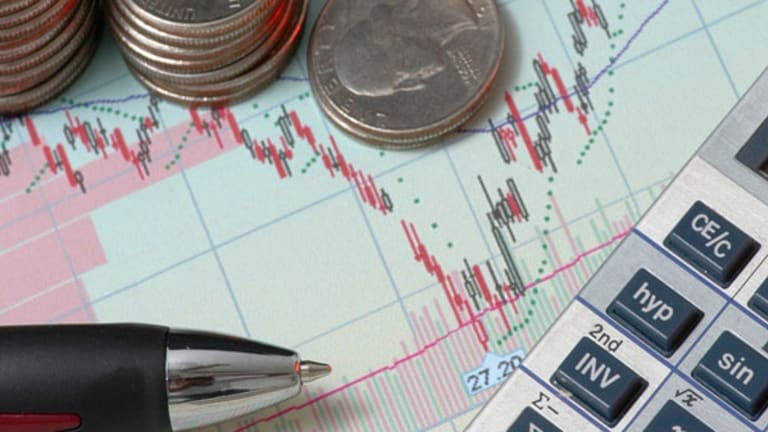 NEW YORK ( TheStreet ) -- Small stocks have led the markets in recent years. During the past decade, small blend funds returned 9% annually, compared to 6.9% for large blend, according to Morningstar.
Will small stocks win in the next ten years? Probably not. Valuations are too rich. According to Morningstar analyst Alex Bryan, the small stocks of the Russell 2000 index have a forward price-to-earnings ratio of 19.7, compared to 16.2 for the large-cap Russell 1000 benchmark. When small stocks sell at such premiums, they rarely go on to lead in coming years, says Bryan. In 2004, the Russell 2000 sold for a multiple of 16.9, compared to 18.6 for the Russell 1000. The discounted small stocks went on to dominate the markets.
To avoid the priciest small stocks, consider small value funds, which have an average multiple of 16. Some top small value funds have shown that they can deliver consistent results by spotting promising companies selling at big discounts. Solid funds include Huber Capital Small Cap Value (HUSIX) - Get Huber Capital Small Cap Value Inv Report, Perritt Ultra MicroCap (PREOX) - Get Perritt Ultra Microcap Report and Wells Fargo Advantage Small Company Value (SCVAX) - Get Wells Fargo Small Co Value A Report.
To diversify large-cap portfolios, consider adding Perritt Ultra MicroCap. While the stocks of the S&P 500 have an average market capitalization of $66 billion, Perritt's market cap is $78 million -- the lowest of any U.S. equity fund tracked by Morningstar. Most portfolio managers shun tiny stocks because they can be risky and hard to trade. But unloved microcaps have a history of delivering outsized returns, according to Dartmouth professor Kenneth French. From January 1982 through November 2013, microcap value stocks returned 16.4% annually, compared to 11.6% for large cap value.
Perritt seeks to find up-and-coming stocks that have not yet been discovered by Wall Street. During the past five years, the fund returned 27.3% annually, outdoing 92% of small value funds. A holding is USA Technologies (USAT) , which enables cashless transactions for vending machines and laundry equipment. The company has a market capitalization of $73 million and slim profit margins. Perritt portfolio manager Michael Corbett says that the picture is likely to improve because the company recently began serving Coca-Cola (KO) - Get Coca-Cola Company Report and other large clients. "This is a niche business that is attracting attention from big vendors," says Corbett.
Corbett also likes Vapor (OTC:VPCO), a supplier of electronic cigarettes. The company's brands have been growing rapidly as more consumers seek alternatives to tobacco.
During the past five years, Huber Capital Small Cap Value returned 33.6% annually, ranking as the top-performing small value fund. Portfolio manager Joseph Huber looks for stocks that are depressed below historic levels because the businesses are performing poorly. The aim is to find companies with managers that are poised to improve profits back to normal levels. Huber prefers companies with competitive advantages and decent balance sheets.
A holding is CNO Financial (CNO) - Get CNO Financial Group, Inc. Report, which sells life and supplementary health insurance. Huber says that the company has reported low returns on equity because some insurance lines were unprofitable. But now the company has stopped investing in poor performers and begun emphasizing profitable businesses. As the company exits money-losing businesses, the return on equity will increase. "Even if there is no top-line improvement, there should be tremendous growth in earnings per share," Huber says.

Huber also holds Global Cash Access (GCA) , which provides ATMs and cash advances in casinos. Earnings suffered when gambling in Las Vegas slowed during the financial crisis. Margins should improve as the economy revives.
Wells Fargo Advantage Small Company focuses on stocks that fall in the cheaper half of the Russell 2000 Value Index. The portfolio managers are particularly interested in names that recently slipped into the cheapest 20% because of temporary problems. During the past five years, the fund returned 25.3% annually, outdoing 87% of peers.
Last year, the portfolio managers began shopping for real estate investment trusts. The shares had plummeted when markets began fretting that rising interest rates would punish REITs. A holding is Education Realty Trust (EDR) - Get ENDEAVOR GROUP HOLDINGS, INC. Report, which operates student housing. The shares dropped more than 25% from the high as some investors worried that online courses would deter students from living on campuses. Wells Fargo portfolio manager Doug Pugh argues that demand remains strong for Education Realty because it has developed superior housing. "Their new properties compete against dormitories that were built in the 1950s," he says.
At the time of publication, the author held no positions in any of the stocks mentioned.
This article represents the opinion of a contributor and not necessarily that of TheStreet or its editorial staff.
Stan Luxenberg is a freelance writer specializing in mutual funds and investing. He was executive editor of Individual Investor magazine.