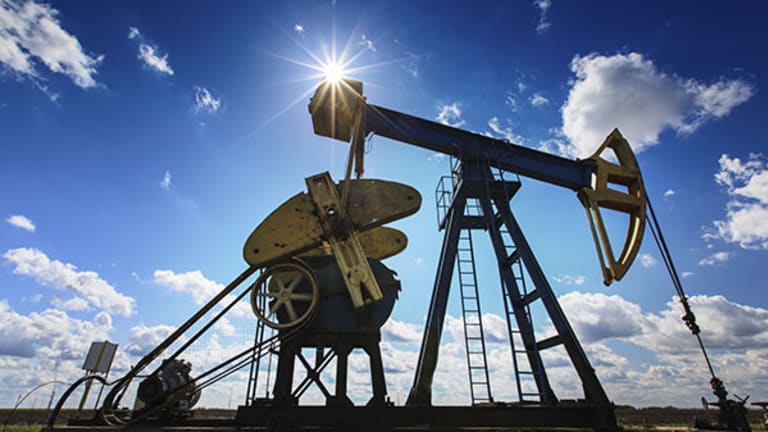 Here's a Fund for Those Who Are Set to Run With the Energy Bulls
Sick of tepid market returns? Aggressive investors with a tolerance for risk should consider this leveraged oil exchange-traded note.
Sick of tepid market returns? Aggressive investors with a tolerance for risk should consider this leveraged oil exchange-traded note.
For those who listen to some of the most influential experts out there, oil at $50 or even $60 a barrel is small potatoes.
Try $100 a barrel or higher.
Take multi-billionaire T. Boone Pickens. The legendary oilman predicts that oil prices have bottomed and will hover near $60 a barrel or more this year.
Then there is investment bank Raymond James & Associates, which recently said that oil could reach $80 a barrel by the end of next year.
Royal Dutch Shell President John Hofmeister predicted $100 a barrel as soon as next year.
And according to recent data from the Depository Trust & Clearing Corp. and the New York Mercantile Exchange, several major hedge funds expect oil prices to reach close to $110 per barrel.
Evidence supports this optimism. Over the past three months, oil prices seem to have found a floor at the low $40s, and they are hovering closer to the magic number of $50 a barrel, widely considered to be the break-even point for energy and exploration firms such as BP, Chevron and ExxonMobil.
Even the oil price "bears" at Goldman Sachs recently predicted that oil will rise to at least $50 a barrel this year.
Meanwhile, the strategists at oil and gas producer EOG Resources are betting on $60 by the end of the year.
In the context of declining oil inventories and sustained economic growth, a sanguine outlook for oil is entirely reasonable. For those who are inclined to run with the energy bulls, what is the best way to play the upward movement in oil prices?
There is no way for retail investors to enter trades that directly track the spot price of crude oil. Whereas investors who want to make a direct play on the price of the S&P 500 can simply buy the SPDR S&P 500 Exchange-Traded Fund Trust, which mimics the movement of the index, those who want a play on the price of oil don't have it so easy.
One of the things that these investors can do is to invest in oil production companies themselves, but that can open a whole Pandora's box. Although in general oil companies' stocks move in tandem with energy prices, they can also be hampered by many different factors such as the fickleness of Wall Street, mergers and ugly balance sheets
The closest and safest way to play oil prices is to make a bet on the S&P GSCI Crude Oil Index Excess Return. However, investors can't just play this index, so they need to purchase shares in an exchange-traded fund or exchange-traded note that behave like conventional equities and that track the index.
That is great, as far as it goes. But there is a way to exponentially boost the moves of this energy index.
They are called leveraged funds, which are securities that use derivatives to amplify returns by hundreds of percent.
And with the price of oil constantly in flux these days, there is an extra trick that lets investors play the Crude Oil Index no matter which way the price of oil goes.
Investors can play the VelocityShares 3x Long Crude Oil ETN (UWTI) to reap gains when the index goes up. They can also make a bet on the index going down with the ETN's doppelganger, the VelocityShares 3x Inverse Crude Oil ETN (DWTI) .
Both magnify the percentage changes in the index by three times.
The long or bullish VelocityShares 3x Long Crude Oil ETN makes money when the value of the index rises. On the other hand, the inverse or bearish VelocityShares 3x Inverse Crude Oil ETN makes money when the value of the index declines.
All the yapping in the financial press doesn't amount to a hill of beans. The notion that oil markets will find equilibrium is a myth.
More than ever before, oil prices are fluctuating with the ebb and flow of investor passions. But oil prices are in the ascendancy.
Since hitting a nadir of about $26 a barrel in mid-February, oil prices have surged more than 73% and hover at $45. 
Of course, any number of unexpected shocks could send oil tumbling again. Through it all, volatility seems here to stay.
However, aggressive investors with a stomach for risk who agree with the long-range forecasts of the energy bulls can put their money where their mouth is by going long with the Velocity Shares 3x Long Crude Oil ETN.
---
If you're looking for other exciting fast-growth opportunities, we've found a genius trader who turned $50,000 into $5 million by using his proprietary trading method. For a limited time, he's guaranteeing you $67,548 per year in profitable trades if you follow his simple step-by-step process. Click here now for details.
John Persinos is an editorial manager and investment analyst at Investing Daily. At the time of publication, he owned none of the stocks mentioned.
Persinos appears as a regular commentator on the financial television show Small Cap Nation.Follow him on Twitter.