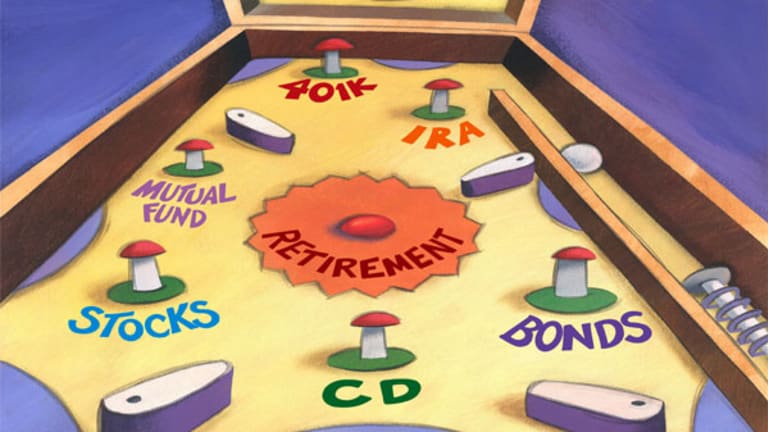 Getting Big Returns From Tiny Stocks
Micro-cap shares have outdone the markets in the past decade.
NEW YORK (TheStreet) -- Not many mutual funds hold micro-cap stocks -- small companies with market values of less than $500 million. The tiny stocks can be hard to trade and prone to periodic crashes.
But micro-caps can be worthwhile holdings, says Hal Ratner, a chief investment officer of Morningstar Investment Management. The smallest stocks sometimes diversify portfolios and deliver winning returns, Ratner says.
To appreciate the potential rewards and risks, consider
Aegis Value
(AVALX) - Get Free Report
, a micro-cap specialist. During 2008, the mutual fund lost 51.4%, trailing the
by 14 percentage points, according to Morningstar. But the next year, Aegis skyrocketed, gaining 91.4%, topping the S&P 500 by 64 percentage points.
The periods of outperformance often compensate for the occasional disappointing years. During the past 10 years, micro-caps returned 12.1% annually, compared to 8.5% for the S&P 500, according to Morningstar/Ibbotson. "Micro-caps can be volatile, but they can give you the potential for strong returns," says Hal Ratner of Morningstar.
To hold micro-caps, try a relatively steady mutual fund. Top managers can earn winning returns by combing through the ranks of obscure companies and finding bargains. A solid choice is
Wasatch Micro Cap Value
(WAMVX) - Get Free Report
. During the past five years, the fund returned 8.0% annually, topping the S&P 500 by three percentage points.
While the average market capitalization of S&P 500 stocks is $54 billion, the Wasatch portfolio has an average capitalization of $496 million. Portfolio manager Brian Bythrow sometimes buys companies with market capitalizations of less than $200 million. "We want to find small companies that will grow to be bigger businesses," he says.
>>Also see: New Silver ETN Offers High Income Potential >>
Most of the tiny stocks receive little attention from Wall Street analysts. In contrast, major blue-chips are covered by dozens of analysts. Bythrow aims to spot growth companies before Wall Street discovers them and pushes up the prices.
One of his successful holdings was
First Cash Financial
(FCFS) - Get Free Report
, which operates pawnshops in Texas and Mexico. The fund bought the stock a decade ago, when the chain had a market capitalization of $100 million. The company was little-known and operating in an industry that does not normally attract many fund portfolio managers. Catering to growing markets, First Cash prospered. Bythrow recently sold the stock after it reached a market capitalization of $1.5 billion.
Wasatch currently owns
BofI Holding
undefined
, which operates Bank of Internet USA. The company is growing rapidly by offering specialized loans, such as jumbo mortgages. Bythrow says that the shares remain cheap because investors are wary about the safety of a bank that does not rely on bricks-and-mortar branches.
But he says that the Internet bank is a cautious operator, typically loaning only 55% of the value of a house. The stock currently has a capitalization of $506 million. "This will be a $1 billion company in five years," Bythrow says
Another strong-performing mutual fund is
AllianzGI Ultra Micro Cap
(GUCAX) - Get Free Report
, which returned 15% annually during the past five years. Portfolio Manager Bob Marren prefers companies with market capitalizations of less than $300 million. Some of his holdings are solid businesses in the early stages of a growth phase.
In other instances, he will take companies that appear to be poised for turnarounds after periods of stagnation. Last year the fund enjoyed a special boost when several of its holdings were purchased at premiums by bigger companies. Marren said that his stocks often make tempting acquisition targets. "Corporate purchasers like to buy companies with good growth prospects and low valuations," he says.
>>Also see: SEC Member Predicts 'Armageddon' for Municipal Bonds >>
The fund recently bought
Marlin Business Services
(MRLN) - Get Free Report
, which provides financing for small businesses that are seeking to purchase copiers and computers. The company has a market cap of $292 million. Revenue grew 21% in the latest quarter.
Another recent purchase is
Rudolph Technologies
(RTEC) - Get Free Report
, which produces systems that are used by semiconductor makers to spot defects.
This article was written by an independent contributor, separate from TheStreet's regular news coverage.
Stan Luxenberg is a freelance writer specializing in mutual funds and investing. He was executive editor of Individual Investor magazine.