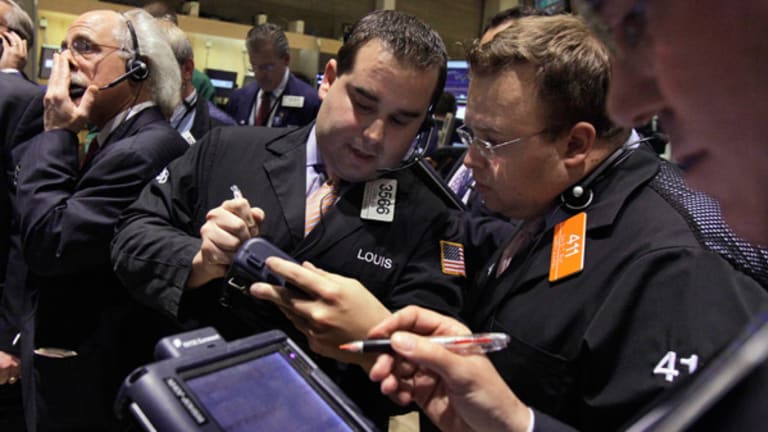 Get Fat Yields With Foreign Dividend Funds
If you're not satisfied with the dividends of U.S. blue-chips, consider mutual funds and ETFs that focus on foreign dividend stocks.
NEW YORK (TheStreet) -- Hungry for reliable income, investors have been embracing dividend-paying blue-chips. Plenty of solid utilities and consumer companies yield 3%. That seems like a rich payout at a time when 10-year Treasuries yield 2.0%.
But to get an even higher yield, consider funds that focus on foreign dividend stocks. Many foreign blue-chips yield more than 4%.
Forward International Dividend
undefined
, a mutual fund, yields 5.9%.
Besides paying higher yields, foreign dividend payers tend to be cheaper than their U.S. counterparts. While the
S&P 500
has a forward price-to-earnings ratio of 13, the stocks in the Forward fund have a P/E of 8.6.
Foreign small-cap funds can be attractive.
WisdomTree International SmallCap Dividend
(DLS) - Get WisdomTree International SmallCap Dividend Fund Report
, an exchange-traded fund, yields 3.8% and has P/E of 11. In comparison, the Russell 2000 small-cap index yields 1.4% and has a P/E of 17.
Foreign stocks have traditionally paid higher yields than their U.S. counterparts. Investors in many countries have preferred fat dividends, and companies have paid out relatively large amounts of their earnings.
But these days, the foreign yields are especially rich because the stocks are out of favor. At a time when debt problems plague Europe and Japan, many foreign economies are struggling, and the markets are depressed. As share prices fall, dividend yields rise.
To find the best dividend payers, Forward International portfolio manager David Ruff considers stocks of all sizes that yield more than 2%. The companies must have strong earnings and the ability to increase dividends at double-digit annual rates.
Ruff pays close attention to the dividend payout rate, which is the percentage of earnings that goes to cover the dividend. He typically prefers stocks with payout rates of 30% to 60%.
When the payout rate is lower, Ruff worries that management is not committed to paying dividends consistently and could spend extra cash on reckless acquisitions. Companies with high payout ratios could be on shaky ground.
"If the payout rate is 95%, then there is not much room to increase the dividend in the future," he says.
A big holding in the fund is
Unilever
, the Dutch maker of Lipton tea and Hellmann's mayonnaise. The stock yields 3%. Another holding is
Sanofi
(SNY) - Get Sanofi Report
, a French drugmaker that yields 4.7%.
An intriguing ETF is
WisdomTree Emerging Markets SmallCap Dividend
(DGS) - Get WisdomTree Emerging Markets SmallCap Dividend Fund Report
, which yields 3.7%.
During the past three years, the ETF has returned 33.5% annually, outdoing its average peer by 7 percentage points.
Jeremy Schwartz, WisdomTree's research director, says that dividend stocks can be a particularly appealing way to play small-cap emerging markets stocks. Because many of them are young and have weak governance structures, the small stocks can be volatile, he says. But dividend payers tend to be steadier. "If a company can pay a dividend, you can have more confidence that the cash flows will be reliable," Schwartz says.
For a mutual fund that offers a limited stake in foreign dividend payers, consider
RNC Genter Dividend Income
(GDIIX) - Get RNC Genter Dividend Income Report
. While it focuses on U.S. names, the fund holds 10% of assets in foreign stocks. During the last three years, RNC Genter has returned 22.2% annually, outdoing 62% of large value peers.
Chief investment officer Dan Genter prefers stocks that are increasing their dividends at least 8% annually. He is wary of companies that have cut their dividends in the past five years.
A favorite holding is
Total
, a big French integrated oil company that yields 4.5%. Genter says that Total will expand production steadily over the next five years. That will boost profits and enable the company to flourish in a variety of market conditions.
"Total will make money, even if the price of oil drops to the low 80s," he says.
Genter also likes
Novartis
(NVS) - Get Novartis AG Report
, a Swiss pharmaceutical giant. He says that the company should increase profits as it expands into the emerging markets.
Stan Luxenberg is a freelance writer specializing in mutual funds and investing. He was executive editor of Individual Investor magazine.