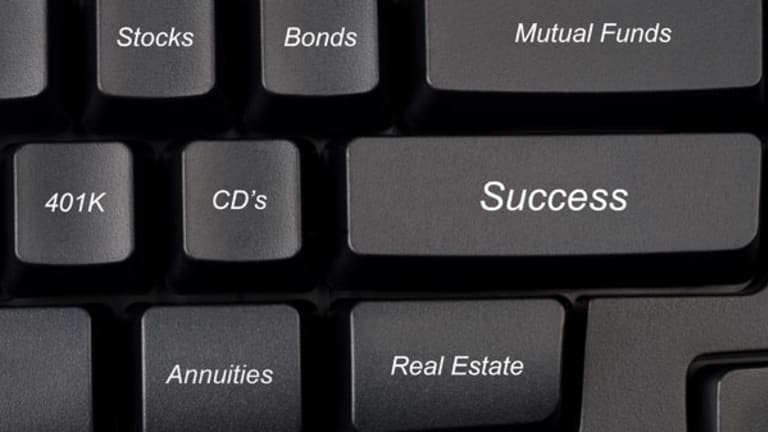 Funds That Win With High-Quality Bonds
While competitors turn to junk bonds for extra yield, these managers outperform by focusing on rock-solid investments.
NEW YORK (TheStreet) -- The Barclays Aggregate bond index has been a tough bogy for managers to beat. During the past decade the index returned 5.7% annually, and only about a quarter of actively managed intermediate-term funds topped the benchmark. Many of the winning managers succeeded by taking on more risk. The funds held sizable stakes in high-yield bonds, which are rated below-investment grade. Since the financial crisis, high-yield bonds have rallied sharply and boosted fund returns.
But some intermediate funds have topped the benchmark without holding big high-yield positions. Focusing on high-quality securities, the funds have succeeded by spotting undervalued bonds. The high-quality funds could make sound core holdings for cautious investors. Solid performers include
Artio Total Return Bond
(BJBGX) - Get Aberdeen Total Return Bond Fund A Report
,
Touchstone Total Return Bond
(TCPAX) - Get Touchstone Impact Bond A Report
, and
Wells Fargo Advantage Total Return Bond
(MNTRX) - Get Wells Fargo Core Bond Admin Report
.
Artio Total Return Bond has ranked as one of the most consistent performers. During the past decade, the fund returned 6.2% annually, finishing in the top half of its category in nine out of ten years, according to Morningstar. Portfolio manager Don Quigley has most assets in bonds that carry the two highest ratings of AAA and AA. While the average intermediate-term fund has a credit quality of BBB -- the lowest rank in the investment-grade universe -- Artio's portfolio is one step higher up with a rating of A.
Quigley boosts returns by holding some high-grade foreign issues. Artio currently has 17% of its assets in foreign countries, including Australia, Canada, and Brazil. The overseas issues yield more than comparable U.S. bonds. Quigley is keen on Brazilian bonds, which yield 10%, an attractive payout at a time when 10-year Treasuries yield 1.7%. He concedes that bonds from the emerging markets can come with risks. "I would not say that Brazil is in better fiscal shape than the U.S., but the yields in Brazil compensate for the risks," he says.
Wells Fargo Advantage Total Return ranks as one of the highest-quality bond funds. The portfolio has 75% of assets in bonds rated AAA. The high-quality focus helped the fund outdo most competitors during the turmoil of 2008. For the year, Wells Fargo returned 2.9%, outpacing the category average by more than 7 percentage points. During the past 10 years, the fund returned 6.2% annually.
To outdo the Barclays benchmark, Wells Fargo aims to find bargain-priced bonds and overweight attractive sectors. While the index has 35% of assets in Treasuries, Wells Fargo only has 15% of assets in the sector. Instead the fund is overweight agency mortgage-backed securities. Those represent pools of home mortgages. While mortgages can default, the risk for investors is negligible because the securities are backed by the government and carry AAA ratings. Portfolio manager Troy Ludgood likes the agencies because they yield 80 basis points (0.8 percentage point) more than Treasuries.
The fund has 22% of assets in corporate bonds, including an overweight position in issues from REITs, companies that own portfolios of properties. Ludgood says that the outlook for REITs is improving, and the securities yield 200 basis points more than Treasuries. "Property values are in an upward trend," he says.
Touchstone Total Return is another fund that outperformed in 2008. The portfolio managers limited losses by steering away from shaky subprime mortgages. During the past ten years, the fund returned 5.9% annually.
Touchstone is currently underweight Treasuries and has 58% of assets in mortgage securities that are guaranteed by such government agencies as Fannie Mae and Ginnie Mae. The managers prefer mortgages for multifamily units instead of loans for single-family homes. The problem with the single-family securities is that the mortgages are prone to prepayments, which can occur when homeowners refinance, sell, or default. When prepayments occur, mortgage investors receive back their principal and must reinvest it at today's low rates. Prepayment risk can hurt prices of mortgage securities. Multi-family mortgages have less prepayment risk and provide the kind of predictability that the Touchstone managers prefer.
Stan Luxenberg is a freelance writer specializing in mutual funds and investing. He was executive editor of Individual Investor magazine.